It's big, and it's yellow. Is it Big Bird?
BMW Pro Rain 3 suit

---

[ Saturday - February 26, 2010 ]

After several years of using the BMW Rally 2, Rally 2 Pro suit in heavy rain, I can't help but wonder whether the liner really is waterproof. Spraying it with water from a shower head doesn't seem to cause any leaks. As yet, when I'm riding in a torrential down pour and the suit is drenched, I feel moisture in the inside layer when I take the suit and liner off. Not only that, my The North Face Trail Lite Gor-Tex jacket exhibits the same behavior once it's been in a torrential down pour for an extended period of time. In the end, this all leads me to believe that Gor-Tex isn't quite what it's cut out to be in a decent rain.

Because I'm an all around rider and even enjoy to ride in the rain, I need a rain suit that will keep me dry. When I consulted with the folks at Brown Motor Works, they agreed with me. If you plan on riding in any serious form of rain, you need a real rain suit. Gor-Tex will not cut it.

So I did a bit of shopping around. I see different rain suits provided by numerous vendors. Given my experience with BMW and their clothing, I'll just go ahead and stick to the name brand as BMW is known for their quality of product.

So what I did was purchase the one piece BMW Pro Rain 3 suit. Man is it yellow.



I purchased a large because I know I have to squeeze myself and the Rally 2 Pro suit inside. The side of both pant legs unzip from the ankle to above the knee. Approximately mid or upper thigh. As a result, the suit allows you to slide your feet in even when motorcycle boots are worn. This make it handy to put the suit on out in the middle of nowhere in a hurry. It takes a bit of effort to zip up the suit as the elastic waste band is still new and strong so I have to fight the suit a bit to zip up. Beyond this, it's fairly effortless. The suit adds some bulk, but not sufficient enough for me to completely ditch the Leatt neck brace.

The one thing I notice right away is how well this suit keeps the wind out. Despite what most people think, the Rally 2 Pro suit is extremely porous. The Cordura is excellent at protecting against abrasion, but does hardly anything against wind. The Pro Rain 3 suit does such a good job of keeping the wind off that I'm comfortable at 50F with just a T shirt, a micro-fleece pullover, and the Rally 2 Pro shell underneath the rain suit.

Riding in torrential rain proves to be nothing to the rain suit. It takes the splashes in style. I'm sure even a monsoon won't phase this thing.

Surprisingly enough, and befitting to the BMW name, there is an innovations to this suit that I hadn't anticipated. In particular is the double sleeves. There is an inner sleeve and an outer sleeve. The whole idea behind this is to have your gloves wrap over the inner sleeve, while the outer sleeve wraps around your glove. In this way you're guaranteed of two things:

You don't get wind up the sleeve(s).
Rain can't roll down the sleeve(s) and into the glove(s).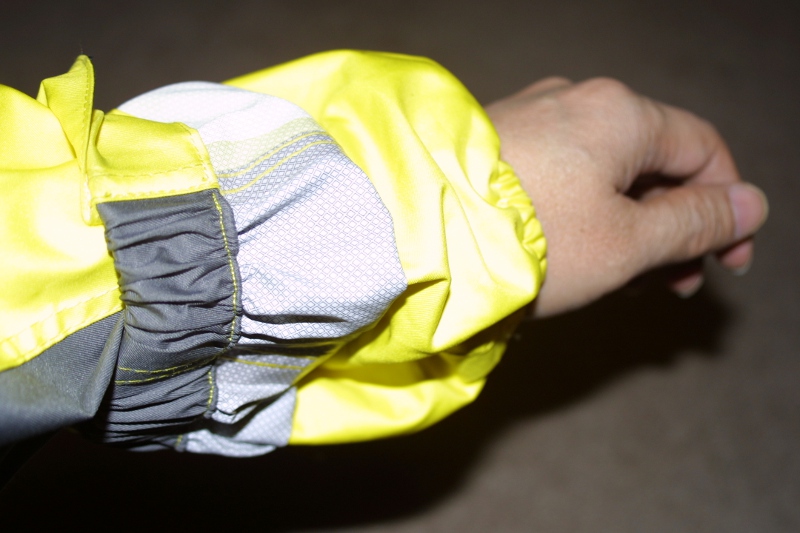 Outer sleeve pulled back with inner sleeve showing.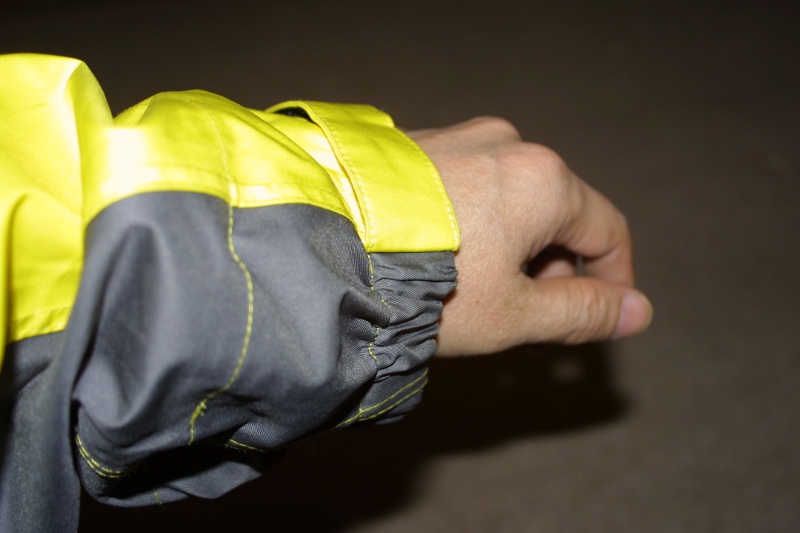 Outer sleeve pulled forward.


Pretty cool. BMW did think of everything.

The other nice aspect of the suit is it packs down really small. This allows me to carry the suit around in my bike's top case and still have room for other sundries.

I received the suit from Brown Motor Work at $126, after CA tax. Other manufacturers have one-piece rains suits at $99. I'm sure they'll function just fine. For me, I don't want to put less money into an unknown product just to find out I have to spend more money to get the right thing in the first place. I'll stick to the BMW brand as I'm guaranteed it will work as advertised. Also, there is a three year warranty on the product. Other manufacturers only supports a one year of warranty.

As for being bright as Big Bird, it's easier for others to see me during low light situations. So, it's worth it to play Big Bird for a while especially when it could just save my life.

Man! It's still so yellow!


---
Written on: February 26, 2011
Last modified: February 26, 2011