Central Coast '11
Why not go somewhere different?

---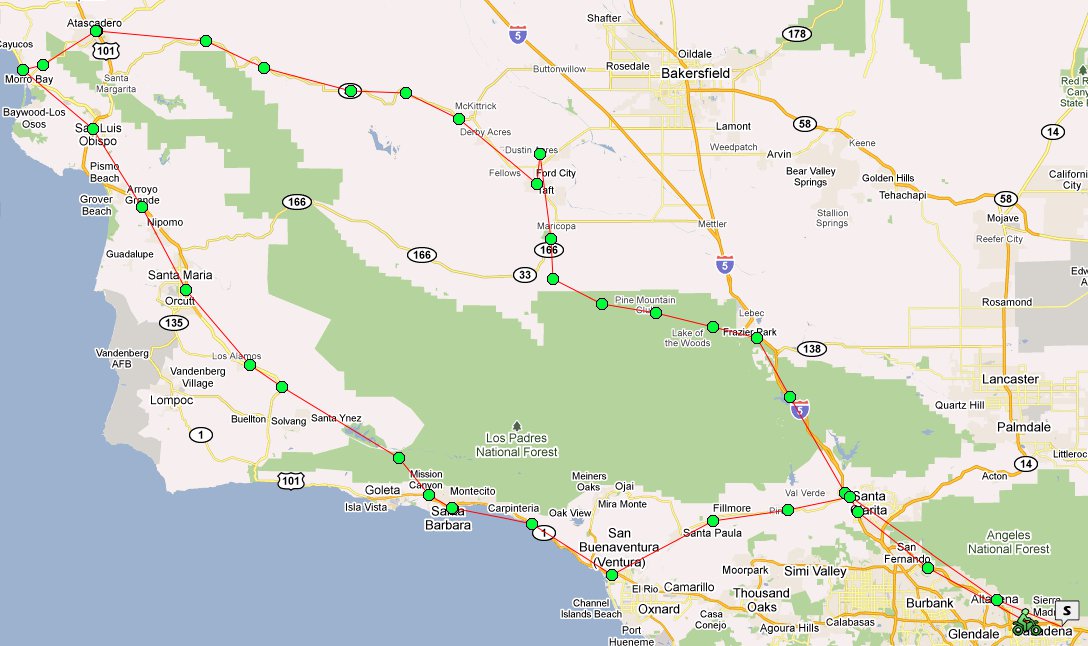 Spot waypoints.




[ Wednesday - April 27, 2011 ]



I get the unfortunate news straight from the horse's mouth that Minh might not be able to make the trip. He just got home from work. My clock is showing 10:40 PM. This year's Central Coast trip is it's suppose to be a three day trip, but from the look of things, it might not even happen at all. Bummer! I really need this ride. Work has been hard and the economy sucks eggs. Oh well, I told Minh to pop some Zinc and take Thursday to rest. Hopefully he'll feel well enough to call me Thursday night and say, "Let's go!" But as usual, only time can tell. I'm fine with just Friday and Saturday. Hell! Any trip is better than no trip. Worst case, I might have to just do a day ride on Friday.

GS? 12R? Which is it going to be? It's quite the dilemma. Both bikes are road capable. One if more comfortable than the other. One has more furl range than the other. The GS is comfort. The 12R has the range. Which is going? I feel like a politician flip flopping back and forth.




[ Thursday - April 28, 2011 ]



Around 8PM and I get a call on my cell phone. It's my buddy Minh. Now let's see if we're going or canceling. The question is asked, "Do you still want to go?" he says. Now what kind of question is that? I returned, "It's up to you. If you feel up to it, we'll go otherwise we can cancel." "We can go and come back on Sunday." To which I said, "No, I have to be back by Saturday as I have obligations." "Two day it is. We'll meet at the usual starting spot at 8:00AM." "Starbucks it is. I really need this ride."

In this case, we have both packed and are ready to go, so it's just a matter of performing some minor setup and off we go.


[ Friday - April 29, 2011 ]

In the end, I settled on...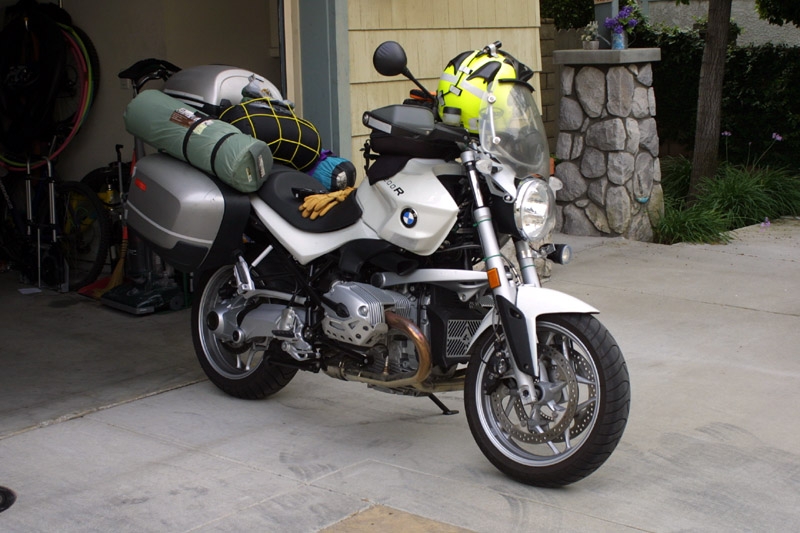 Easy to fix with flats and has at least 250 miles to the tank.


I'm late and so is Minh. That's alright. Better late than never. A tall sweetened ice coffee, a tall iced mocha, and we're set to go!

210 and 5... they are freeways. All I can say is it gets us to Gorman and Frazier Park really fast. We brunch at the new Ranch House restaurant. It use to be a Sizzlers and then turned into some type of buffet. But now it's just a local version of Denny's. It's a decent brunch at a decent price. Nice folks too.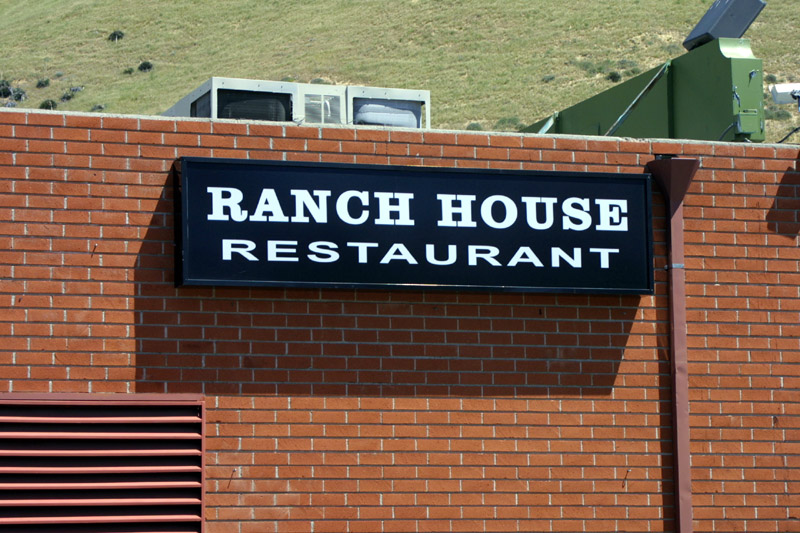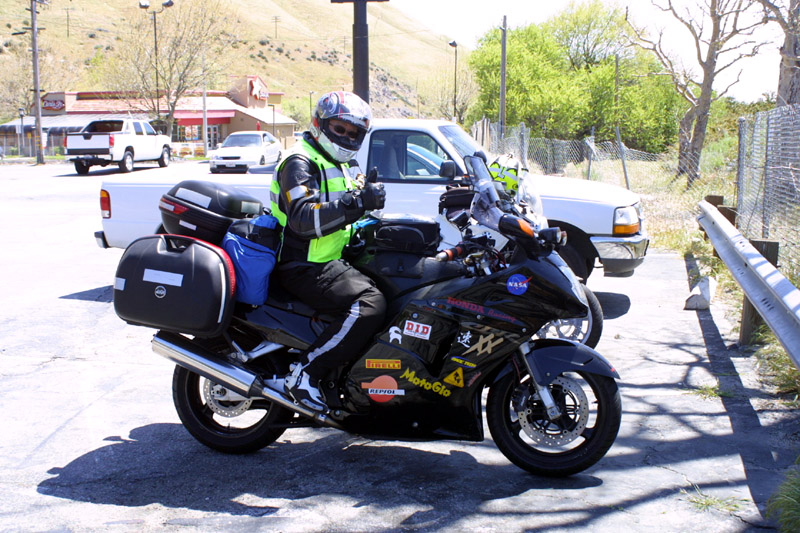 Frazier Park and Cerro Noroeste. What can I say, and old and beautiful road. There's nobody on it. That's part of the beauty. I can't decide to ride fast or ride slow and enjoy as much of it as I can. In the end, I did both.

We decided to take and alternate route this time around. We plotted to go on Skyline Road near Taft as a start to our long detour to the central coast. When we make that final turn off Elk Hills road, we're met by a gated road. It's a big 4 lane load with a big guard shack with a sign that says, "Please show employee badge". Of course, on paper and Google maps, there is no indication that this area is private property. We rolled up to the shack and I ask some simple questions. The gal asks, "How can I help you?" I said, "So I gather this not a public road." She responds, "No. This is private property. Where are you trying to get to?" "Skyline road." "If it's the Skyline road I think it is, it's also private property. This area is owned by the oil company." "My guess is it's the same Skyline road you're talking about." "Yes, it's private property and you won't be able to get there." "OK. Let me go ahead and make a U-turn." "Sure." We turn around and head back out. I guess it's to be expected with all of the oil pumps all around. We stop at the opposite side to the gate to take a breather and discuss what to do next. In the meanwhile, I told Minh to submit his employment forms.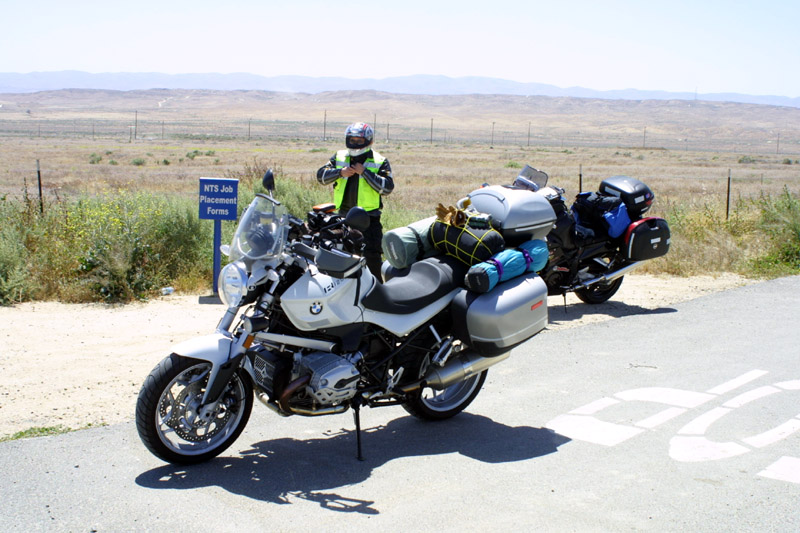 Minh told me I should have told the gal that we're looking for some "cheap gas". Too bad I didn't think of that. I would have said it.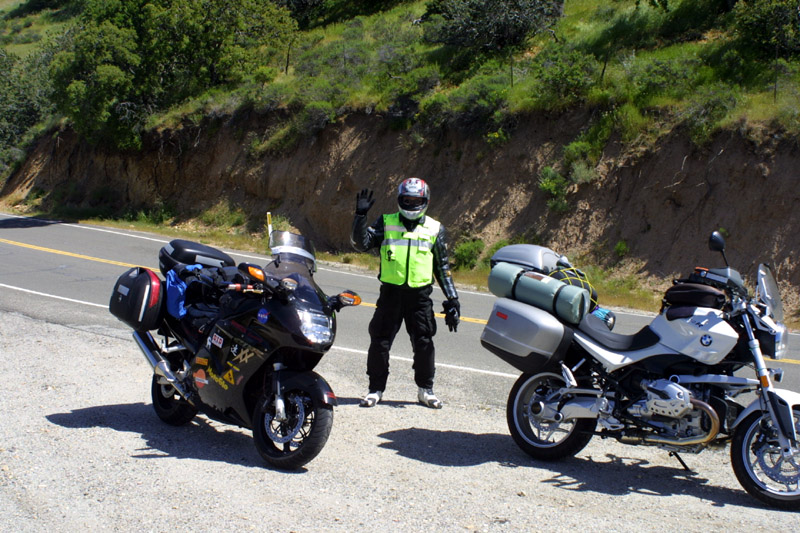 Never to disappoint. HWY 58 is beautiful and a pleasure to ride. A good section of it is extremely windy, but we still manage to ride it at 60-65 MPH with a lean.

In Atascadero, at the local Starbucks, Minh met a guy that asked him about his suit. Minh starts to relay the story to me, "A guy asked me if I ride." Just with that comment before Minh can go on with his story I responded, "No. I'm just a poser and like to dress up like this. What kind of question is that?" Minh's response to the snide remark, "Ha ha ha! Yeah, I just like to dress like this so I can go to a Starbucks and look like I'm riding a bike. When asked what kind of bike I ride... I ride a bicycle." Yup, I totally messed up Minh's story, but it is funnier than hell. "I'm just a poser that like to pretend I ride a motorcycle so I dress up like this and go to Starbucks," I commented further. Come on people, it's pretty obvious with the boots, heavy pants, heavy jacket and a load of armor that he's a moto nut. Oh well, I guess the guy is just trying to find and opening comment to start a conversation. Now what was it that Minh was trying to tell me again?

We make excellent time and arrive at Morro Strand State Beach around 4:30 PM. It's pretty empty and it's light. I think this is the first time that we have arrived at this campsite with this much sunlight left to the day. We setup camp and get ready to go get some sustenance for dinner.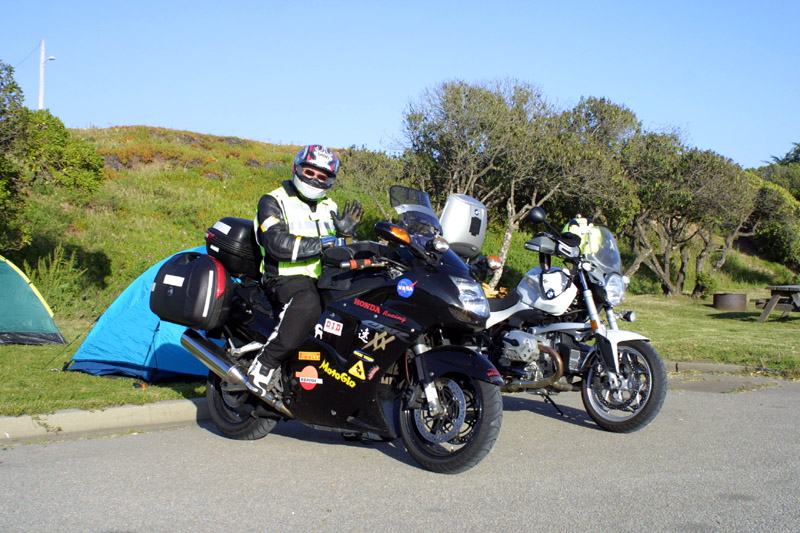 Camp all setup. Time to go get stuff for some chow.

Angus 80% lean, 20% fat hamburgers. Man does it taste so good. For dessert we have Haagen Dazs pineapple coconut ice cream. Now this type of roughin' it is what I'm talking about.

During the course of the evening, we talk about a lot of things, but one thing in particular popped up. It is the comment, "Why don't you go somewhere else instead of the same place again?" Well, the answer is simple. The Central Coast trip is normally the start of all trips for the year. It's a good starting point to assess our physical condition after a winter of no long rides. It's also a simple destination and an all around enjoyable ride. But the basics of it all is, because we can do it and the journey is what we're after. In other words... we ride just to ride.


[ Saturday - April 30, 2011 ]

All too soon, it's the start of the end. Eggs, sausage, and toast for breakfast. It's all good and we're filled. Time to pack up and head out.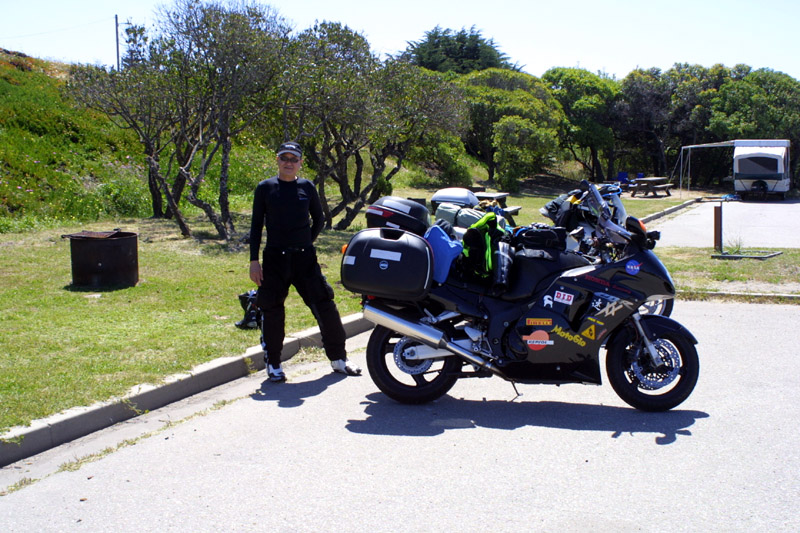 Zero foot print.


Proof that things don't last forever. The gas station that use to be off of Main street is no longer there. We ended up making a U-turn and heading into San Luis Obispo to get gas. Just as well. Our destination for today is Santa Barbara for some lobster.

55 miles worth of tarmac and concrete. The Blackbird and 12R chews it up like a small piece of candy. Next thing we know we're in Santa Barbara at the Shell Fish Co. If there is such a thing, I think I nearly over dosed on lobster. That's my quota for the year.

We finish up the trip when we finally reach Pasadena around 6:30 PM. It's definitely a short trip, and it's all so sweet.

In the end I'm glad I took the 12R because it's such an awesome bike when it comes to tarmac.


---
Written on: April 30, 2011
Last modified: April 30, 2011