Edwards Air Force Base 2005

---

So it is here. Finally. October 22nd 2005. The first of two days of the Edwards AFB Open house. We have been planning for this ride ever since the end of the Central Coast trip in May. The idea is to meet everybody at the IHOP in east Pasadena to head off to Edwards AFB in the Mojave (east of Rosamond). Unfortunately, there will only be three of us this time around. Joseph is busy with his MSF motorcycle class to finally get his M1 license. Kevin had recently been in a bad motorcycle accident with his new Honda Interceptor so he can't make it. Kevin got away with a fractured pinky and some minor bruises. Lucky him. His Joe Rocket jacket and pants took the brunt of the impact. You can never wear too much protective clothing I say. As for the me and the new R1200GS, the run-in is done and I'm ready to head off to check out the wild blue yonder.

The day started off early for Russell and myself. We both got to the IHOP at a little after 8:00am. I had contacted Primo but wasn't sure he was going to make it. Russ and I decided to just take it easy and put some warm food inside us. We sat around for about an hour and to my pleasure and surprise, Primo shows up. His second comment after "Hi" was, "You guys didn't think I was going to show up huh?". I have to agree with that but we're glad to see he showed up. We all finished our food and got ready to head out. Southern California was socked in so it was a little nippy.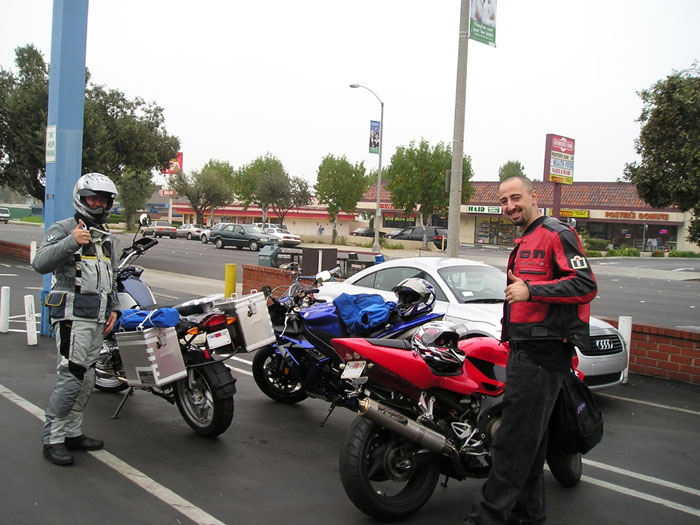 Primo and myself all ready to go check out some major multi-million dollar jet planes


Our route was simple. 210 to the 14 all the way to Rosamond, hang right and head straight into the Edwards AFB's west gate. All said and done, it's about 120 miles from Pasadena to the Edwards west gate one way. We were told by the base security guards that we needed bright orange reflective safety vest in order to ride our bikes on the base. However, this proved to be not necessary. When we got the the west gate, the guards didn't force us to put the vest on. I figure the guards are slack on this because most people that ride in don't know the safety requirements. We had some vests but ended up not using them.



This is my first major ride with the R1200GS. I didn't know what to expect but I already knew the bike was going to be nice and smooth on the freeway.

The entire ride on the 210 was uneventful. It was a little cold so Primo had to make a stop to put on more clothing. He was starting to get hypothermia. After a quick wiz and more clothing thrown on, we were back on the freeway heading towards the 14 junction.

The southern part of the 14 freeway proved to be formidable in terms of wind because of the channeled wind from the Mojave desert down to Santa Clarita and Sand Canyon. The gusts would periodically nudge me here and there and the rest of the wind would manifest itself as buffeting. The closer we got to Palmdale, the more I started noticing the constant eastward wind that I know so well. My older brother use to live in Lancaster and I would frequent visits so the constant wind was no surprise.

We made it all the way to Lancaster and stopped at a Mobil gas station on J avenue on the West side of town for a quick break and a fill up. Gas pumped and power aid consumed, we were back on the 14 heading North towards Edwards AFB. We got to the west gate, the guard looked at us, handed us a piece of paper and we're on the base. We rode a little bit and then quickly encountered heavy traffic heading towards the show. Primo split ahead while Russell and I hanged in traffic. When we got close to the flight line, the guard pointed at us and told us "motorcycles go in that direction". Cool!! We get preferential treatment for being on two wheels. On the other hand, all the cars had to head towards the far far far away parking. We ended up at the very front of all the parking and start getting out of our bike gear. The weather had changed for the better around the 210 and 14 junction. The sky had cleared up and the sun was shinning. The temperature rose to a nice 80 F (e.g. we were starting to roast in out bike gear while sitting in traffic at Edwards AFB) all the way to the base. We arrived at around 11:30-12:00pm so there were plenty of people walking around and the planes were already flying. The air show starts at 10:00am so we have missed part of it already. The west gate actually opened at 7:00am.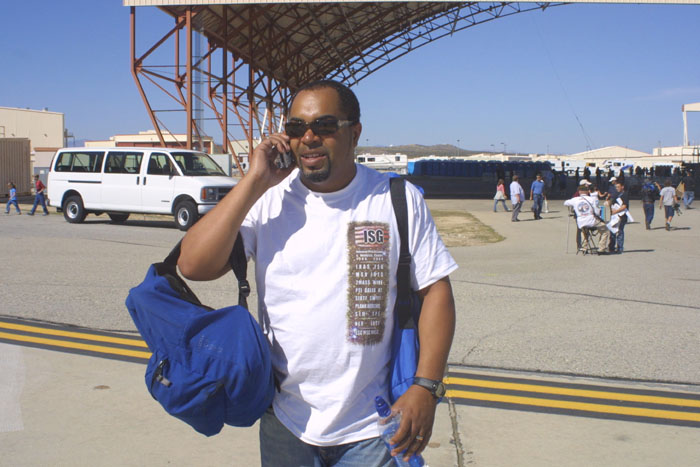 Russell and I pass the entrance to the show. We were trying to find Primo.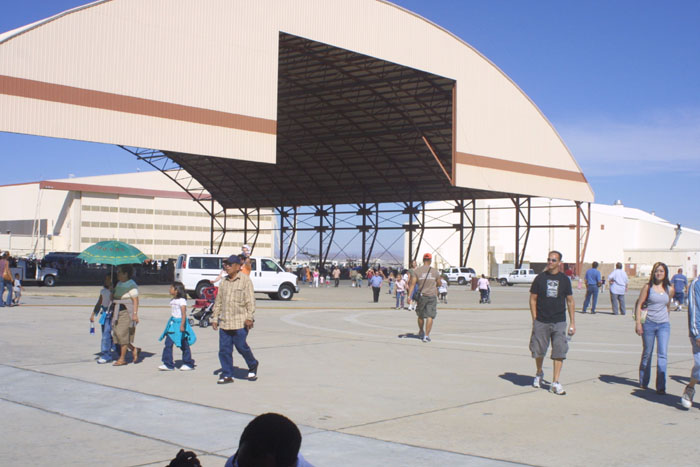 Entrance to the show from the inside looking out.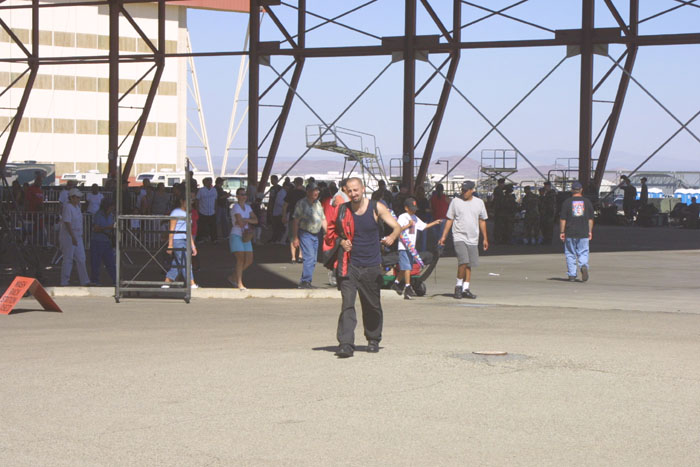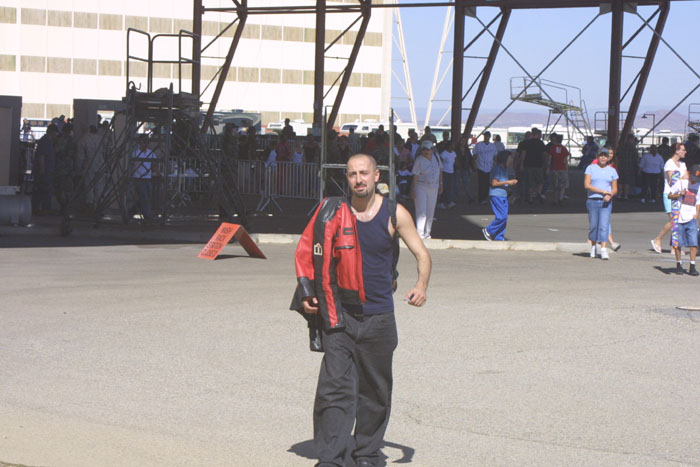 At long last, Primo shows up. It was hard for him to find us because

we were out of our motorcycle gear.


From here on the rest is all planes...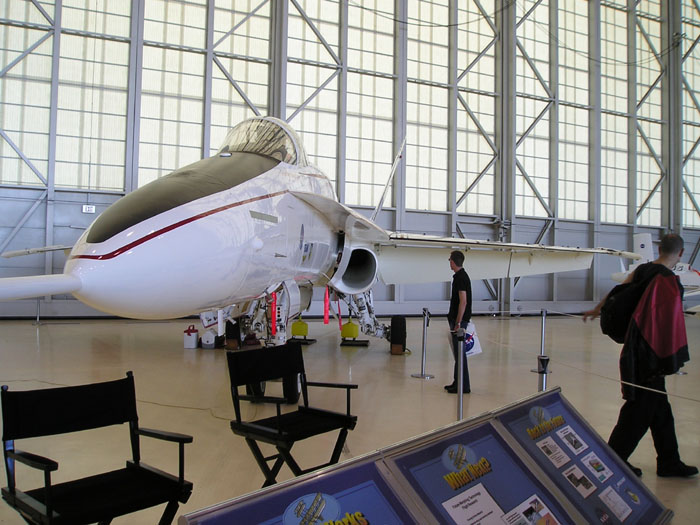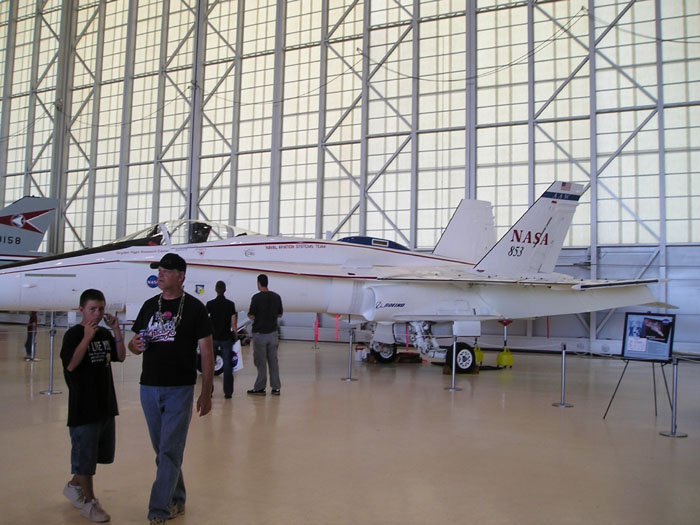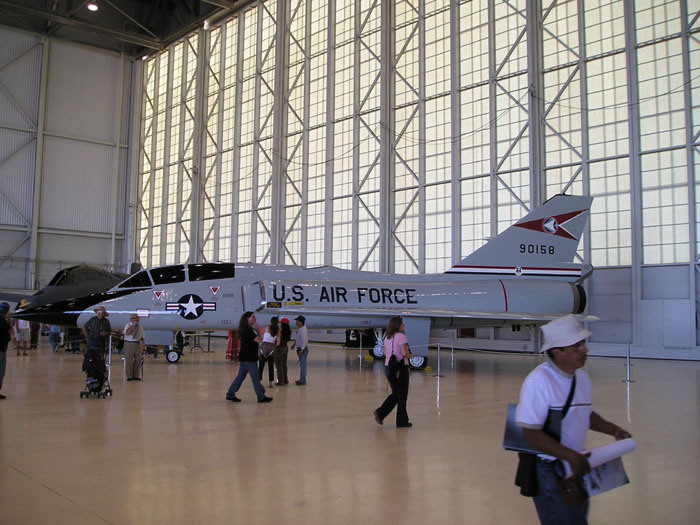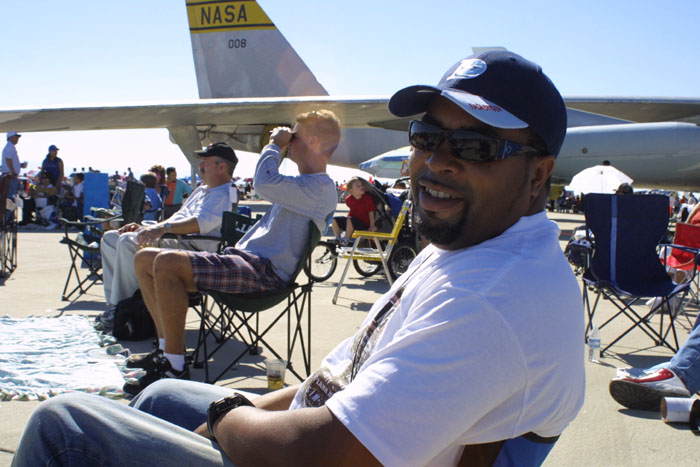 Russ chilling out on the flight line (actually it was really hot and we were actually roasting)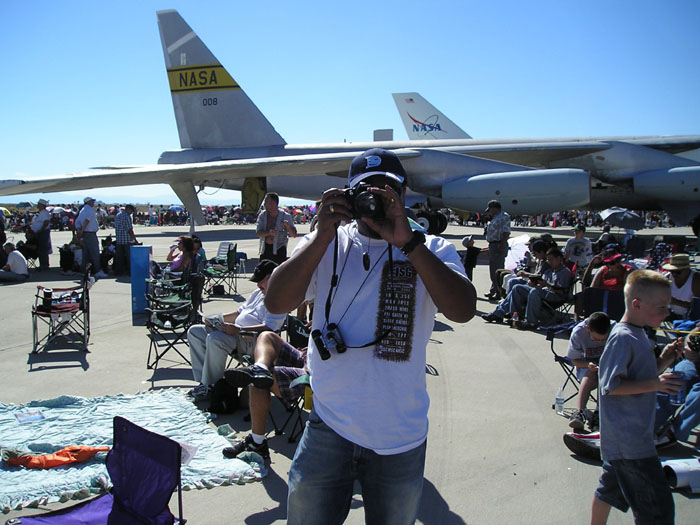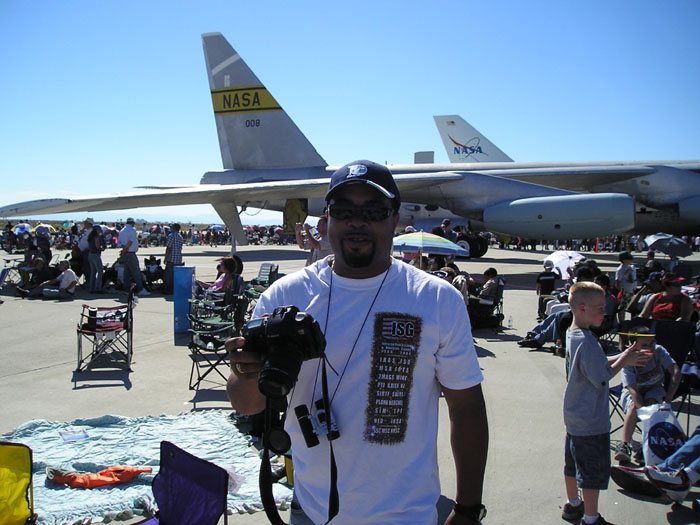 Russ is having too much fun with the camera.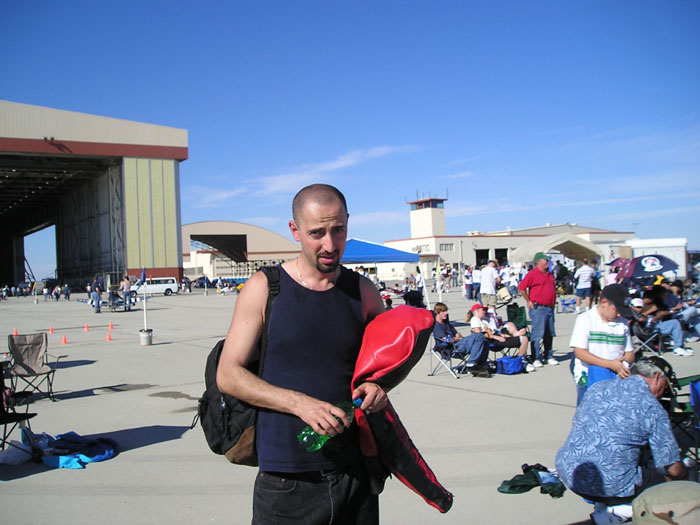 Primo as captured by Russ.


Here is something interesting for you. Three NASA planes. 1 modified F-15 with fins installed on the front, one F-18 that appears slightly plumped up, and one what appears to be a turbo prop. The F-18 appears to have vector thrust and was performing some pretty amazing tricks. The turbo prop would fly along at a stead clip (probably around 300-500 MPH) and the F-18 would have and angle of attack about 45 degrees and fly along side the turbo prop at the same speed. I should have taken a picture but was too busy having fun with the spectacle. It was pretty amazing to see a jet fly along side a turbo prop at such a slow speed.

The NASA F-15 was performing some really tight and strange maneuvers. You gotta be there and see it to see how cool it was.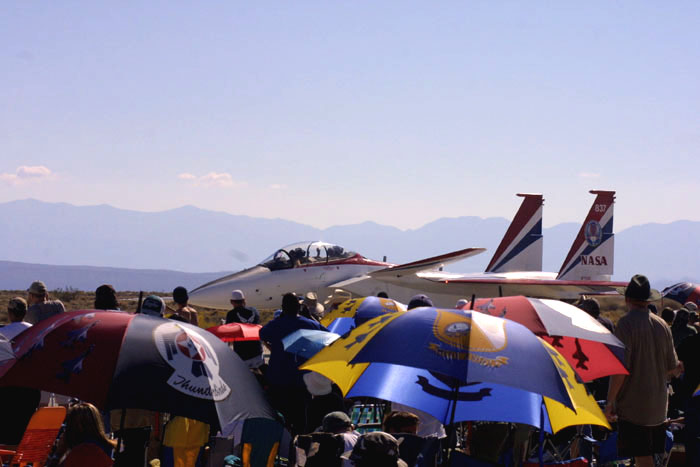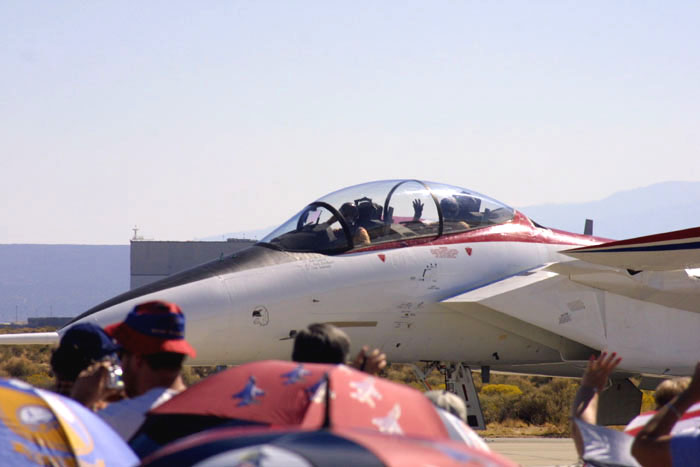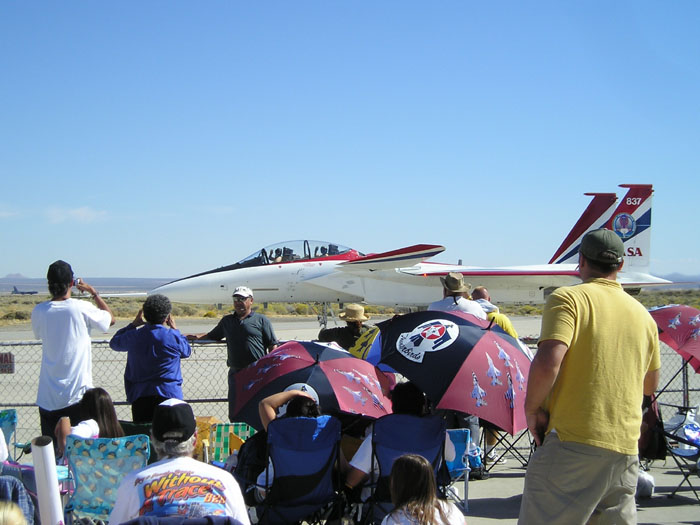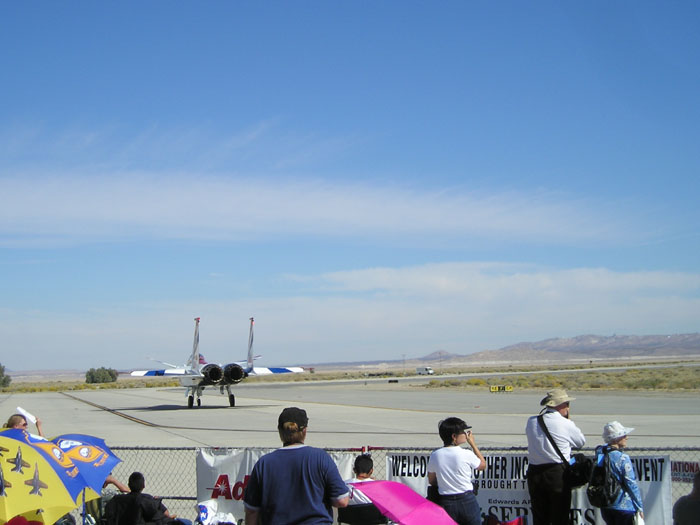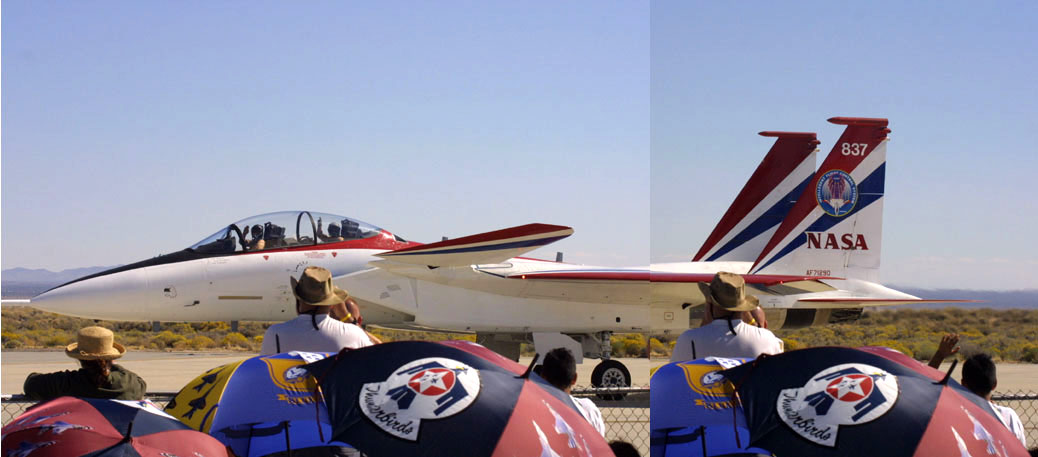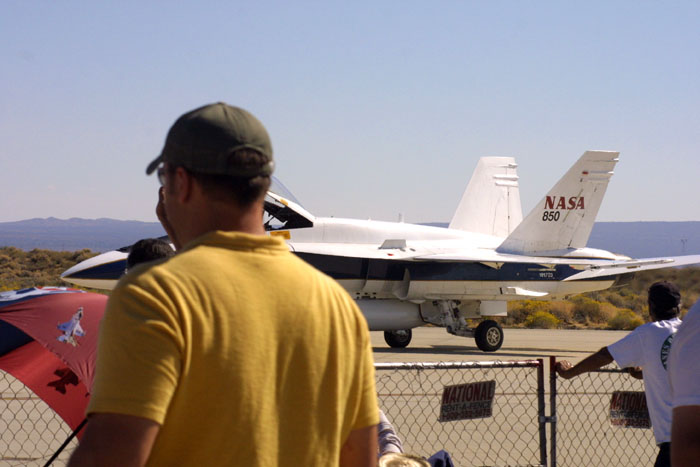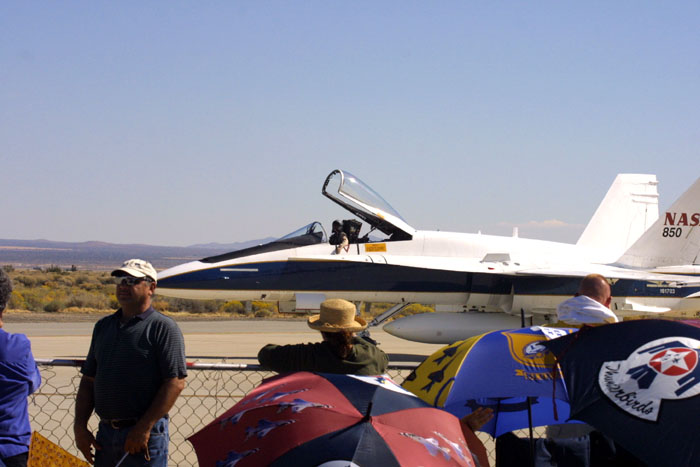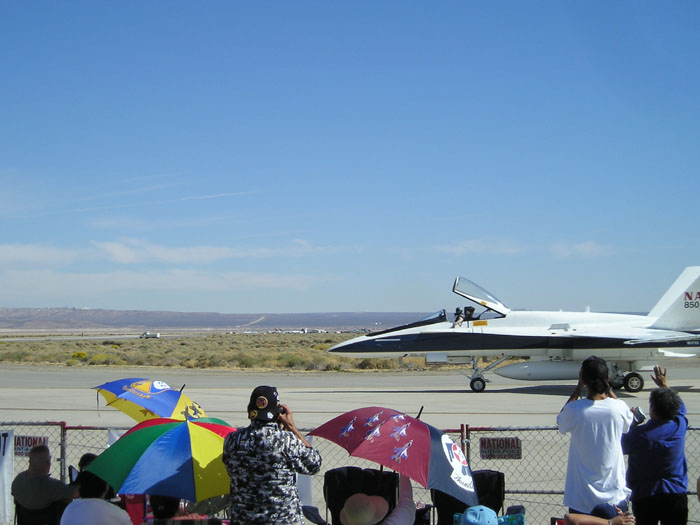 The infamous NASA F-18 that flew next to the NASA turbo prop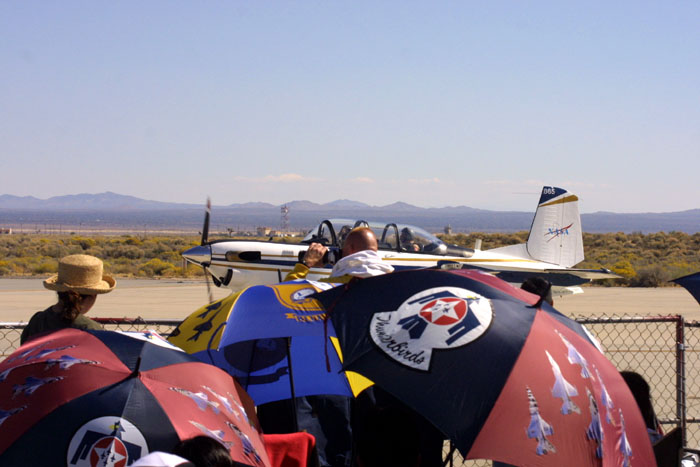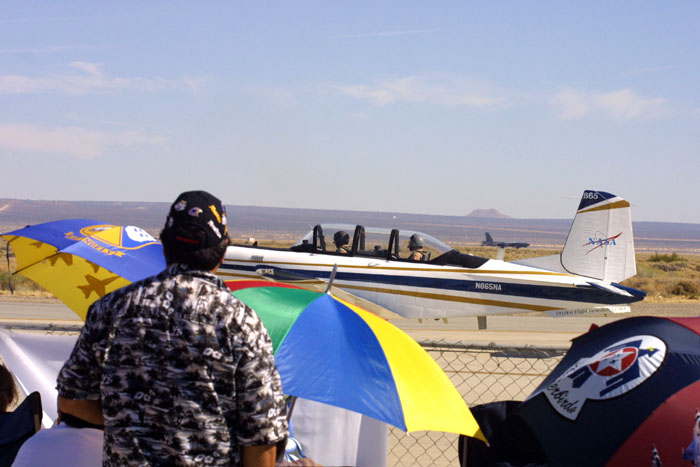 The little NASA Turbo Prop that could.


Do you want to see a cow? Here's one coming right up... the B52 was ever soooooooo.... sloooow... but it was cool to watch so long as you have the patience.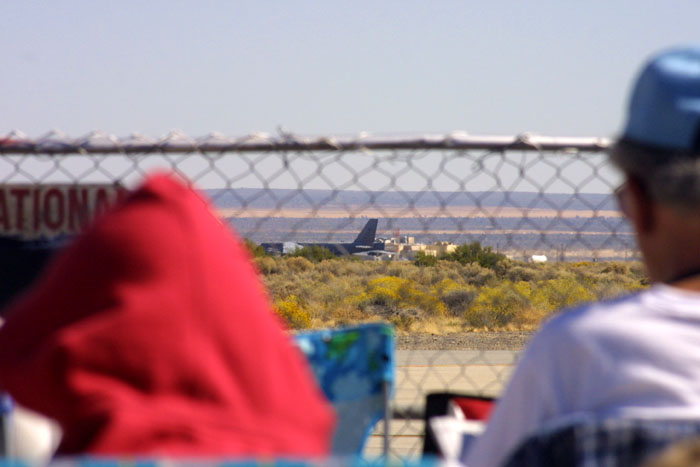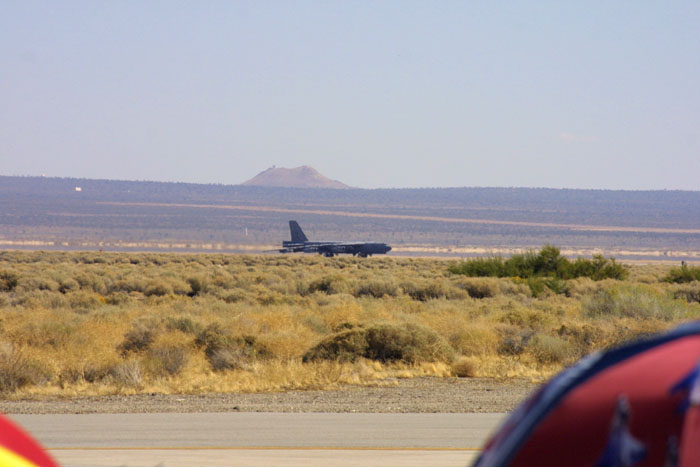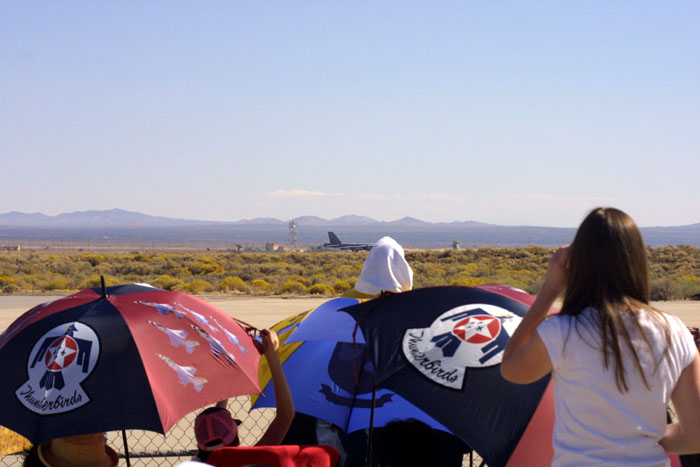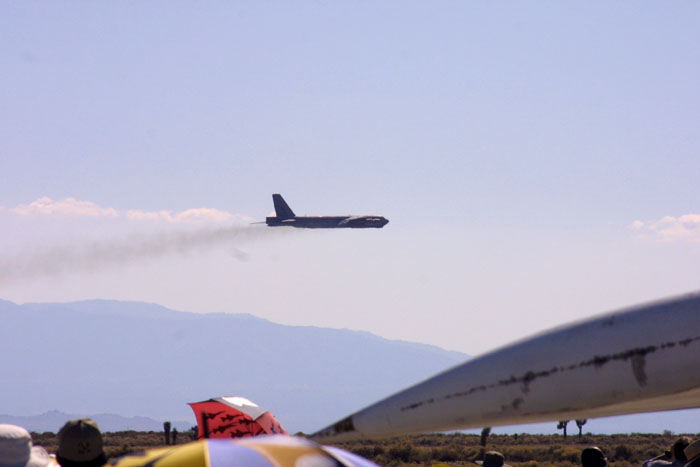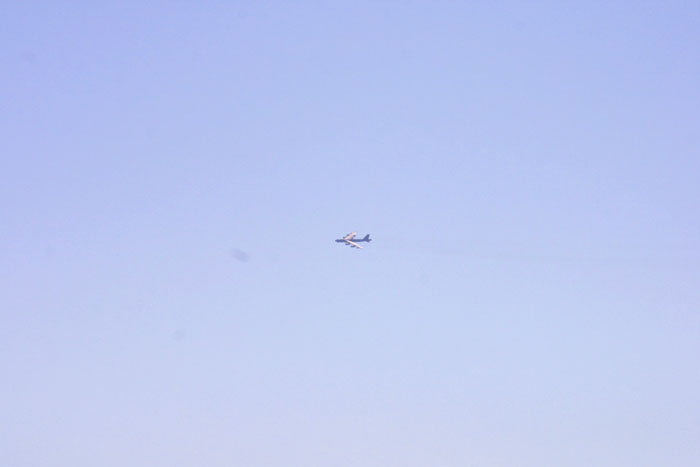 It took the B-52 forever to turn around. It was flying so slow.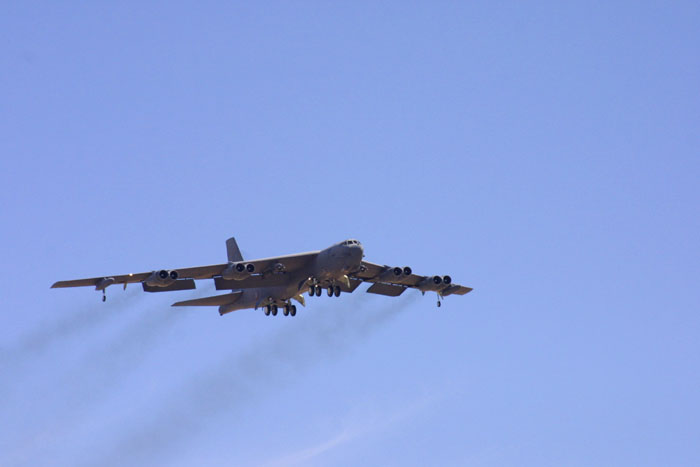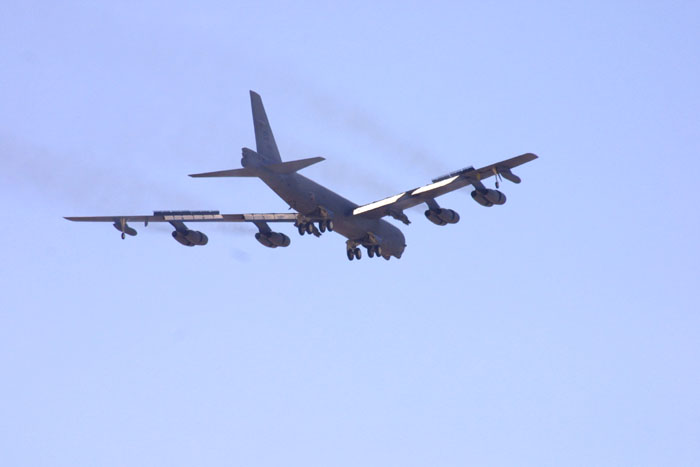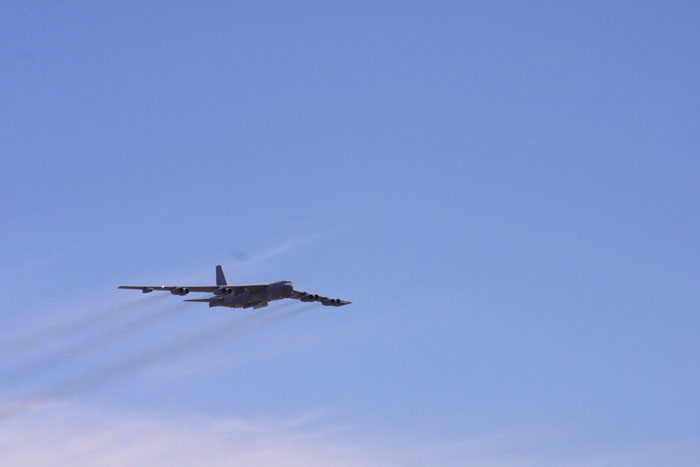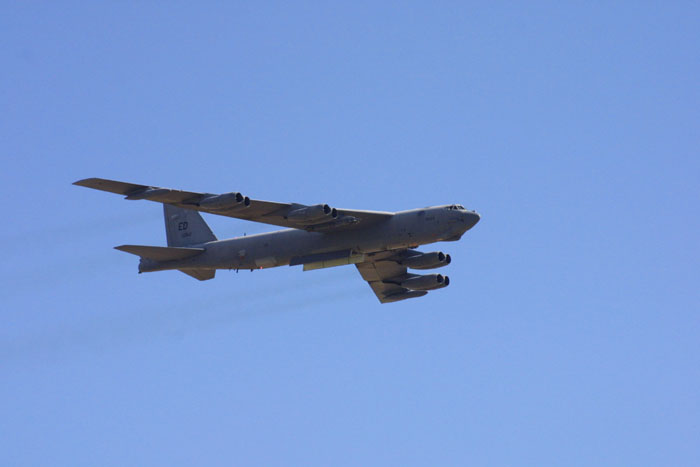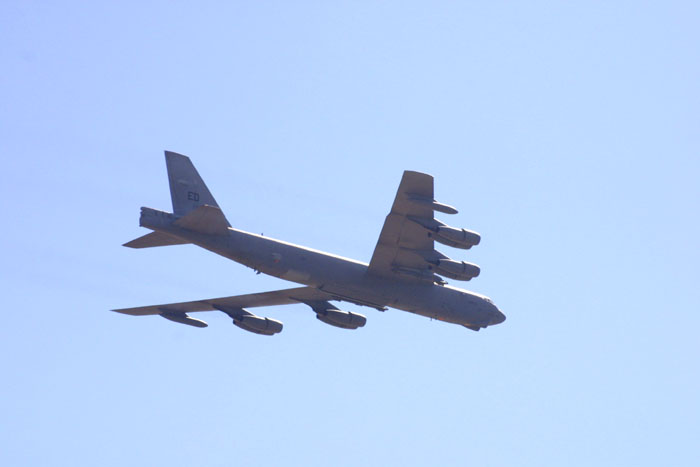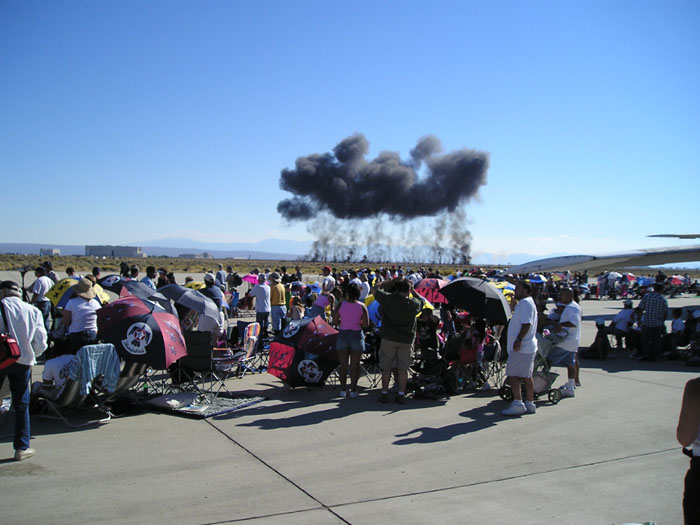 Fake pyros. What more can you ask for? It was a 10 gallon gasoline explosion, or was that 5?
I wish they would have dropped some dummy bombs.
Here's the man who stole the show (Captain Dax Cornelius as far as I can make out on the F-16 cockpit name). More power to you Capt. Cornelius. You gave us a rumbling chest full, ear crackling pops, and a kinked neck for trying to keep track and watch your flying. I hope to see you again next year. You were the most spectacular in terms of aerobatics during the time I was there. The Capt. was all over the base's air space. I think he was having way more fun than he would have us believe. I swear the good Capt. was on burner 80% of his flight and he was probably pulling at least 9Gs on some of the maneuvers. Vapor trails galore. Only one description for Capt. Cornelius ... AWESOMELY COOL BEANS!!! You're such a awesome ham... You make it all look so easy.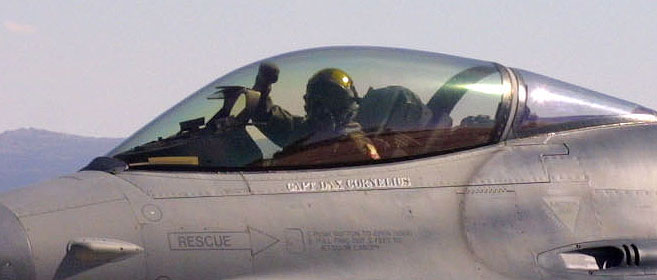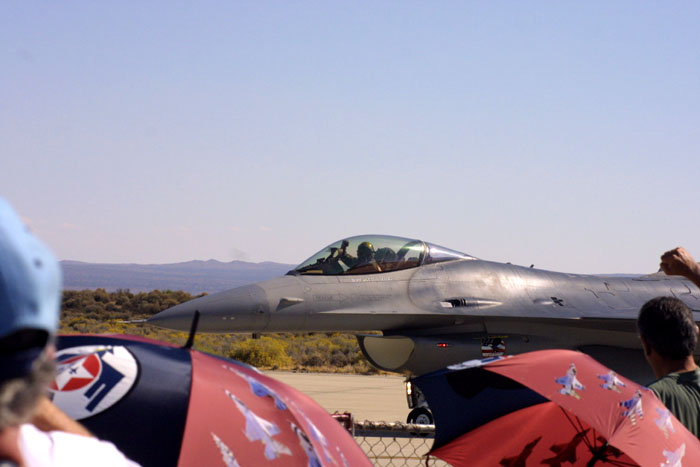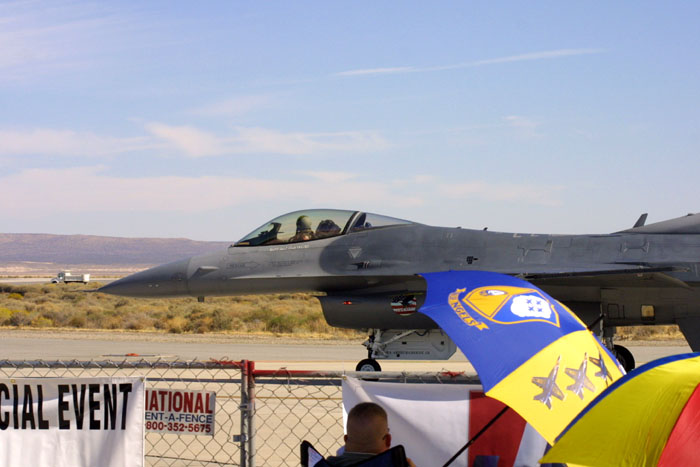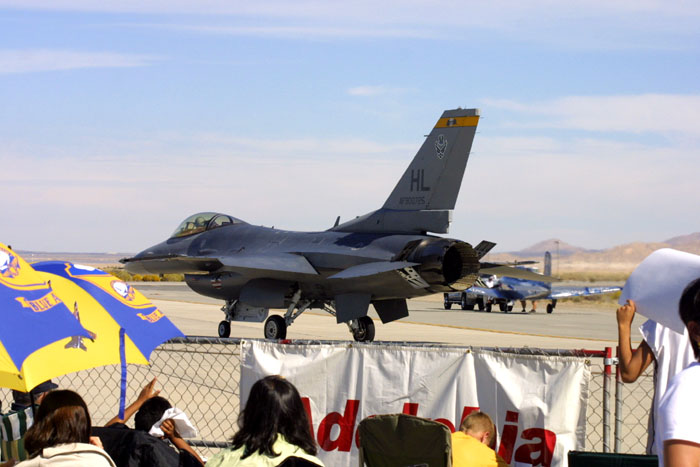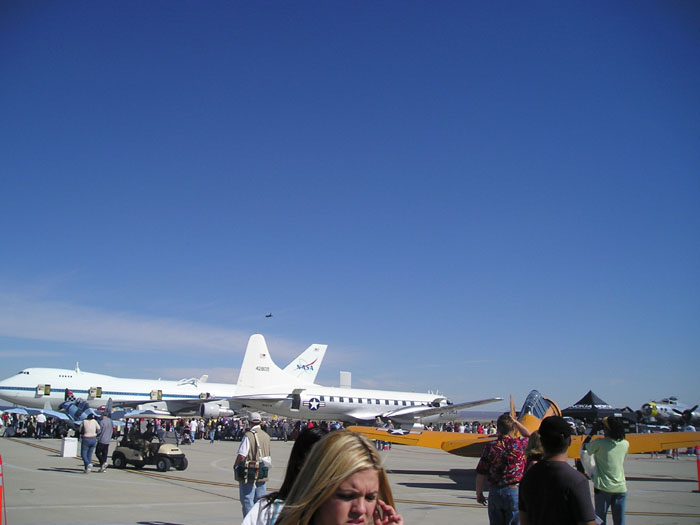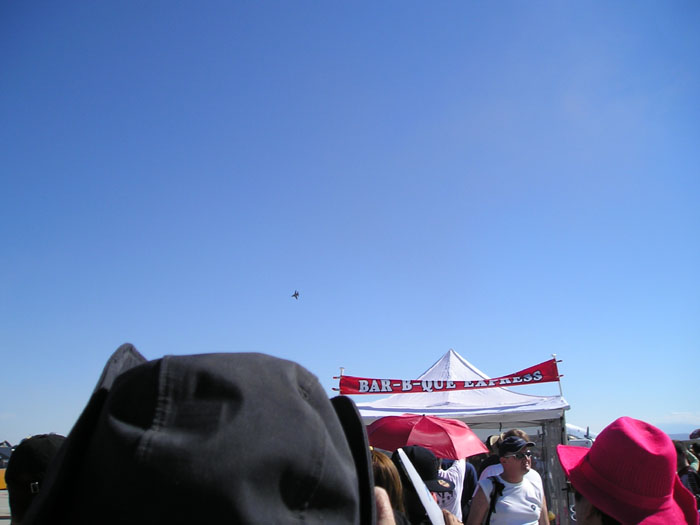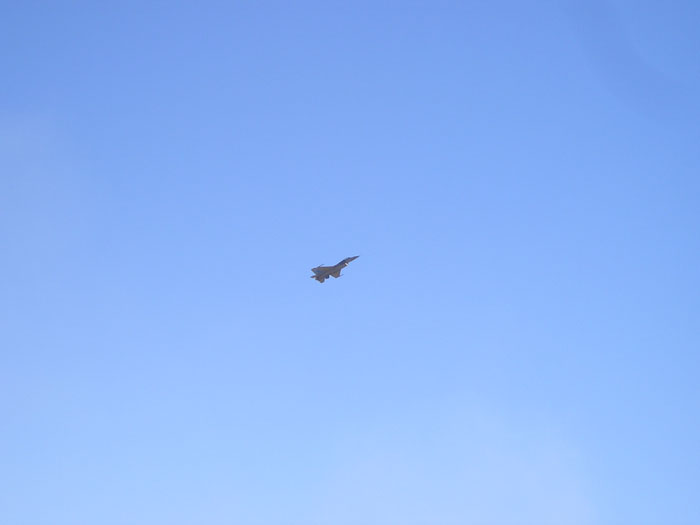 We watched the air show for a little while longer and eventually left at around 3:00pm. The ride back was uneventful also. Just a lot of buffeting and wind nudges here and there. Interestingly enough, once we got to the very south end of the 14 freeway, we encountered cold climate once more. Southern California was still socked in.

It was a fun day. I look forward to taking the wife and kids to the show next year. The only bad thing about that is I have to drive. What is up with this driving business?

Next up, a motorcycle trip with the gang to Death Valley. Let's see who can make it this time.


---
Written on: November 29, 2005
Last modified: November 29, 2005