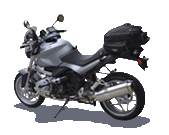 Atten..HUT!
---



[September 12, 2007]



Here is another one for you. It has nothing to do with me. I'm just a mere by standard. Pardon the angle of the image. This is the new vioSport Adventure Cam 3. I had just mounted it but didn't have time to align the camera.

So we're all sitting here at the stop sign waiting for each other's turn to go. Next thing you know a loud siren rings through the air. My initial reaction is, "Where in the world is it coming from? Is it my left/right or is it behind me?" Sure enough I find out. Funny thing is, the fire truck shouldn't have left. It should have stayed there to assist these idiot in their driving decision. Primary question, "What is the hurry?" These guys dfinitely need to pay attention.



---
Written on: September 23, 2007
Last modified: September 23, 2007