Rim of the World
---



[Friday - August 10, 2007]



It's been a while since we've had a ride and Minh has been all cooped up at work trying to make good on a software delivery. To say the least, Minh was stressed. Deadlines and over work has been seriously cutting into his play time. Russ had also just come back from a family related trip from Jamaica. Your first immediate reaction might be, "Jamaica? That's a problem?" What you don't realize is it's family matters, and it's not his side of the family. We'll end it at that. He hasn't been riding his steed of an R1 for the last 1 1/2 weeks. I'm sure he's itching to get at that throttle. Hearing that Minh and I are going to do a quick curry run, Russ' eyes perked at the possibility of him flinging his leg over the R1, and the possibility of chowing down on some excellent curry. However, the fly in the ointment for Russ is the fact that his 23rd anniversary is this weekend. He's going to try and squeeze in some time for the R1 but I seriously doubt he'll be able to do it. Nonetheless, I'll give him the chance. The notion is there, but I think he's screwed.




[Saturday - August 11, 2007]



9:45AM, I receive a call from Minh that's he's ready to head over for the curry run. He asked whether I have heard from Russell and whether Russ is going to make it. I told Minh I seriously doubt that Russ can make it, but I'll give him a call anyway. Minh then asked if maybe we can do the "Rim of the World" instead of the curry run. I had doubts but maybe we can do that ride if Russ doesn't come. I called Russ and got his voice messages. That's about the best and the most communicating with Russ for this day. I knew he's tied down, but I had to try. It wouldn't be fair I he wanted to come and we just took off. 10:30AM rolls around and Minh shows up at my place. I told him I haven't heard from Russell so I'm going to assume he's not going. At that point Minh nudged me a bit and said we should do "Rim of the World". I asked him if he knows the way, he showed me his tank bag map. "OK. I'll go program the Nav and we'll do that instead." Second try, I got the route.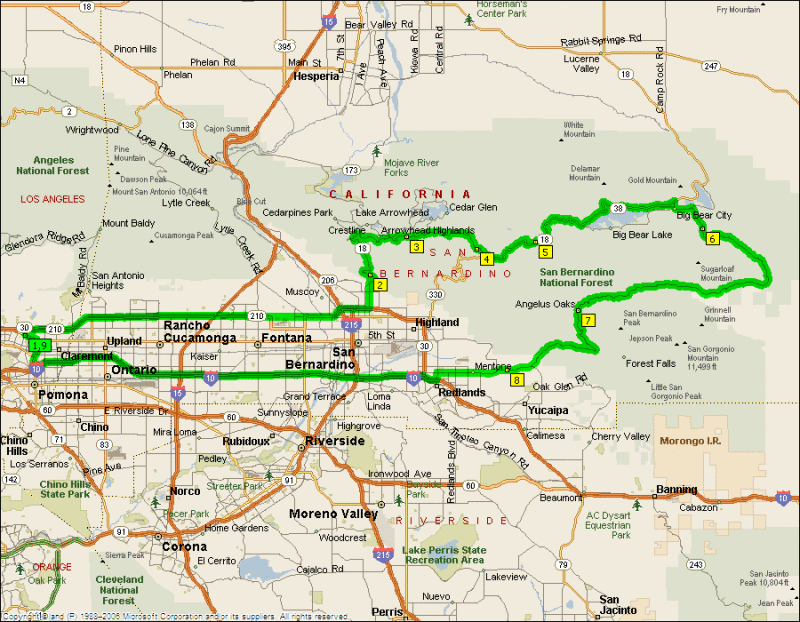 So we head off. I've been wanting to pair my BMW Nav system with my new Chocolate/cell phone but can't seem to find the time to do it. So once again, there will be no audio cues as to when to turn. I just have to keep an eye on the Nav and make sure we make the right turns. One of these days I'll get around to doing it. It's not hard, just a matter of doing. I'm still learning to read the Nav. I'm getting better at it. Slowly.

The News recently announced the section of the 210 freeway between the 15 freeway and the 215 freeway had been opened up. Of course, the nav system doesn't have the updated map yet so who knows what it's going to think when we get to that section. I just hope the nav will figures it out and not go nuts on me.

As usual on the weekends, it's fast/easy sailing on the 210 heading east. Next thing you know it's the 18 HWY exit. The section of freeway the nav system didn't know about proved to be non-problematic. Of course it told me I should make all types of detours, but in the end it found itself when we go to the 18 exit. The interesting thing about this is the fact that all the old roads (possibly homes) indicated on the nav system is no longer there. It made me wonder what this section of road looked like before the completion of this of section the 210. It's history now. I guess I'll never know.

The turn left to get onto the 18 was, for a lack of a better phrase, common. It didn't seem all that exciting for the "Rim of the World". It looks just like any regular street in a regular city. Oh but how quickly I change my mind as we headed about 5 miles north. OK, so the road is climbing and turning. Nothing special here. Oh but wait, it's continuing to climb and turn. Hairpins and large sweeping turns. It's a nice road. 4 lanes total. Two lanes on each side. Of course Minh and I quickly out paces the cars climbing this hill, which is really switchbacks on a mountain side. The climb is fairly gradual with some occasional sharp turns. Just what you would expect from switchbacks. Next thing I knew, the world was opening up below us. We has acquired a substantial amount of elevation to see the LA basin below us. Unfortunately it was a hazy smoggy day so we couldn't see all the way out to the ocean. Nonetheless, we starting to grasp the concept why they call this road "Rim of the World".

Eventually Minh and I pulled off the HWY to admire the view and the HWY itself.


While we were standing there talking I made the comment, "Who came up with this Rim of the World thing? It sounds like it's on the edge of the Pacific Ocean or something." Minh agreed. Some how I pictured Rim of the World to be akin to something like the ring of fire (e.g. the ring of volcanoes all around the Pacific Ocean). Oh well, it doesn't matter. What matters is that this is a good and enjoyable road.

Here's a taste of what it's like to ride the "Rim of the World".


It was about 1 PM so it's time to think about lunch. I hadn't had breakfast so food was definitely creeping into my thoughts. when we reached the town of Rimforest. We looked around for a restaurant but couldn't find anything. The closest is a mini-mart with a possibility of Mexican food. I asked Minh if he wants to eat Mexican food. All I really got out of him was, "Is that a restaurant? It looks like it's just a mini-mart." He doesn't seem to be interested. I really wasn't interested either. So we decided to stave off old man hunger to see if we can find anything in Big Bear. Plus I wasn't really that hungry and could afford to travel a little further.

We kept on trucking until we reached the town of Skyforest. Lo and behold, a restaurant/deli. It's called the Rocky Outpost & Trading Co. That fine. So long as there's food, I'm not complaining. It also looks like a pretty nice restaurant. Pardon the images. I had to use my cell phone to take these images. Minh didn't anticipate doing this ride so he didn't bring his small camera and I just got my new cell phone so I don't know how to use the darn thing. Oh well, at least I did manage to snap some pictures.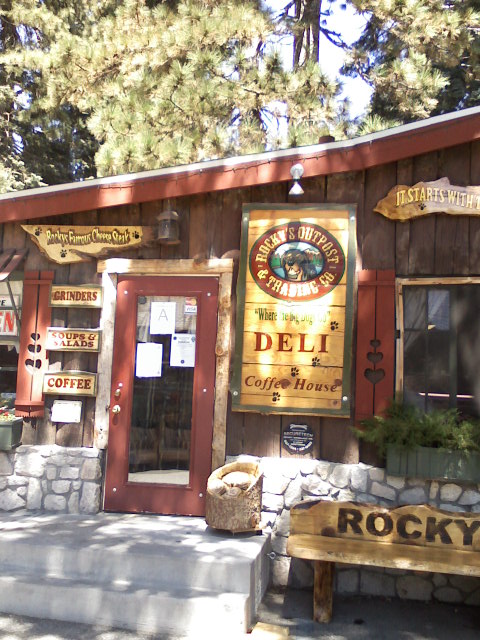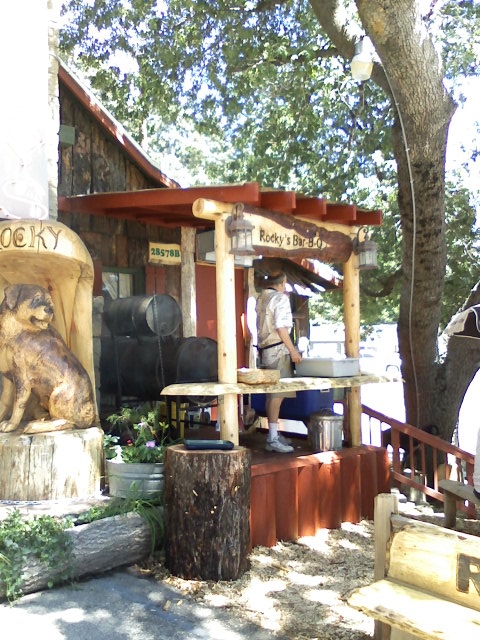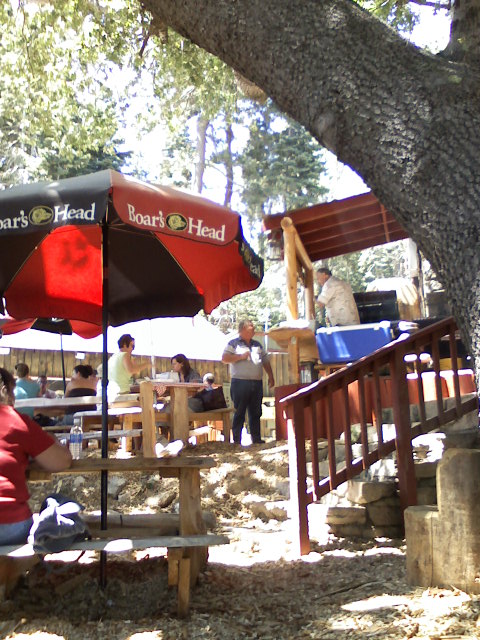 It was an interesting place. It's a deli but with a twist. What I mean by this is, you find things like a "Cookie Monster Smoothy" and instead of a French dip sandwich, they call it something else. But it still a French dip Even their Reuben sandwich has co slaw instead of sour kraut. I can hear it already, "What in the world is a Cooke Monster Smoothy?" The answer, "Oreo cookie shake." However, it does taste better than you run of the mill Oreo cookie shake. I think there is more chocolate or something like that. Anyway, Minh and I settle down to devour our meal. Interestingly enough, the owner of the place has a rottweiler for a pet dog. I use to have a friend that has a rottweiler. They're big dogs. They can grow to be 160-170 lbs. That's not something to be taken lightly. Pun intended. The dog kept on barking. I didn't pay a lot of attention to him until the owner came over and asked if he was bothering us. I said, "No. He's fine." I think the yellow jackets were doing a way better job anyway. The dog was still barking and pretty much ignored us. Minh then decided to see how well trained this dog is. He gave the dog a command to sit. Nothing. He would hold his spot and bark occasionally. That was the case until Minh decided to throw him some roast beef.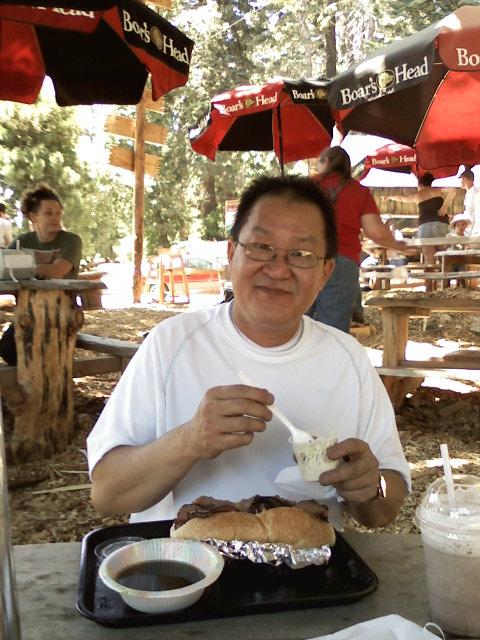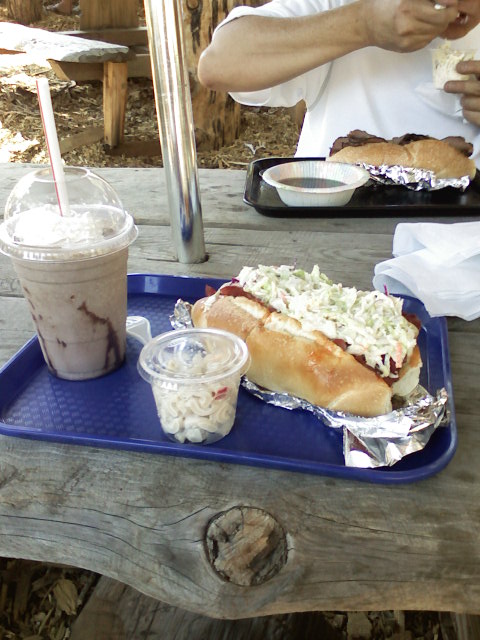 Man, once he got a taste of that, he sits on command. One chunk of beef, one trick. After a while, I was throwing him corn beef also. I don't know if we were training the dog or he was training us. Either way you look at it. He's one smart puppy. Did I say puppy? Yes I did. He's a puppy. I originally guess him to be one year old, but the owner told us he's two years old. That's fine. One or two, close enough. He's still a puppy. One big puppy. Smart cookie too.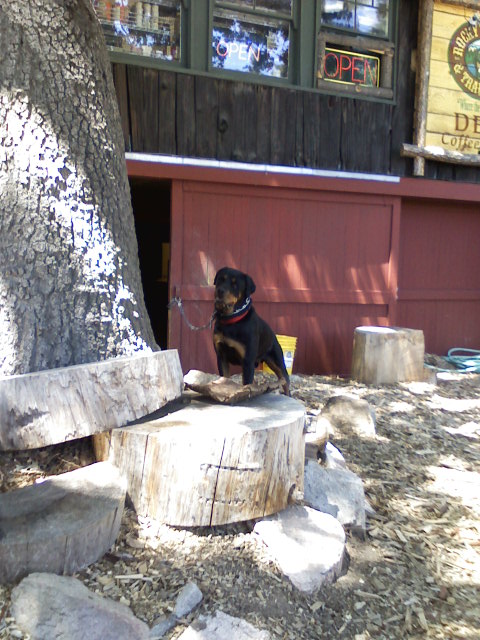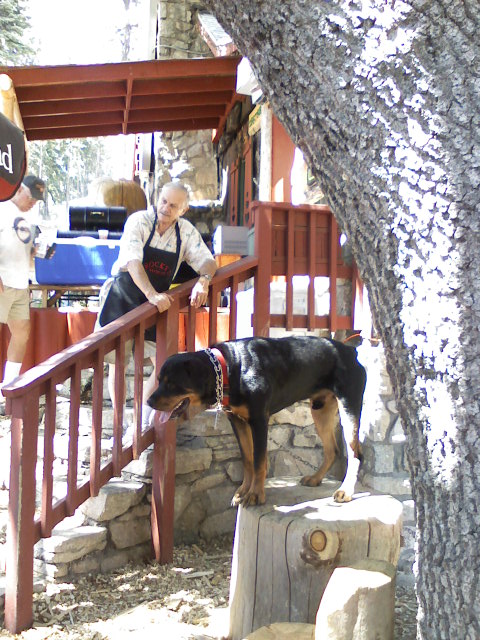 When we got towards the end of our food, he was catching the meat in mid air. Dude's good. However, there were no more goodies, there was no more tricks. Yup, Minh and I were very well trained. Not only was the dog no longer paying attention to us, the hornets were gone too. Go figure. No food, no respect.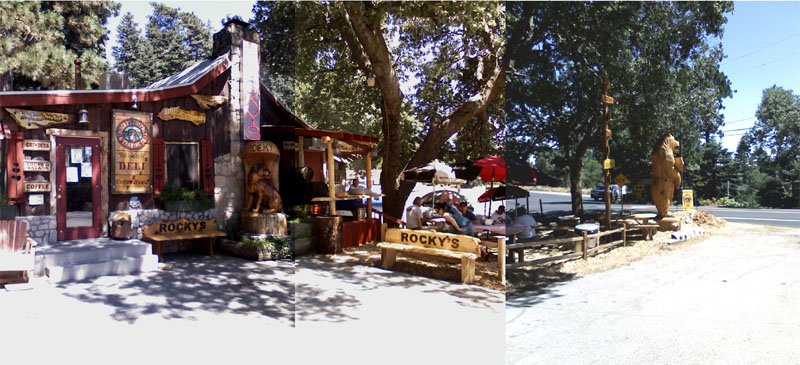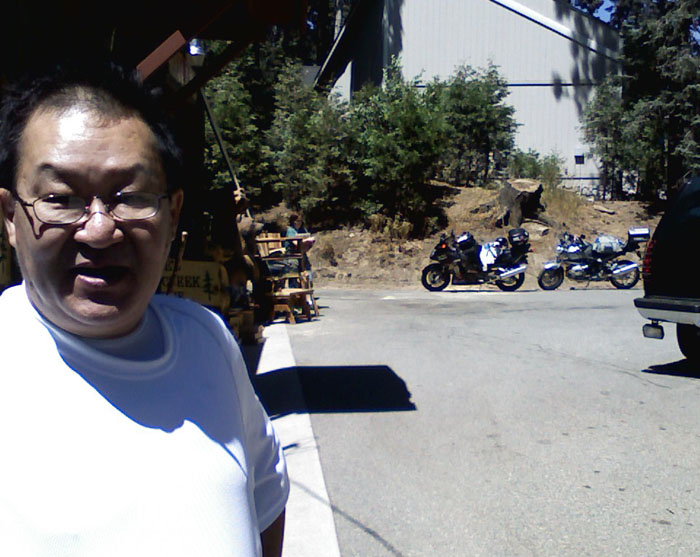 "What are we going to do now? The sky is falling and the world is about to end!"
Actually, Minh didn't say that. I don't know what he said. I think it was something about my cell phone's resolution.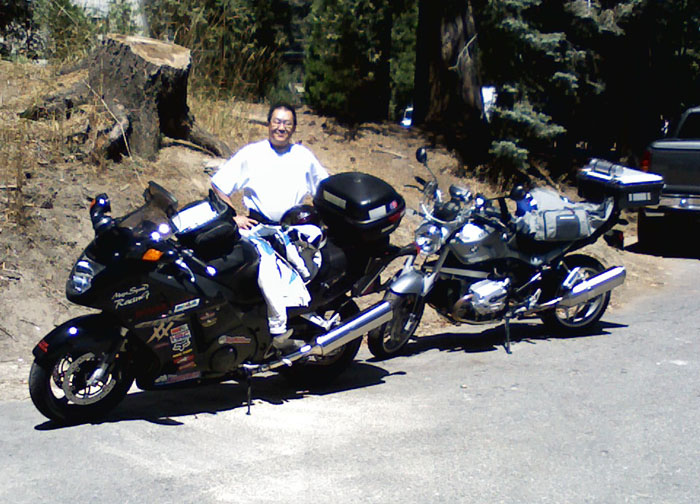 Beef flinging all done, we suited up and headed out. As we continue on, my thoughts are with the guys that can't make the ride due to commitments and mechanical issues. I'm going to have to bring the gang in this direction in October or November time frame. Hopefully by then the smog won't be so bad.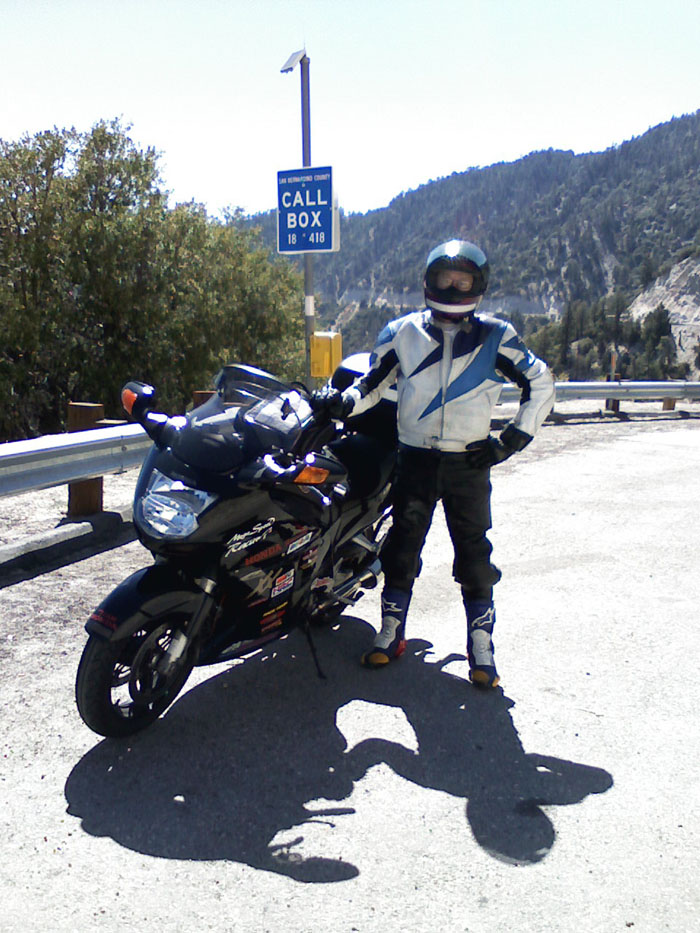 The entire time I'm riding this, I see so much of the scenery resembling Mammoth and Yosemite. It's California alright.

Taking the North Shore Dr. at Big Bear lake was slow going. The cars in front of us were busy sight seeing instead of driving. The snail's pace finally ended when the last car turned off to one of the residential streets. Not too long after, the 18 HWY ended for us. I've been doing good so far until this change of road. We were suppose to extricate ourselves from the 18 HWY but it was hard to tell with just a glance of the GPS. I look again and again but I was too late. Not only that, it looks like we are suppose to turn off onto a residential street. I just wasn't sure of the entire situation until we over shot the turn off. I checked the GPS one last time, and yes we missed it. Oh man, I'm going to hear about this from Minh. My excuse is I don't have the audio cue so I really have to try and read the GPS. Oh well. One U-turn it is.

We take Baldwin Lake Dr. to head towards the 38 HWY. As Baldwin Lake Dr. turns into Old Shay Rd. the surrounding change from a wide open savanna into a heavily shaded forested setting. Nice. The shade is welcome because my bike is registering 90+ F ambient temperature. We finally meet up with the 38 and make a left turn to get on with it. There was traffic this day, but most people use the turn-offs if they thought they were too slow. Awfully nice of the folks. I make sure they see me waving as I pass by. What the 38 lacked in terms of scenery, it made up for in terms of fun factor. The initial sections of the 18 was wide sweeping but the 38 takes the cake. Not only that, the majority of the 38 was down. It was a blast. For the sake of a deer surprise, we didn't do any more than 65 MPH. Even without the crotch rocket speeds, it was still fun.

Once we got to the end of the fast sweeper part of the 38, we pull off on one of the turn-offs (with a lot of shade) and had ourselves a coffee break (figuratively speaking).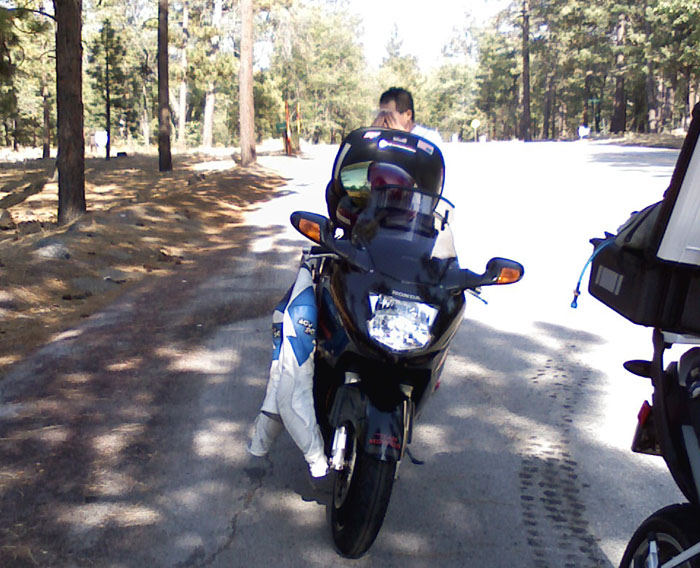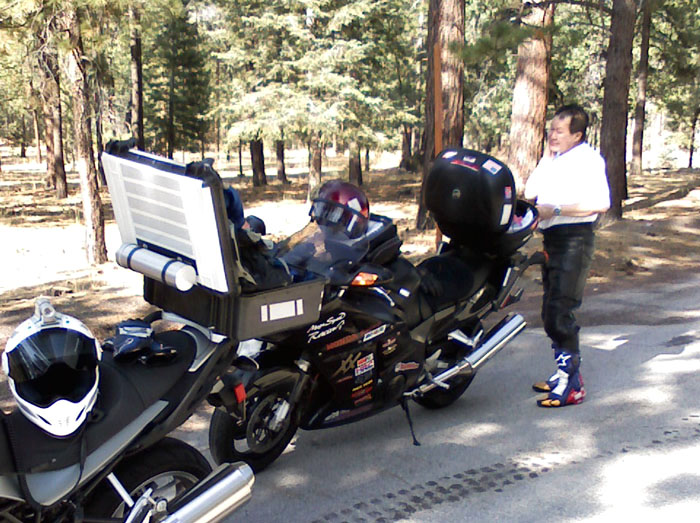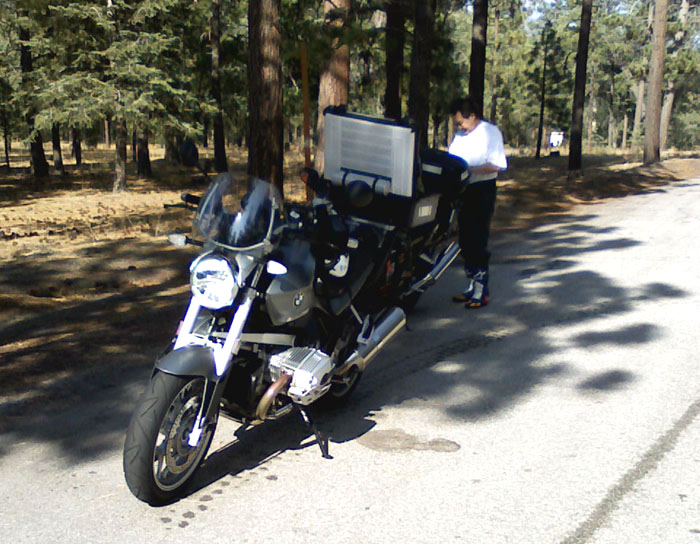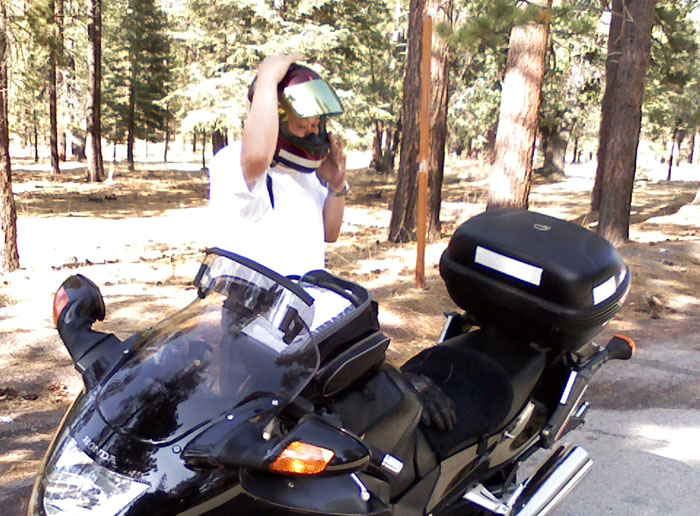 Break over. Getting ready to finish off what's left of the 38 HWY.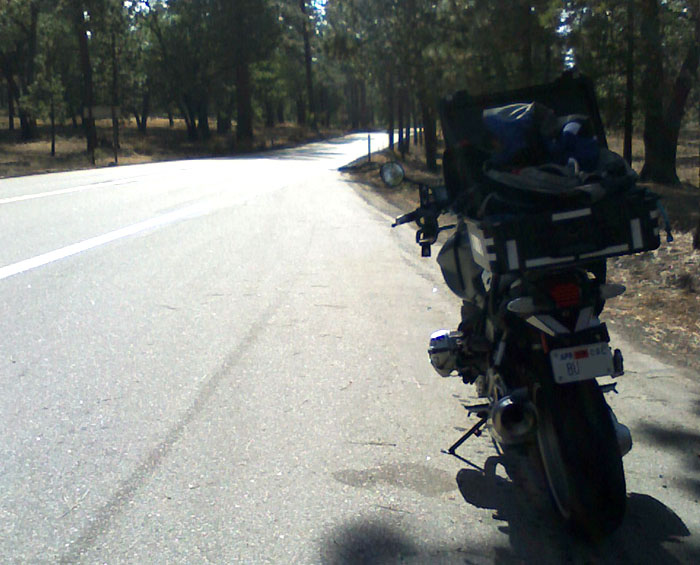 While Minh and I were standing there having our afternoon tea, a road bicyclist road up, passed us, and stopped on a little street a 100 or so yards beyond us. While he was passing, I was mentioning to Minh of how fit he must be relative to us. All we're doing is sitting on a machine and hammering the throttle. I agreed with Minh when he commented about how good the guy's lungs must be. Back in my junior college days I use to be a road biker myself. I did my fair share of century rides. Look at me now. Pork belly and all. Minh was surprised to hear that I did century rides on a bicycle. I don't remember how long it took but my estimate was anywhere between 6-10 hours. I wasn't the fastest bicyclist. With that Minh commented, "... and now you have problems going a hundreds miles on a motorcycle." Well, kind of. Actually, a 100 miles on the R12R is really not a problem. BSing aside, we got back to the ride. Unfortunately, the rest of the 38 was spend behind slow cars that refused to turn off. On the other hand, the view is still spectacular. Unfortunately, I was tired of video taping so I didn't bother taping this last section.

All too soon, we came out of the mountains and into Redlands. The ride is pretty much over. We searched for a gas station in Redlands, filled up, and headed back on the 10 Freeway. I hate the 10 Freeway. Too much traffic, and too many trucks. When the 57 Freeway junction came up, Minh and I departed for the day. Overall it took 5-6 hours to do the loop. My total distance is 203 and Minh's total is 210.

It's a good ride with beautiful views. For this day the view is a bit hindered by smog. However, because it's such a good ride, I'm sure I'll grab the entire gang and have them on this ride before the end of the year. I want to see the ocean while I'm on the "Rim of the World".



---
Written on: August 15, 2007
Last modified: August 17, 2007