Salton Sea
Day 1
Everybody is bailin'...
---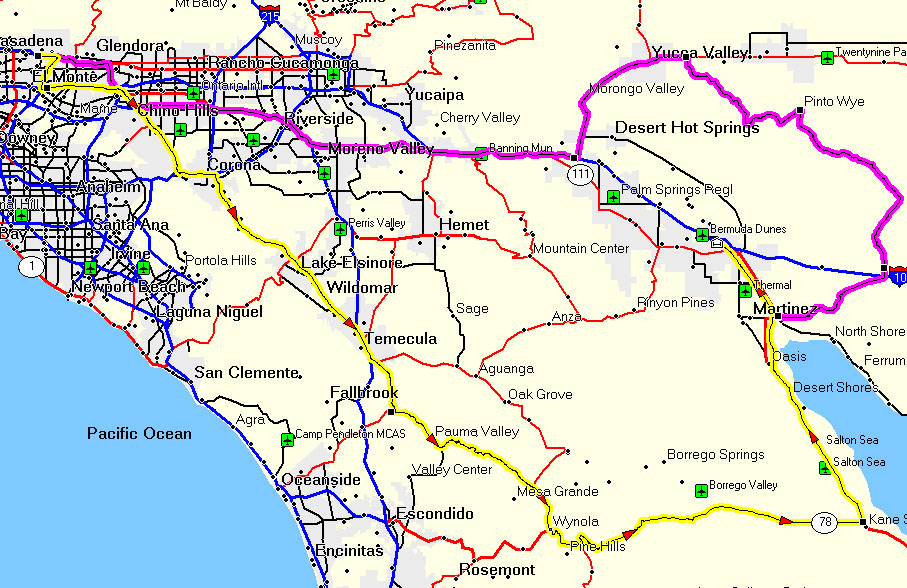 234 miles.




[Saturday - March 1, 2008]



I look at the clock and it shows 7:53AM. I'm late getting out to my driveway to meet up with others that are going on today's ride. As it is, the Sergeant and N2 has just called to cancel their rides. They are suppose to be the other two long haulers, but it's not the case for today. Mr. Speedy has also dialed in and prompted regarding whether the ride is still on because the road around his neighborhood is extremely wet. I told him it's still on and I'm expecting the weather to lighten up as the day progresses. Admittedly, all these questions and cancellations has me doubting the situation. Still I dawn the last piece of bike gear and rolled the 12R out of the garage while simultaneously cranking over the engine. I travel the several hundred feet to reach the mouth of the cave. I check the clock again. It's a little after 8, and still no sign of the others. With a sense of abandonment I call up the Captain to see if he's going to change his mind like the others. If he decides not to go, because of wet road conditions, the trip is over before it even begins. He answers the phone and I give him the run down. He later told me that he thought I was on the verge of bailing out. No way! On the contrary, I was checking with him to see what he wants to do. As for me, I want to go regardless of wet conditions or not. This is the entire reason why I have been ride in the rain ever since I started motorcycling. My definition of rain is being soaked in two seconds flat from just standing around. In other words, monsoon type rain. In the end neither of us want to bail. Instead, we were determine to go come hell or high water. A good couple of laughs and I'm set to see the Captain at 8:30AM at his place.

Not too long after talking to the Captain, I'm growing tired of waiting. I decided to call Mike to see about his situation. He answers and said he will be here in 5 minutes. He is in the middle of putting his boots on. Several minutes after I hang up with Mike, I can hear Kevin's bike approaching. At last, the people that are suppose to be here are here. A little late but better late than waiting some more. Not remembering exactly where my driveway is, Kevin almost over shot the entrance. He did a quick hand full of breaking and received a small bit of sliding excitement. It seems the road is wet enough for him to break traction. No matter, nothing became of it. Minutes later, Mike shows up. Of course the question is, "So is Russell going to be at Minh's place?" "Yes, he's suppose to meet us there." I give Kev and Mike a heads up that I'm going to take it easy on the speed because of the wet conditions. With that we leave my place behind. On the way out I remind Kev and Mike to avoid painted stripes when possible as it's normally silly slick when wet.

About 15 minutes later, we arrive at the Captain's place. Mr. Speedy is nowhere to be seen but I know he's on his way. The good news is, Minh's place is absolutely dry. That's a nice sign of possible things to come. We all talk a bit until Minh got the bright idea of showing off his radio control helicopter. To say the least, we all eagerly run away from it. I like to keep all parts of me intact please. Especially my face and eyes. Not too long after the air show begins, Russell shows up. At one point I thought the helicopter was going to do a kamikaze run at Russell. Fortunately for us, Minh goes for elevation and spare Russell's R1. Russell got a bit lost so he is a bit delayed. That's OK, Minh's doing a smashing job of keeping us entertained and scared senseless.

When Russ asked Minh about using his restroom, Minh said, "Go ahead" and continued his flying demonstration. This is funnier than hell. I don't think Russ knows where the restroom is. So I went into the house and found the restroom for Russ. When I got back out, Minh had crashed and destroyed another set of his propeller. He is even missing his tail section. Minh claims he doesn't need it to fly. Hm... yeah. I have to be scared. Fortunately for him it only cost $5 for 5 or 6 sets of propellers. I think Minh should stick to motorcycling.

Plugs in, helmets on, and we're off to fuel up and start our journey.

10, 71, 91, and then the 15 freeway. I occasionally check the temperature. What do I see? It's 55 degrees and overcast. Another way to describe this, "It's freaking cold!" We stayed on the 15 freeway until it meets up with the 79 highway. There were cops everywhere dishing out tickets to inattentive drivers that insist on extreme speeds to get to where they're going. At one point we even had a sheriff sneak up from behind us trying to give the pack a set of lovely State of California "you owe me" accompanied with our John Hancock. Fortunately for us we're doing 75 MPH in a 70 MPH zone. Sorry buddy, today is your unlucky day because us geezers refuse to ride like squiddees. The 79 highway rolls off onto Pechanga Parkway. We swing right and keep going. Pechanga Parkway gives way to Pala Temecula road. This is beautiful country. I should have taped this section of the ride. Then again, we didn't quite stop long enough at any one section for me to pull out the POV.1 record to activate it. If asked to ride to the Pala casino again via the Pala Temecula road, there would be no hesitation.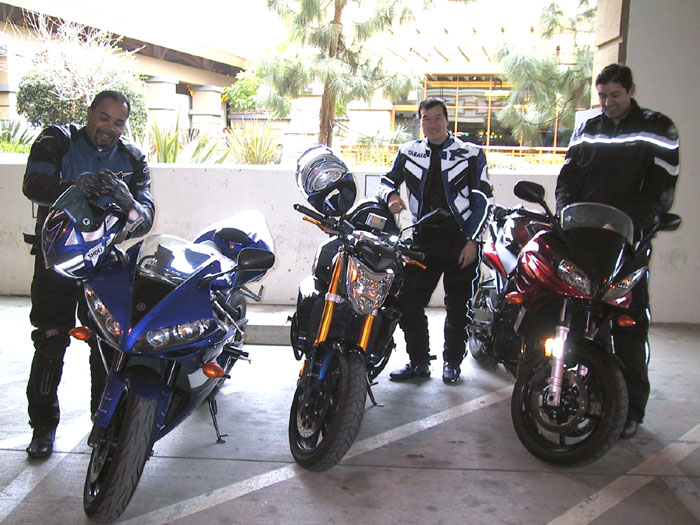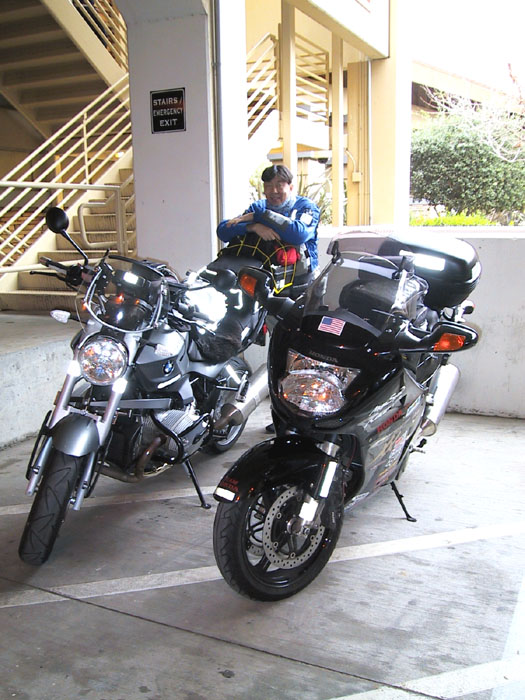 The Pala casino. How cool can this be? There are large motorcycles parking spaces and it's only about 10 yards away from the entrance. You can't help but be spoiled to be a motorcyclist when casinos, parking garages, etc. give you this type of preferential treatment. As predicted, we have reach our destination around 10:30-10:45AM. It's taking us a bit to lock up and put things away. By 10:50+, we're entering the casino. Any thoughts about gambling is over shadowed by our immediate needs, brunch. None of us has eaten anything this morning so we're all famished. On top of that, the food smells really good.

"I don't know where you put all that stuff!" puntuated Russ. After just one plate of breakfast munchies, Russell is pretty much full. As for me, Kev and Mike, we all went for seconds. I started off with lunch and then went back for breakfast. What can I say, I have to have my share of powdered eggs. To finish it all off, a Creme Brulee. So far the Pala casino has the best Creme Brulee I have ever eaten. The consistency is similar to a Flan but much softer. Other places I have tried a Creme Brulee met with disappointment. Their version of a Creme Brulee was akin to thickened sweetened milk. You call that a Creme Brulee? That's not how it's suppose to be! I later caught Russ with a plate full of fruit. I couldn't help myself and had to shoot the same question back at him, "Where do you put all that stuff Russ?" I got a good smile out of Russ. We finished our buffet and went outside to let it all settle a bit. It's overcast but it is still a pleasant day. The probability of us heading down to Pala again for some more good eats is very likely. At $13 per person, it not such a bad deal.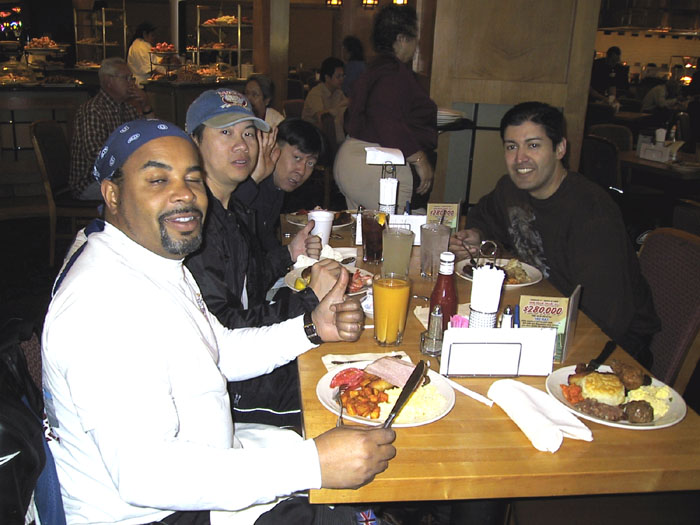 Mr. Speedy one eyed pirate.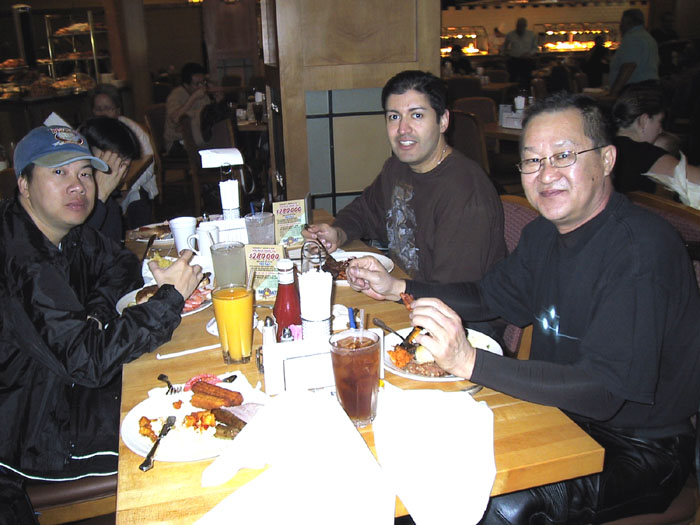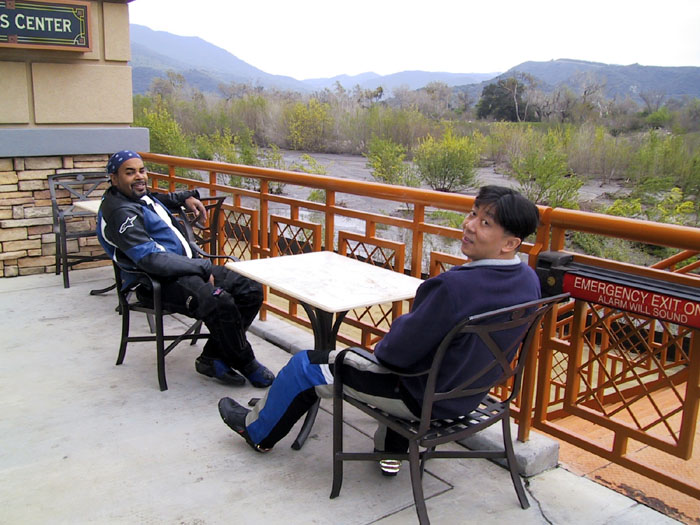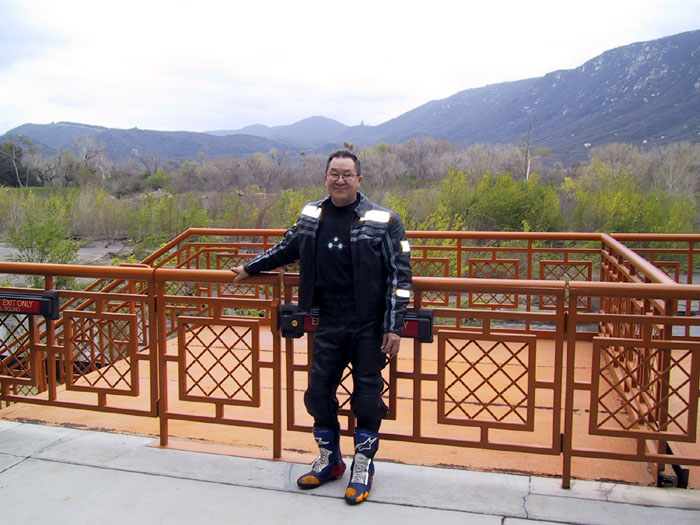 Some of us gamble a little, and have nothing to show as a reward for it. As usual the house sucks up everything it can take. What else do you expect? It's a casino after all. Now that gambler's fever out of our system, it's time to continue the ride. For us long haulers, Minh and myself, it's getting late. After all we're trying to make it out to the Salton Sea to have a glimpse of the scenery. It's around 2:00PM by the time we headed out to fuel and continue on. For Mr. Speedy, Kev, and Mike this is the end of the trip. They're heading back home to take care of their commitments. I later found out that their journey back wasn't all easy and clear. They ended up riding in the rain and traffic jams. So much for the weather forecast. It's a good thing they managed OK and survived it all.

As for the Captain and myself, we have another 140+ miles to go to get to our destination. It would be nice and fast if it was freeway riding, but there are no freeways in sight. That's just how we like it. Since this is unknown territory for use, neither of us know what to expect. Google satellite maps is one thing. Being on the road and really riding it is another. The 76 highway ride was pretty much uneventful until one point where I spot a Cat sitting on the side of the road. My initial thought was, "looks like some construction work is being done around here." I should have taken this as a clue and backed off on the agression. Instead I keep on truckin'. Up ahead is a nice sharp right turn as part of a series of switchbacks. Doing my usual thing, I crank the bike over and start leaning a bit. All of a sudden I notice my rear wants to slide out. Uh hu, there's some sand and dirt in the road. I immediately stand the bike up to prevent any possibility of a low side. I really didn't have much to worry about because the Conti Road Attack was doing its job excellently. The reaction is merely a matter of be being instantaneously cautious. No problem, everything is fine and I keep on going.

By the time we get to Lake Henshaw, the sun is out. It's so nice to see blue sky again. Minh and I noticed something really funny as we reached the three way corner of the 76 and the 79 highway. There is a sign at the opposite side of the 79 highway saying, "Bikers welcome!!!" Funny. As a matter of fact, we've been waving at a fair amount of bikers as we head towards the Salton Sea. For the most part they're Harleys, but they're generally nice enough an give us the "Peace" sign as we pass in opposing directions. We even encounter a set of sport bikers as we ready ourselve to turn right onto the 79 highway.

While on the section of the freeway where the 79 and the 78 freeway are merged into one, I noticed something about me. I'm falling asleep. I should have taken up the waitress' offer for coffee back in the Pala casino. Now that I know my attention span is shorten, I know well enough to stay extra alert so I don't do anything stupid. I signal to Minh about getting something to drink and he acknowledged. I pass one spot, then another. I could have stopped but they weren't real coffee shops. I don't like drinking 5 hour old sock water. Eventually we reach the town of Julian. It's a nice little place. It looks somewhat European in style. Perhaps a small village in France, England, or maybe even Germany. Of course the rolling green landscape helps the imagination quite a bit.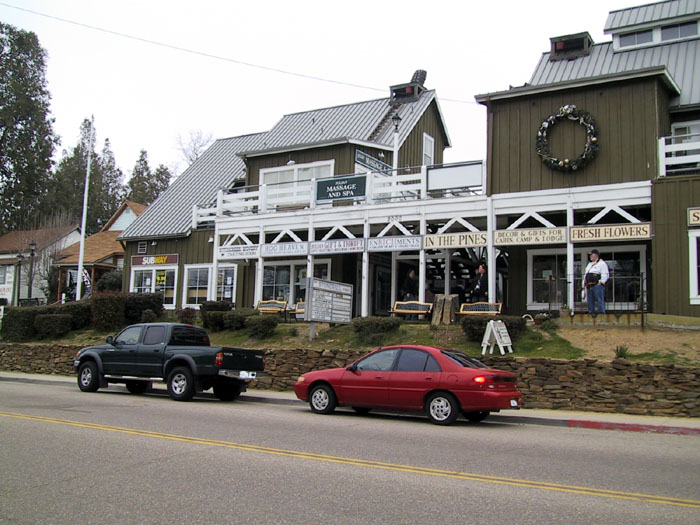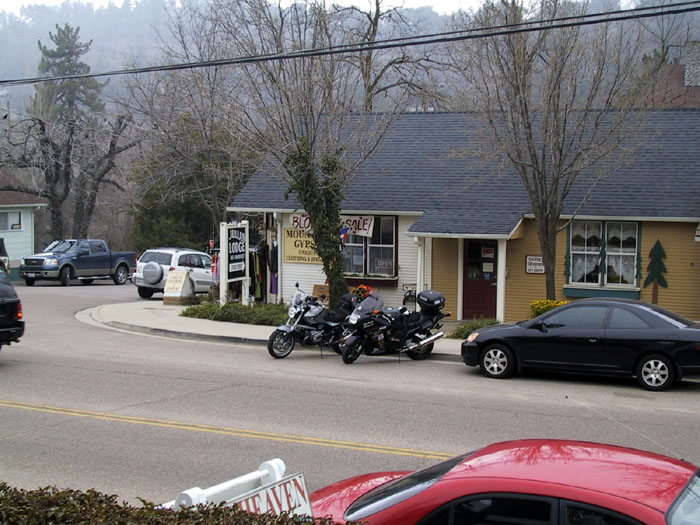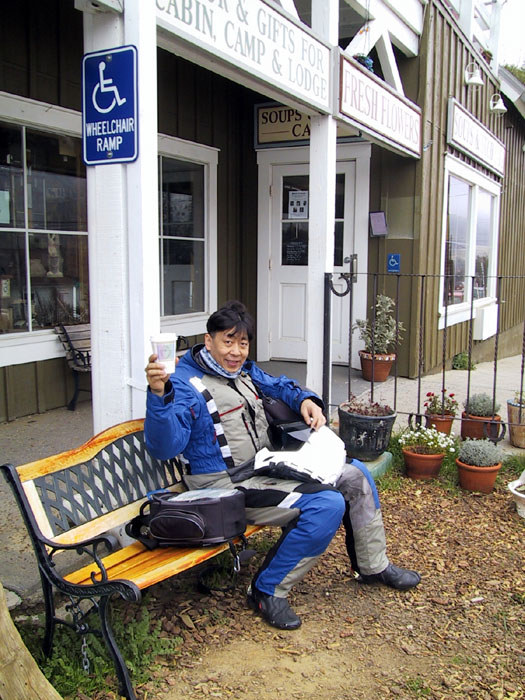 Wind blown hair and coffee... what more can you ask for?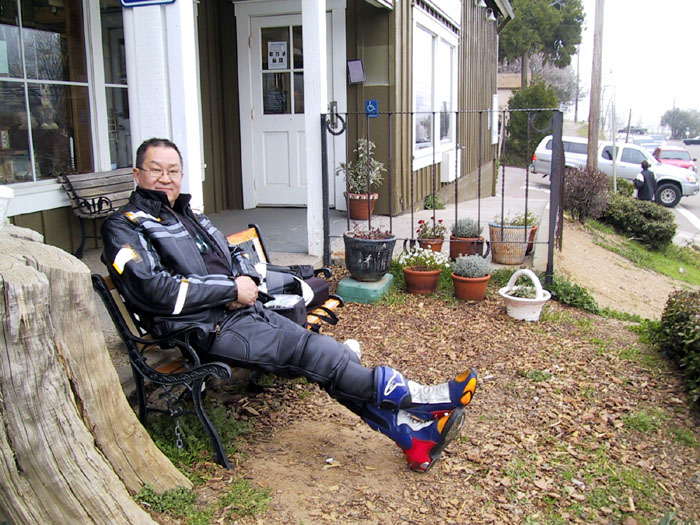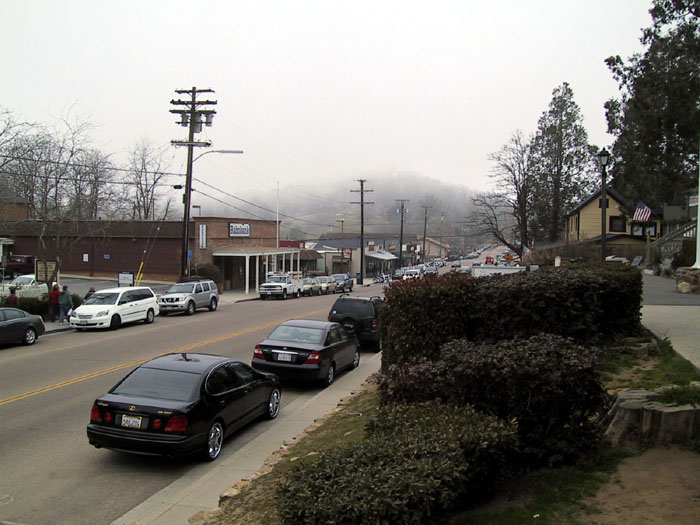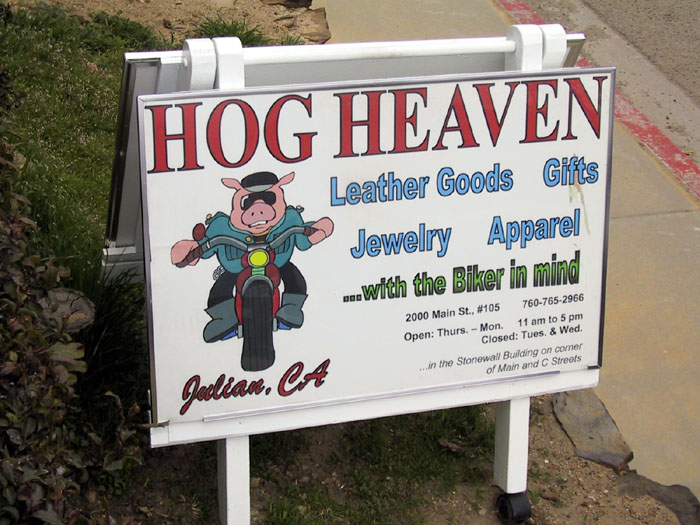 What little town would be complete without a Hog Heaven leather shop?


We down our coffee and things perked up quite well. We continue on the 79/78 highway until the 79 highway broke away from us and headed south. We continued on the 78 heading towards the Anza-Borrego Desert State Park. Words can't describe it. Videos and pictures will. The mountains that we are trying to leave behind remind me of the Arizona ride we did late last year. It is reminiscent of us leaving Prescott heading down the mountain towards Wickenburg. The foliage is not the same but the road was winding in a similar fashion. I was in seventh heaven going towards eighth and ninth heaven. I wanted to ride back up and come back down again. We'll have to do this ride again some other time.

As we descend in altitude I notice the mercury rising. What use to be 52 degrees F is quickly becoming 55, 60+ degrees. Soon I have to pull over to shed some layers. In Minh's case he was starting to fall asleep because of the heat. Dropping several layers definitely help and we're back to normal again. While we are standing around taking off sweaters, fidgeting with video equipment, and getting tossed around like rag dolls in the wind, several motocross and ATVs pass us on the side of the road trying to get to a convenient store. Is this legal? We know ATVs are not street legal. Oh well, not our concern. However, when we're done with the break and continued on, we noticed a park ranger taking to an ATV guy on the side of the road. Busted? Who knows but it doesn't quite look like a casual conversation. We have other entertainment on the opposite side of the highway. A big truck is trying to pull another big truck out of some mud. He got stuck. The price to pay for off roading.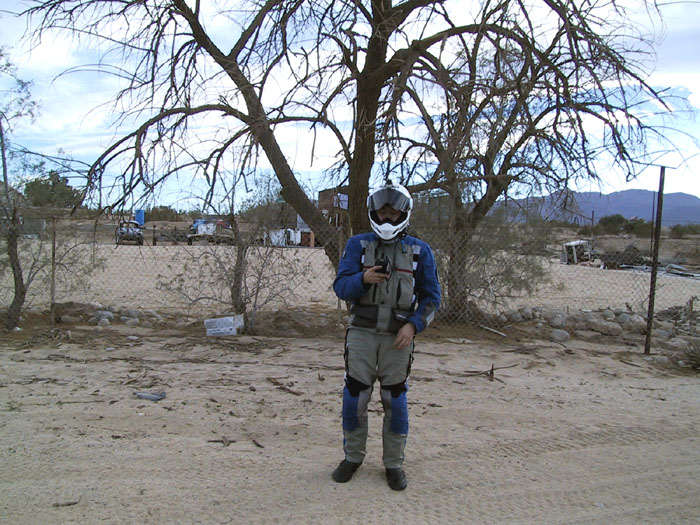 Is this thing recording?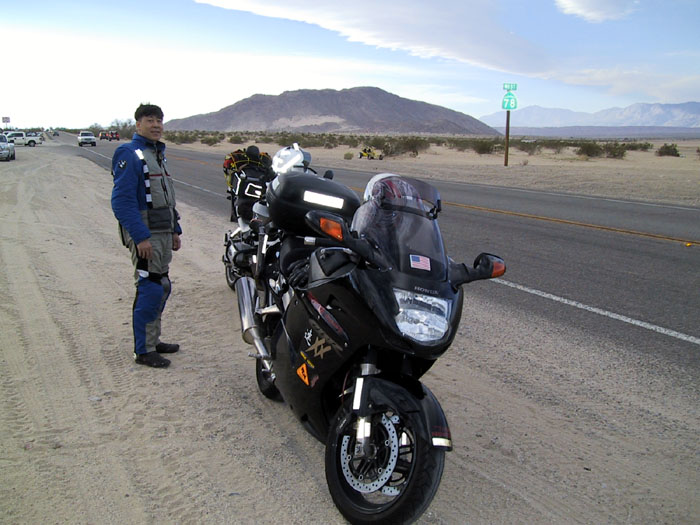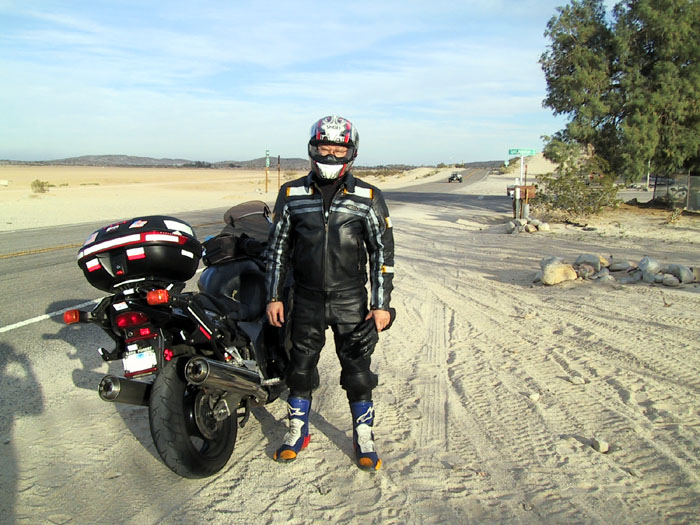 We know there was wind to contend with but we didn't know how bad it was until we made the fateful left turn onto the 86 highway. It was then that I realize we've been riding with the wind the entire time. Now we have a massive cross wind to deal with. I don't want to say I'm getting comfortable in the wind but I am. Looking down at the speedo reveals that we're still able to travel between 65-70MPH. Additionally, I don't have a death grip, and I have no worries about my tires slipping out from underneath me. Minh is also having a but of fun with the wind. He has more of a handful because he's a fully faired bike. He commented later that he's getting use to riding at 20-30 degrees left of center. The good news is, we don't have panniers. That helps a lot.

I look for the Salton Sea to my right, but it is too far from highway 86 to truly see anything. The sun is starting to set so it's a bad idea to attempt an eastern side beach visit. It's better to put off the Salton Sea run until tomorrow morning. As we push on through Coachella towards Indio, we can see splotches of white on areas around the highway. This could only be one thing, salt. That's so cool. Even with all this salt, there is still plenty of plant life around here.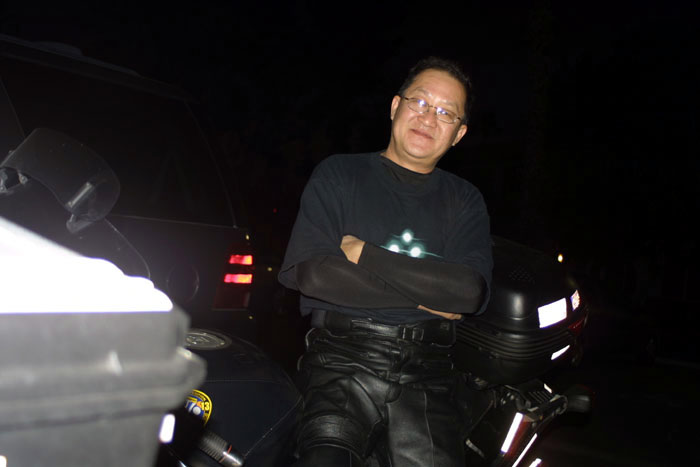 Still strong after a not so easy 230+ miles.


By 5:30-6:00PM we reach the Best Western Date Tree hotel. We check in, get our rooms, and off load the bikes. What's the first order of business? Get our arshes into the jacuzzi. Awesome! We're the only ones in the pool area. It's like we have a private jacuzzi all to ourselves. We bask in the warmth for about an hour and then back to the rooms for the final clean up. We order pizza delivery and play with the complementary wireless Internet access on my EeePC. Minh ended up chatting most of the night before turning in.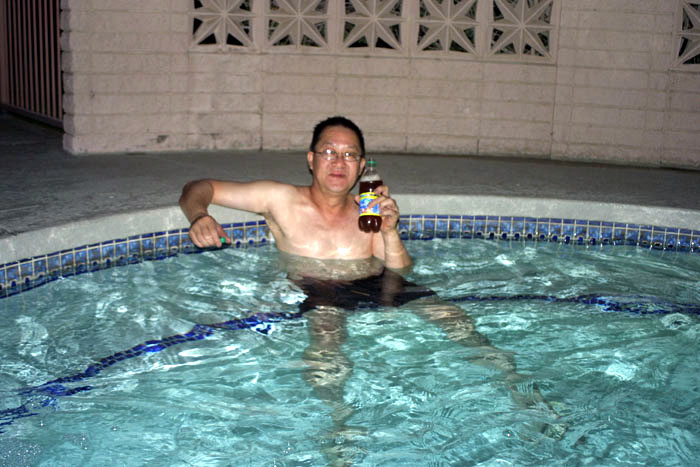 Warming up and chilling out in the jacuzzi. Ice tea anybody?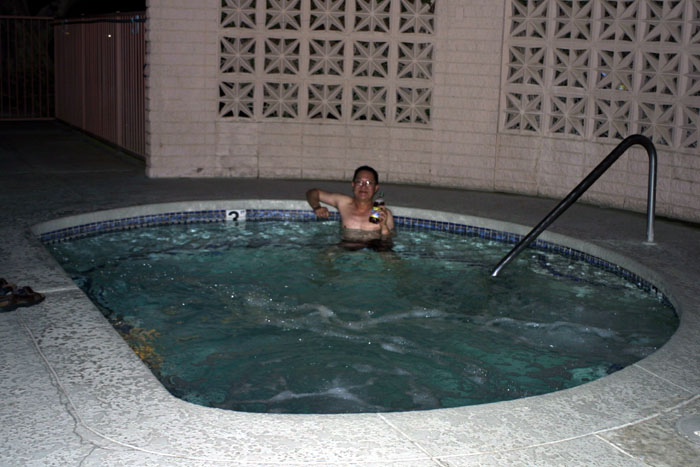 Proof that we have it all to ourselves.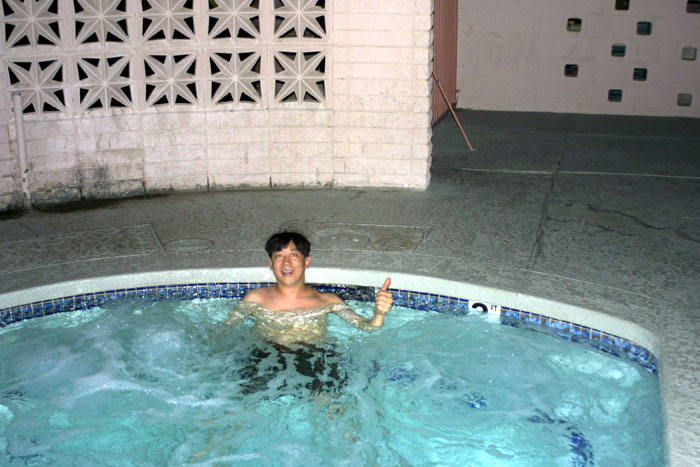 My turn and it's all good. Read 'em and weep Sergeant...


Day 2 - Joshua Tree National Park [March 2, 2008]


---
Written on: March 1, 2008
Last modified: March 11, 2008