Pelican Case (1450)
---



[September 24, 2007]



Some despise the look. Others admire the toughness. I've seen people scream about people with bikes that have a Pelican Case on it. "It's ugly" according to one person. As for me, I like it because it's practical and affordable. In general Pelican cases are not very expensive, but as yet they are so durable that even a car/truck can run over the case and it won't break. Additionally you can submerge the case under water and nothing will get in. I've even seen one report of a Pelican case go through a house fire and managed to protect the contents without a problem.

No, it's not the most stylish of cases but it is practical. As for me I need to carry recording equipment. A soft bag isn't going to cut it because someone can cut through the bag and grab the recorder. I can afford to buy new equipment but rather not have to deal with that unless I absolutely have to. As a result I got the Pelican 1450 just for equipment "keep your hands off" and equipment weather protection.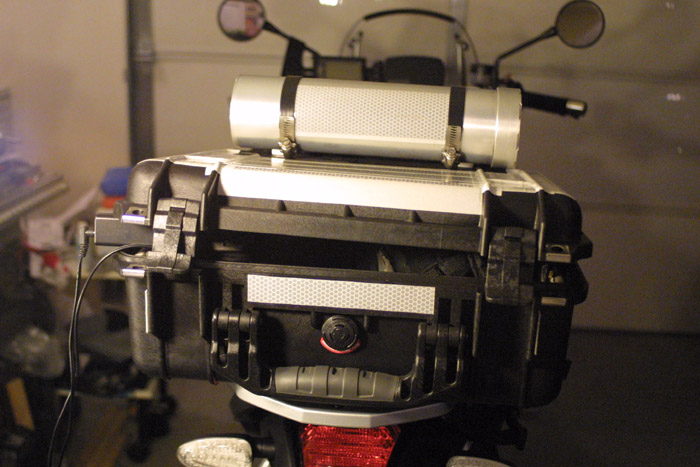 The tube on top is not originally part of the Pelican case. It's a
GT-Moto
tool tube for the R12GS.
(I'm in the middle of recharging the battery for the helmet cam and also the camcorder)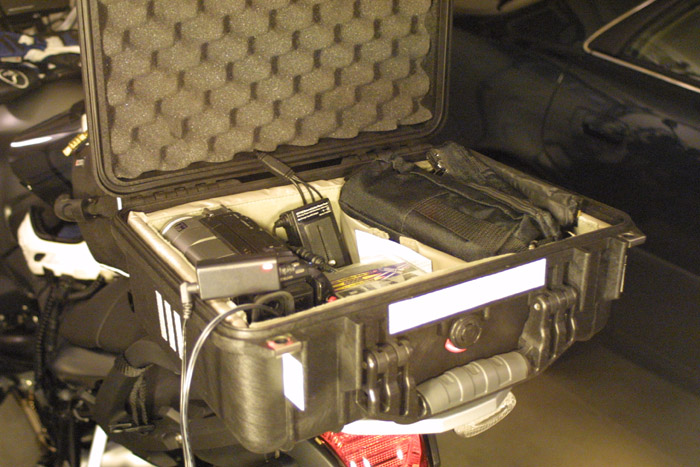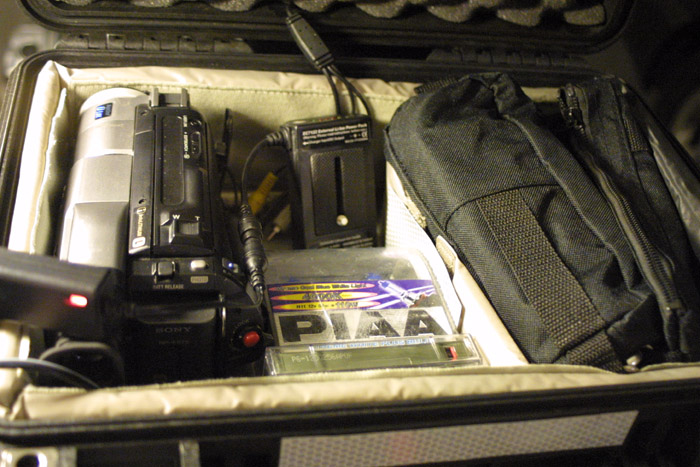 Camcorder, camera battery pack, extra bulbs, video tapes, and tool pouches.


The top of the case is covered with reflective tape to keep the sun's harmful rays from cooking the contents. I could have painted the case top white but I didn't have any white pain handy. On the other hand I have a lot of reflective tape lying around. The lazy man's way, I covered the case top with reflective tape.

I also mounted the GT-Moto tool tube on top of the Pelican case as added storage for non-critical (non-expensive) items. Things like zip ties, rope, ear plugs, etc. This helps expand the capacity of the case by a bit while making people guess, "What is that round thing on top? Is it a pipe bomb?" I've even had one guy ask me if my bike was a hydrogen bike. Too funny. I keep on telling the security officers at work that it's a nuclear bomb. Suffice to say, they don't believe me.


---
Written on: September 24, 2007
Last modified: September 24, 2007