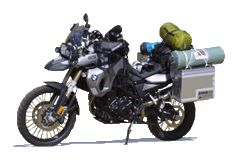 How to be a pack mule.
Check list

---

I forget all this stuff all too often when I'm getting ready to take off on a long haul. As a result, I document the stuff here so I can remind myself of all the things I need to bring on a long trip. Perhaps this will help you as well. As for me, I'm getting old so I can't remember half of this stuff any more. Any type of aid is welcome.



Clothing:


General clothing / equipment:

Riding shorts / pants
Socks
Undies
Hydration system (Camelbak)
Sun glasses
Cold weather clothing (non-cotton material):

Fleece pullover
Fleece pants
Heated vest
Hot weather clothing:

CoolMax shirts
Under Armor shirts
Campsite clothing:

Camping Gear:

Accomodations:
Tent
Tent footprint / Tarp
Sleeping bag
Sleeping bag liner (silk)
Self inflating air mattress (because I don't have that much hot air any more)
Cooking:
Stove (MSR)
Stove fuel (white gas)
Pots and pans
Water bucket (kitchen sink)
Fire starter (lighter or other)
Medical:

Medikit
Water bottles (Nalgene)
Cleaning:

Bath towel
Tooth brush
Tooth paste
Soap
Hand wipes
Lens cleaner (Bauch & Lomb Sight Savers)
Moto Gear:

Tools

Torx wrenches
Hex wrenches
Torque wrench
Pliers
Wratchet
Wratchet bits (metric sockets, hex, torx)
Open wrenches (8, 9, 10, 11, 12, 13 mm)
Tire repair:

Tire patch kit
Tire pressure guage
BeadBrakr kit
Fasteners:

Lubricant:

Motor oil
Chain lube (Synth motor oil)
Water (radiator and other)
Electronics:
Photography:

Camera (The old clunker Cannon D30, yup it's the first generation Cannon digital camera)
Camera batteries (D30)
CF memory cards
Video:

Camcorder
SD cards
Helmet cam batteries (AA Nm-hd)
AA charger
Storage:

Asus Eeepc
USB memory stick
Communications:

2-way radio
Lion battery for Intergratr IV intercomm.
Power:

Navigation:

Emergency food:

1 or 2 MREs
Camp food (if no MREs are available)
---
Written on: March 22, 2009
Last modified: August 19, 2009