Death Valley '09 - Day 3
Finally got cell signal.
---

Total: 237 miles

Estimated travel time: 3:51 hours


[Sunday - March 15, 2009]

Wow, I actually feel better. All those layers of clothes in addition to the Buff on the head really helped. The throat is still a little itchy, but it's not as severe as yesterday. This morning is just about time when it's sinking in that we're on vacation. Unfortunately, it's right at the same time we have to head home. It's the same usual stuff. Time to pack up and head on out. At one point or another, David bids us a fond farewell and heads on out also. We'll most likely see him back at work in the near future.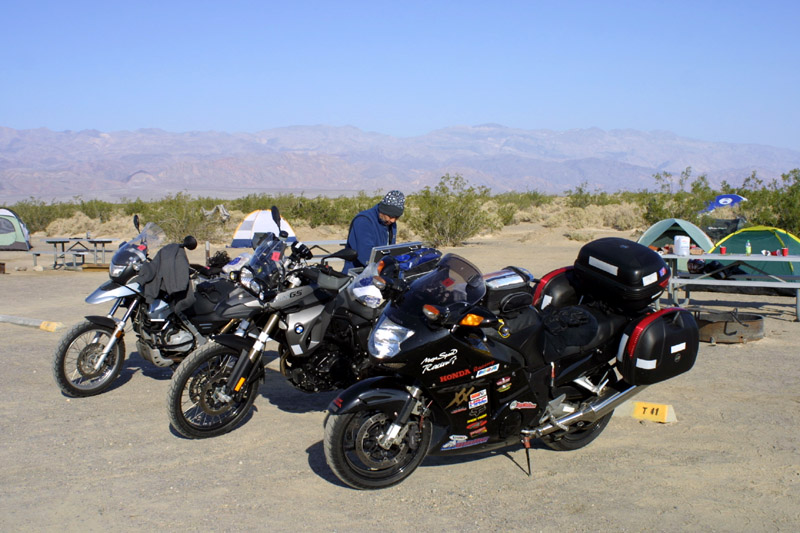 Any thoughts of getting breakfast at the restaurant across the street went out the window. It's 10:30am and breakfast stops at 10:00am. Oh well, it looks like we have to get something on the way out. Panamint Springs is a good a spot as any to get some food and fuel. Checking in with the significant other? Forget it. This won't happen until we are close enough to the a major city or in proximity to a relay station. Jokes and obscenities aside, we're off and heading towards Panamint Springs. It's a cool late morning dotted with areas of thermals that raises the temperature. When I say raise the temperature, I'm referring to low 60's. As we go through the Panamint mountain range, the high altitude has the temps drop into the low 40's. It's to be expected, when sections of the Hwy reaches the 5000 feet mark. Yeah I know, those are warm temperatures for you folks that live in places like Minnesota.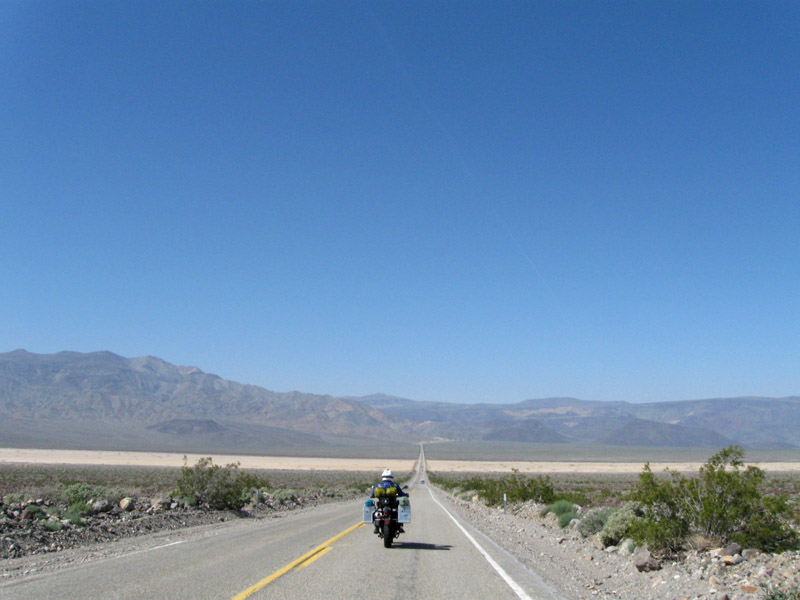 Riding into the horizon.


We stop to brunch at the Panamint Springs restaurant, fuel up, and head back out.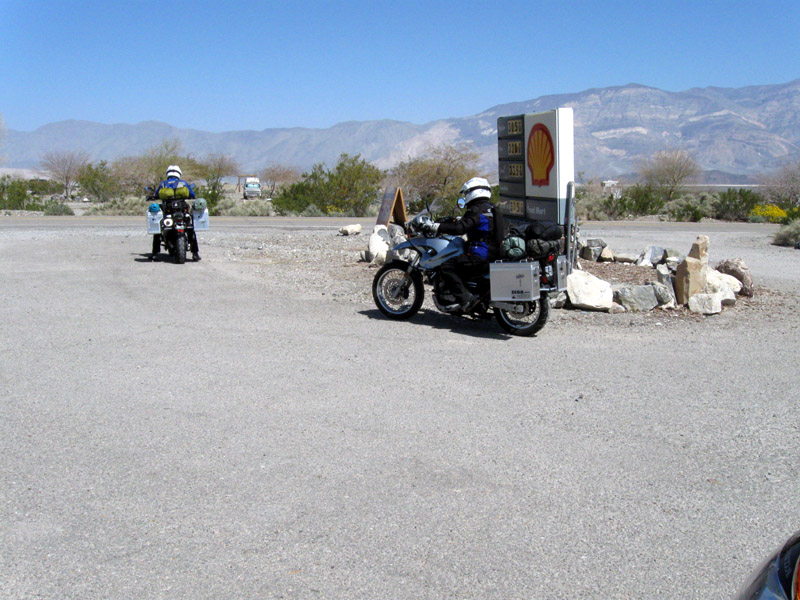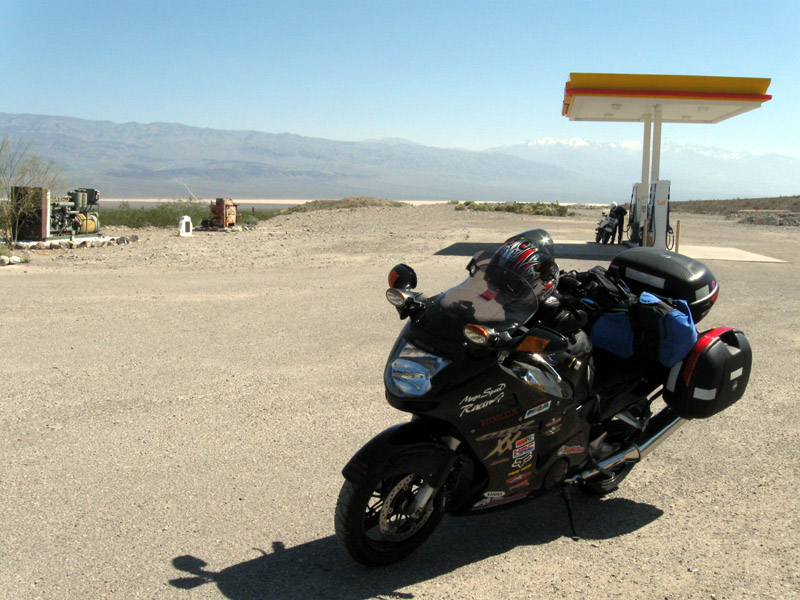 Boy the 8GS makes the road much more enjoyable than it's suppose to be. I remember doing this section of the Trona Wildrose Rd back in the DV '07 trip and it was as vibbie as ever on the 12GS. Funny thing was, both bikes have the same tire model (e.g. Micheline Anakee). Proof it's not the tires. This road would be a lot of fun if we are able to the climb out of Panamint Valley at speed as we approach Pioneer and Trona. Unfortunately, we're greeted with slow moving cars that can't handle the hairpins. Oh well, maybe next time. Then again, I distinctly remember saying that two years ago.

As we get out the tight stuff, and as the cars all start speeding back up to 80 MPH, I get flagged down to pull over for a quick break.

Still no cell phone signal...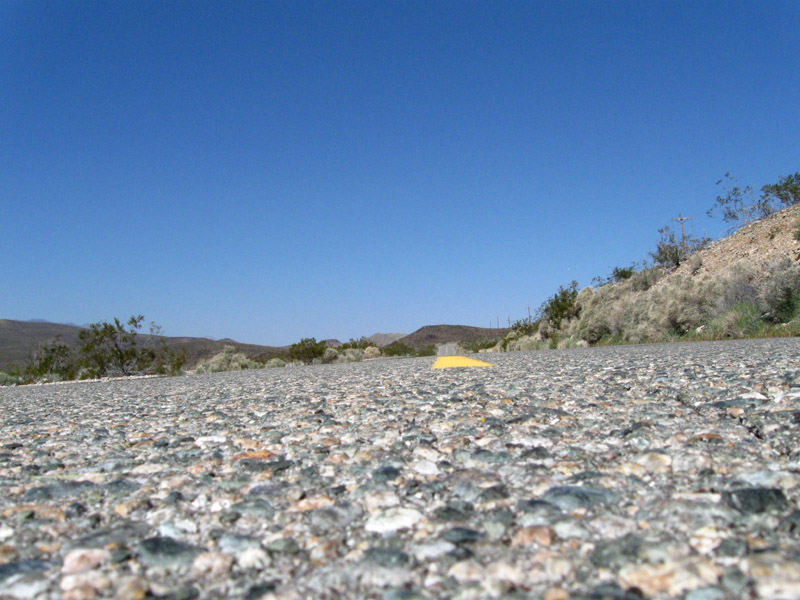 Look at all those colors.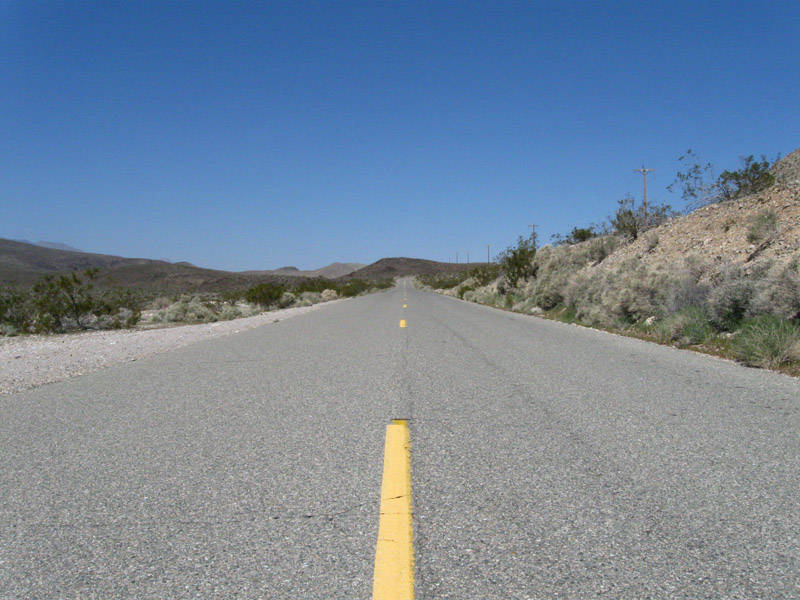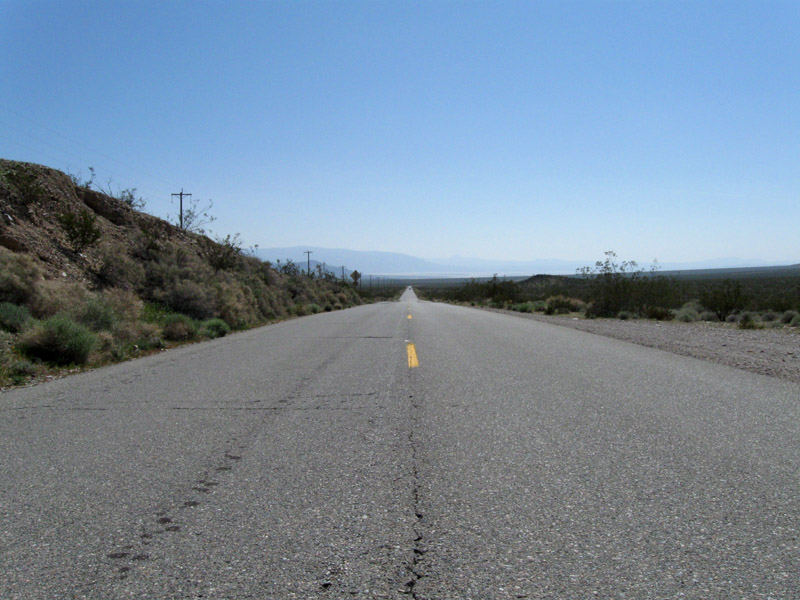 Yes, the Captain and his middle of the road shots.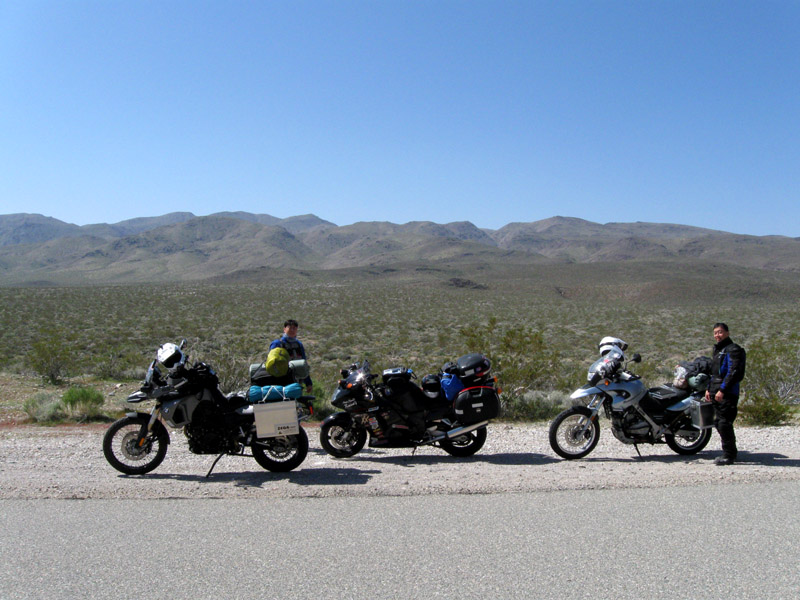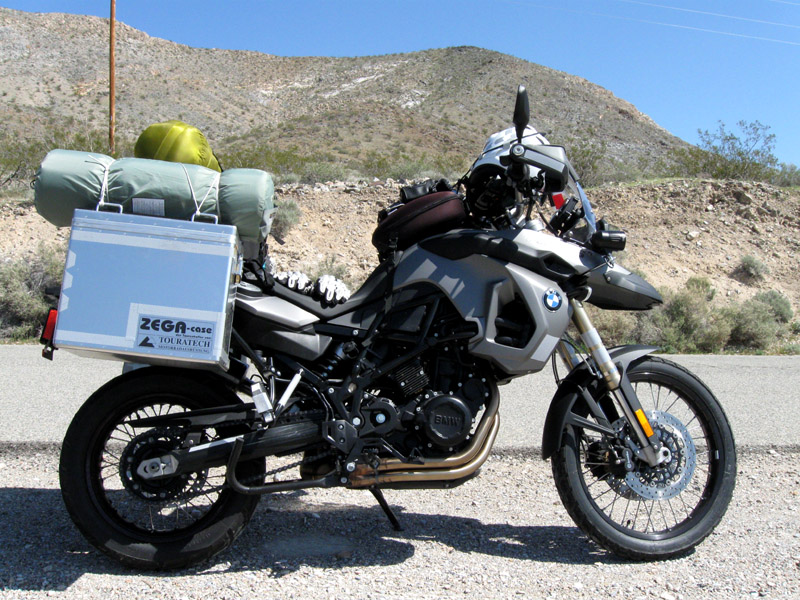 We pass through the town of Trona without flare and continue on Trona Rd. As we reach a fork in the road, we make that slight left turn to continued on with Trona Rd (e.g. instead of continuing straight to Ridgecrest). I know where we come out on the 395 but this is my first time on this section of Trona Rd. It's a fun little road. It's out in the middle of freakin' nowhere so there are hardly any cars. This gives us the opportunity to take our time and enjoy the road and scenery. We encounter an occasional truck or two, but most of them turn off to go off roading, or we wave them to pass us. The wild flowers are blooming right now so the high desert is full of color. Well, yellow, green, and purple. It's beautiful. This is also the greenest I've seen the high desert in a long while. When we reach a good expanse, I have to be a tourist.

Still no cell phone signal...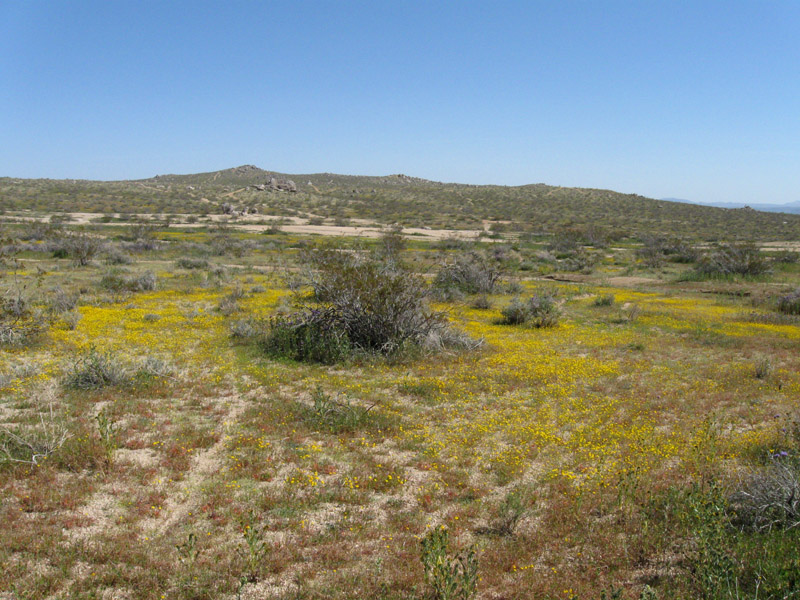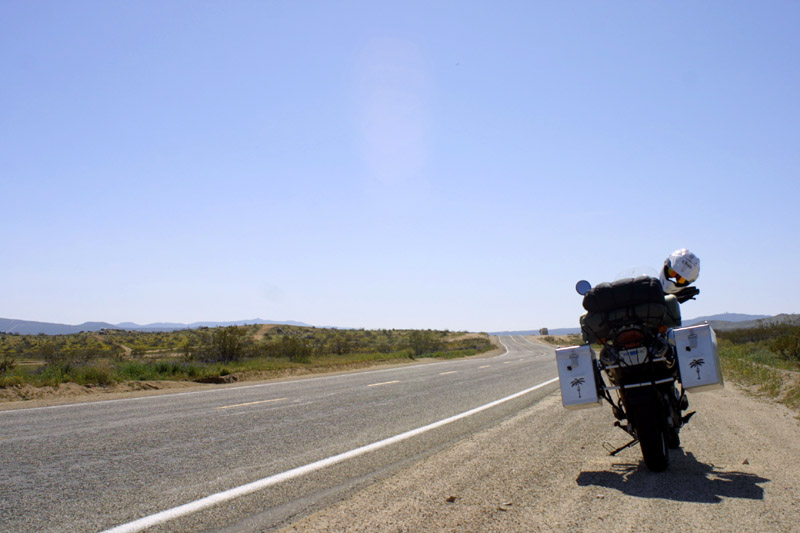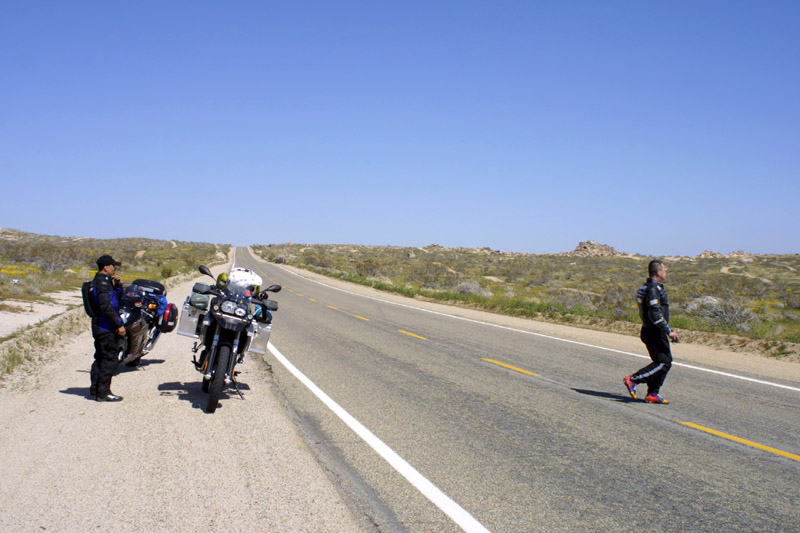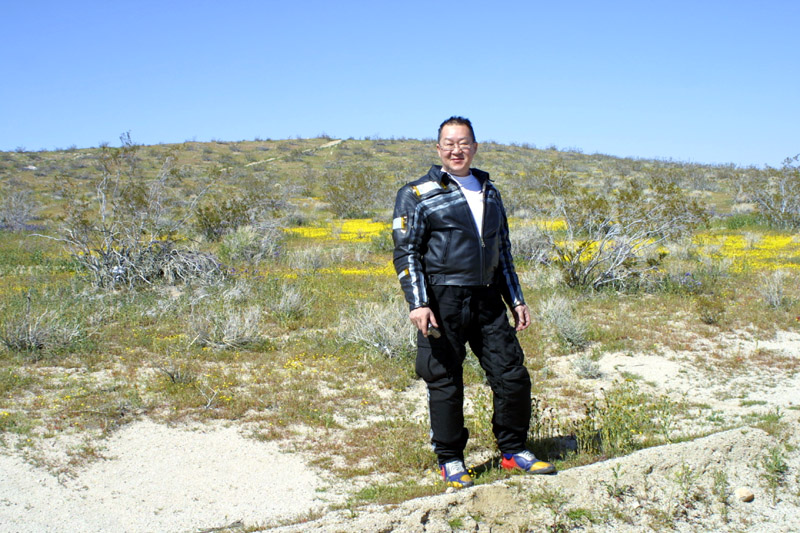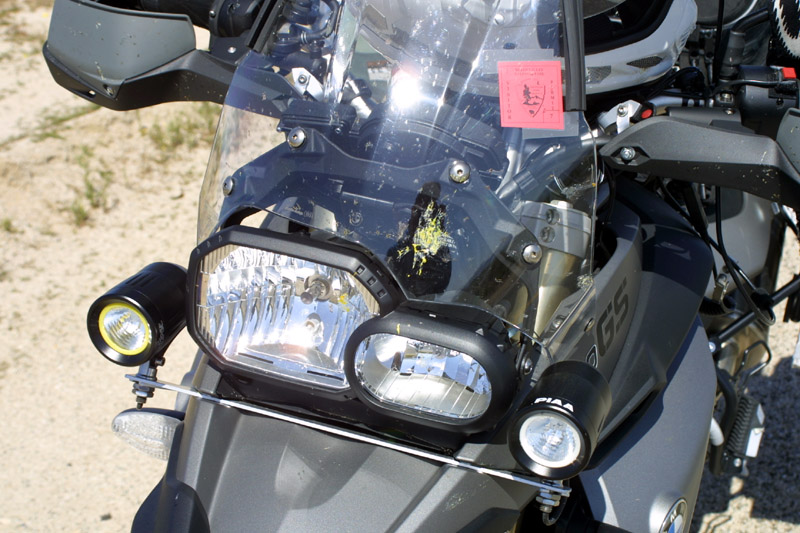 When the flowers bloom, the bugs will come. This is only the start of it. Later on I receive three big yellow
bug smacks on my face shield.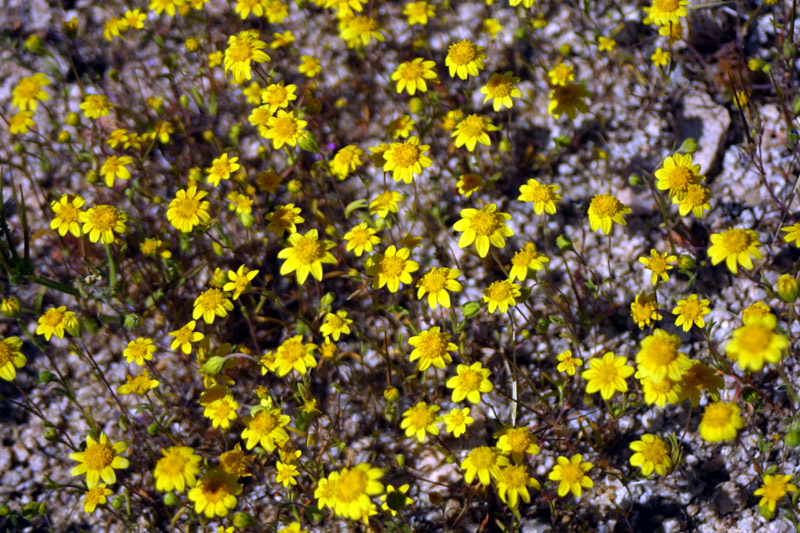 Wild flowers of the Mojave high desert.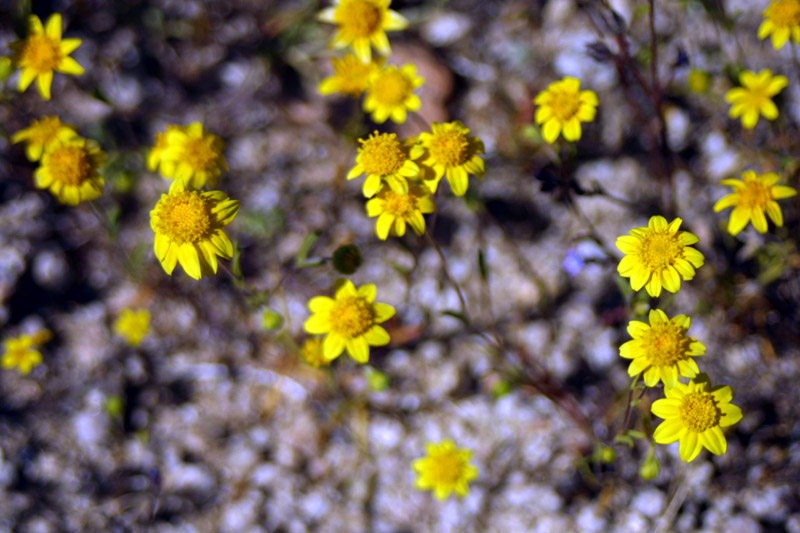 Oh man! The bugs are out in droves. The face shield is covered in large yellow bugs spots and I can barely see though the shield. I had to resort to riding with the face shield up and just use my goggles. Of course this makes the helmet a lot noisier at 70 MPH. After a while, even my goggles start to suffer the same fate as my face shield.

I dread it but I see civilization looming in the distance. All the signs of life come in the form of crazy cagers. The minute we pull onto the 395 heading south, we're confronted with a massive amount of traffic. Everybody is always in a hurry to get wherever. 75 MPH is not good enough. They have to be doing at least 90 MPH to be happy. Either that or they have to pass you with extreme prejudice to be happy. The unfortunate part is the minute we make that slow rolling right turn just east of Saddleback Mountain on the 395, near Kramer junction, we encounter the forever present Mojave high desert west to east wind. All environmental conditions hint to me ... Oh yeah, I'm on a GS alright. I get whipped around like a rag doll. My thought on this whole bit, "I remember this when I was on the 12GS doing this same stretch of road." This time around, I'm more mentally prepared so it doesn't effect me as much. It's annoying, but I manage. I guess it's all part of riding a GS.

We pull over at the Astro Burger and take another break. Finally! Houston! We have signal! Nu calls his girlfriend, The Captain calls... somebody, and I call my wife to let her know, "... I had forgotten there was no cell phone signal in Death Valley..." Am I happy that I have cell phone signal? Kind of... I guess. If I had taken the SPOT with me, I wouldn't have need a cell phone to check in. I have to rig that thing to my bike for the next long trip. That way I don't have to cell phone.

Continuing on the 395 south, we are greeted by a lot more of the Mojave high desert wind. From Kramer junction all the way to Adelanto, I was hanging off the right side of the 8GS in order to keep the bike upright, and going straight. I can sit upright and cant the bike, but when a gust hits, it feel really funky. So right knee dragging I go. The scary thing about all this, the cagers are desperately wanting to pass because 70 MPH is too slow for a 65MPH Hwy. Ah the wonders of civilization.

The Captain got separated from Nu and myself when we tried to fuel in Adelanto. Making a last minute left turn decision didn't help at all. That's OK, the Captain went down the road a bit, even tried to do a U-turn (without success), went somewhere else to fuel up, and headed for home. After fueling Nu and I pretty much did the homeward bound thing.

It has become a regular occurrence after 5 years of riding long trips. It is now ingrained into my psyche that the end of every long trip will be chaos. What chaos? The chaos of civilization. The further out from civilization you go, the more civility you will encounter. The closer to civilization you are, the more civil unrest you will see. You should fear this because it might kill you one of these days. Time and time again, I am reminded of how much we have lost touch with our inner self. How we are in a hurry to do and worry about things that make us forget we are alive. Come on people, wake up from this slumber. Slow down a bit and remind yourself what life is about. You'll find that you'll like it. Laugh a little or a lot. It can only help you.

Pre planning
Day 1 - Lake Isabella / Fairview
Day 2 - He needs a SPOT


---
Written on: April 18, 2009
Last modified: April 22, 2009