Arizona - Day 4
Firestorms at home
---

289 miles





[Monday - October 23, 2007]



At this point I have to make a concerted effort to remember what day of the week it is. I've managed to loose track of time, which is perfectly fine to me. At the same time, the counting of days reveals this is the last day of the trip. Bummer. As with previous days, we draw towards the end of every day fearing how many more miles we have to go before the trip ends. Discouraged? Yes, but every morning we wake up refreshed ready to ride around the world once more.

I think I'm the first one up. All I know is that I'm already putting stuff on the bike. As I put the second payload on the bike, Kevin opens the curtains to his room. I can see Minh scurrying in the background. Kevin tells me, "There are several forest fires burning in the LA and the San Diego area." "Really?" "Several freeways have been closed." "Did the news mention anything related with the 10 freeway?" "No, I haven't heard anything about the 10. They mention sections of the 15 being closed but it's closer to San Diego." "We should be OK. I hope." I finished up the rest of the packing. At this point I'm searching for a vending machine to get some water. I get to the front desk and exchange a $5 for some $1s. $1.75 for bottle water? That's crazy. Oh well, I grab two bottles and pour the water into my Camelbak. I also managed to find myself some coffee. I definitely need the coffee. If anything, this trip has shown me the importance of substance abuse. I don't normally drink coffee and have quit for years but this is a special occasion. When I got back to the bike I told Minh, thought the window, there is free coffee and donuts in the lobby. "Where's the ice machine?" I yelped. Kevin responded, "It at the front close to the lobby." Darn, now I have to walk back there again. Minh and Kevin let the cattle out of the pen and galloped into the sunrise to get some coffee. We finished a simple little breakfast and then plotted the course to London Bridge. Yes, London Bridge. Lake Havasu City bought the bridge from the City of London, England when London was going to upgrade the bridge back in 1968. The bridge was shipped over to the US brick by brick and reassembled. Easy enough, the bridge was only 1 1/2 miles away from our current location. We check out of the hotel and set course to go cross the bridge.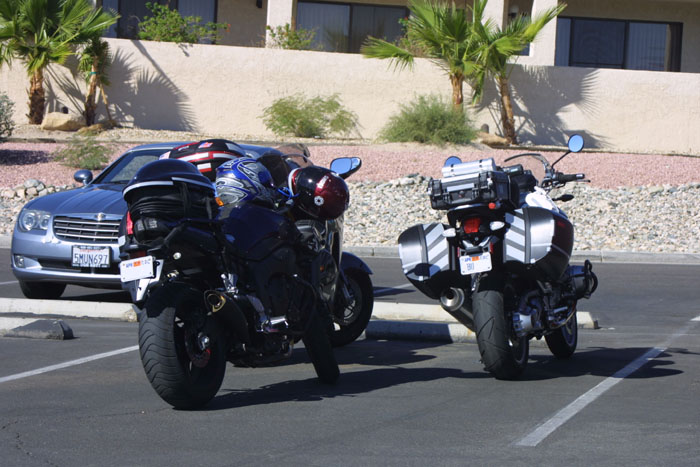 Parked and ready to hike.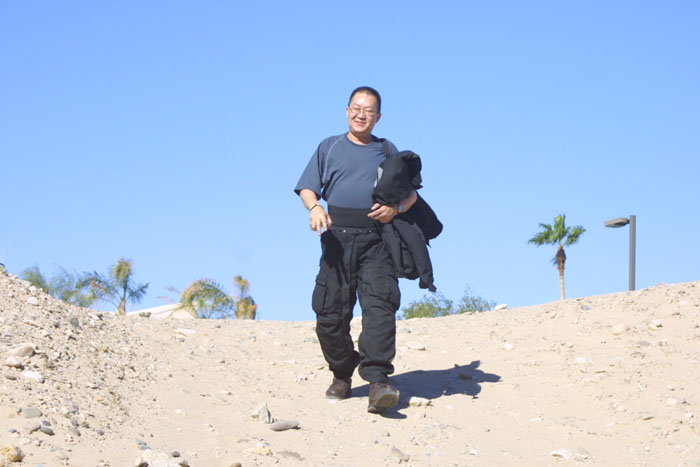 London Bridge here we come.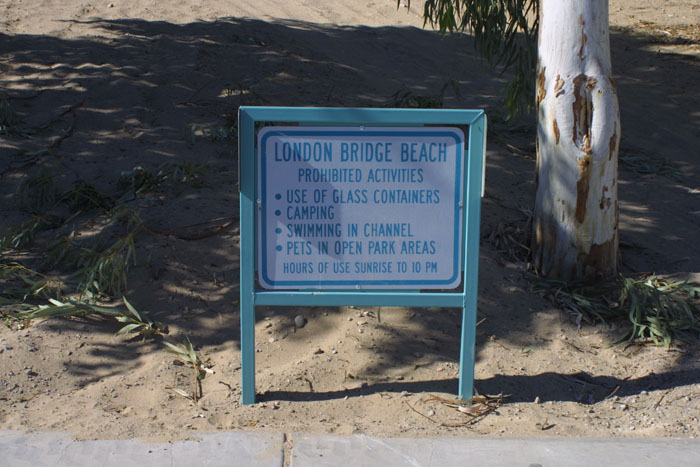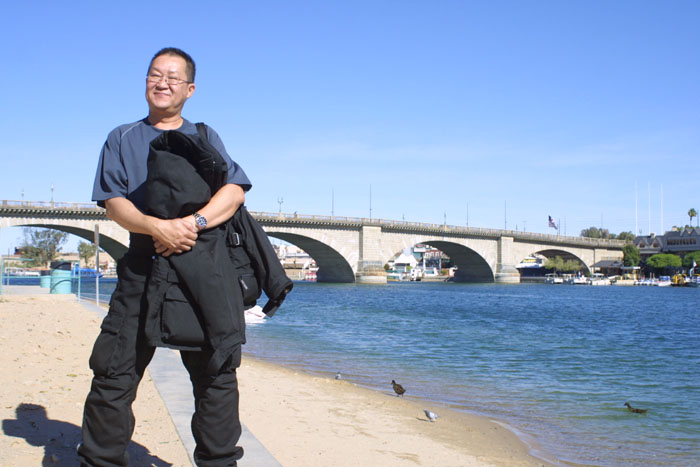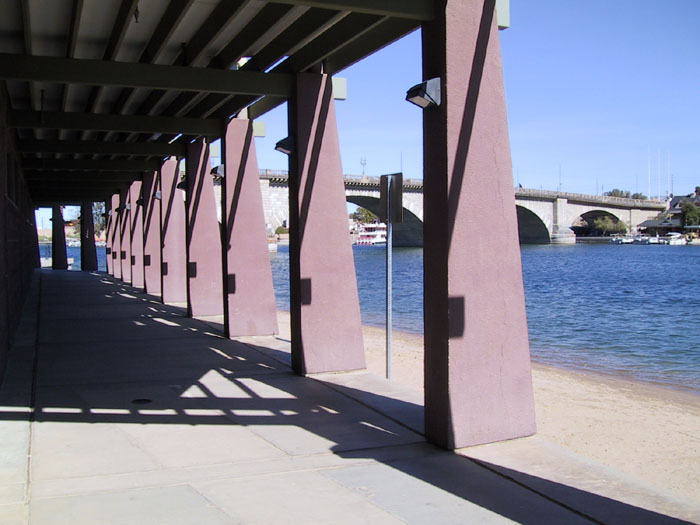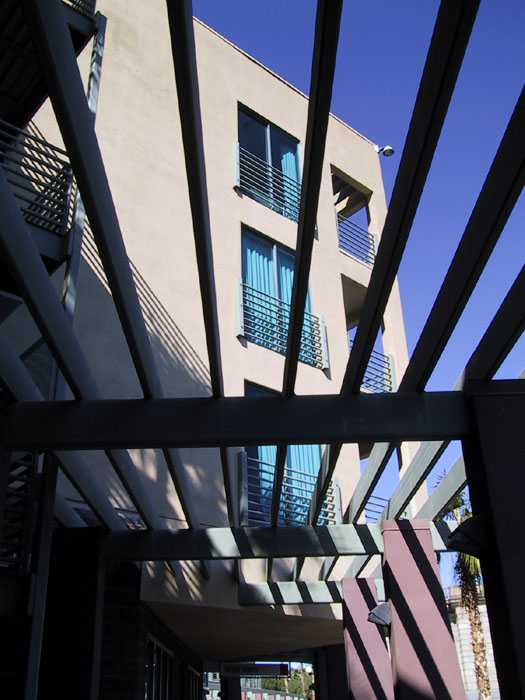 This is a part of a really nice hotel. The rooms comes with balconies and Tempurpedic beds.
We're staying here next time we come out.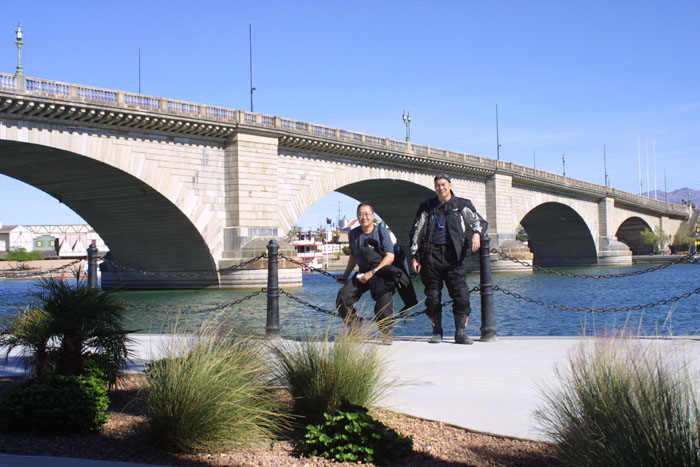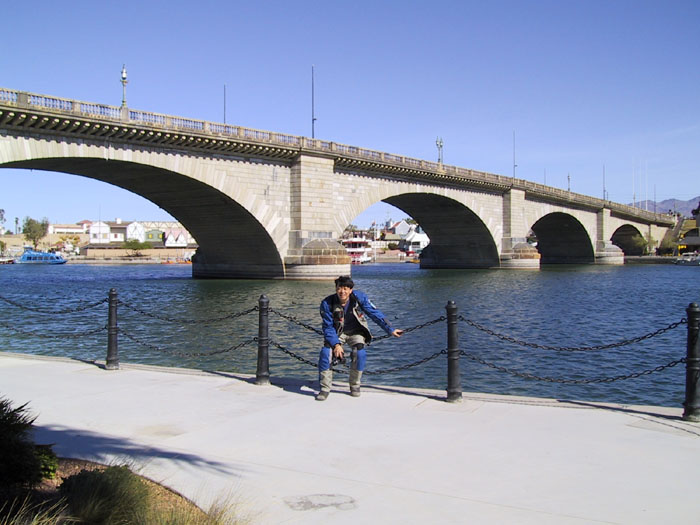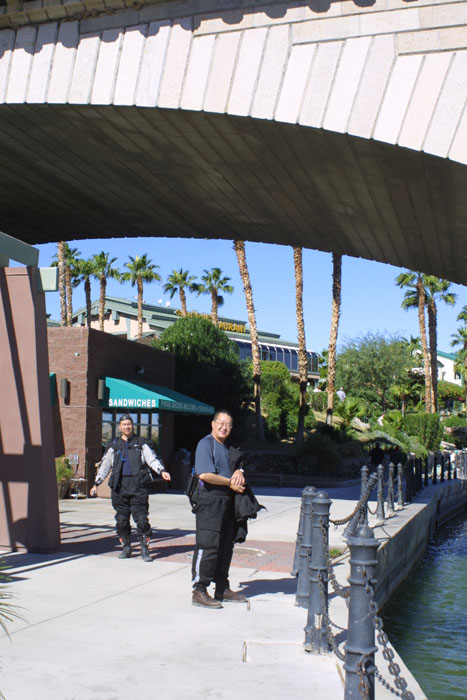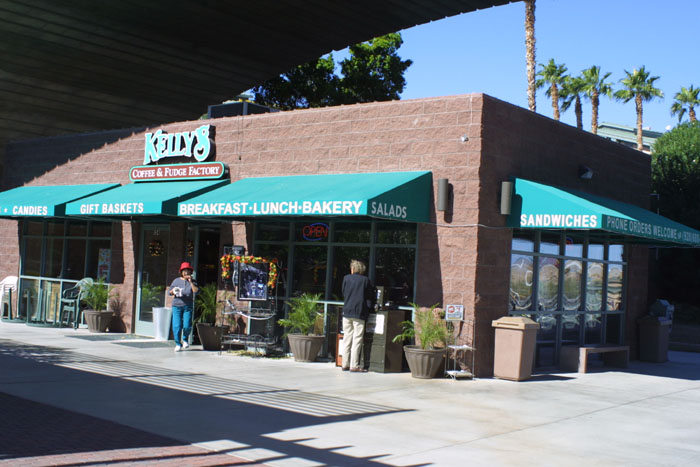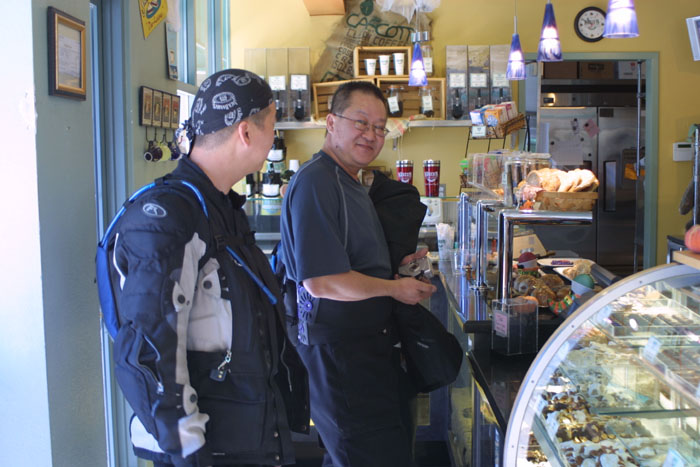 One coffee isn't enough to count as substance abuse. We need more.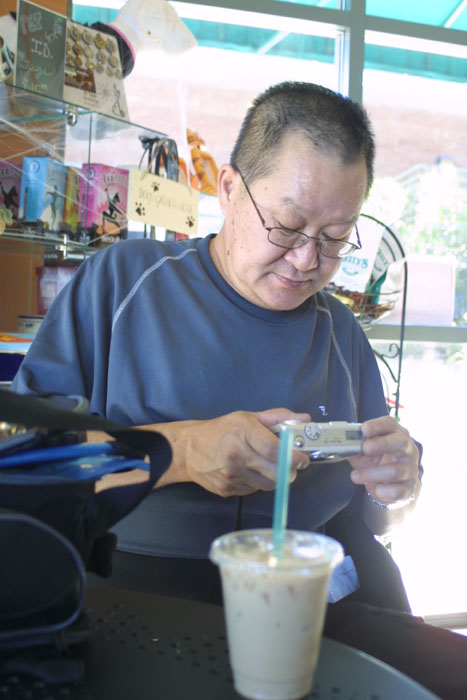 The beauty of digital photography.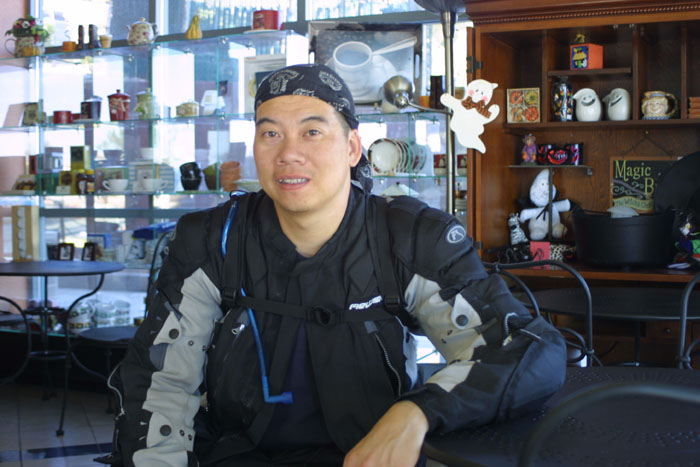 Content waiting for some Java juice.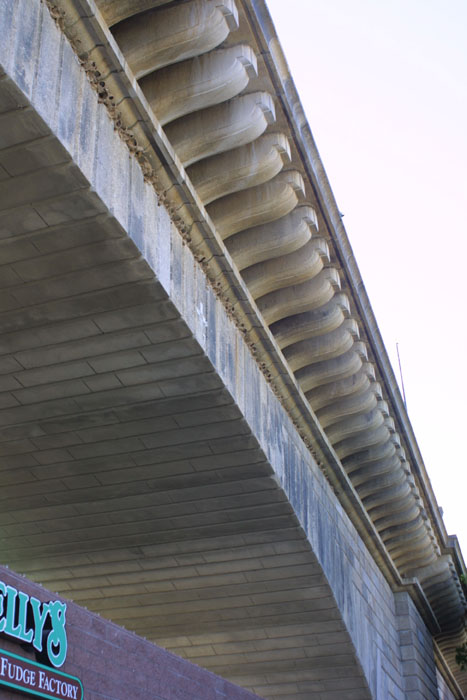 Here's something interesting. It looks like some birds are calling this home.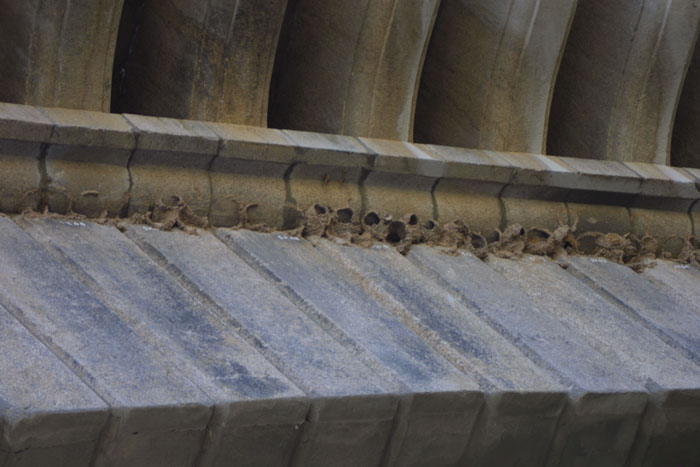 I don't know what season they're here but they are definitely leaving behind a greeting card.

Now that we're done with touring London Bridge and filled ourselves with another dose of Java juice. It's time to crash Bob's pad and pickup my other cell phone. Another quick hop. It is only 3-4 miles to Bob's house. Sure enough there it is and there he is. Bob was sitting in a recliner in his garage waiting for us. First thing that came out of Bob's mouth, "What are you? A freakin' astronaut?" I guess he's not use to seeing people being overly safe on a motorcycle with full gear on. Yes we are oddballs here. Why? Because most of the people in Arizona ride Harleys and they're scantily clad. Of course the lack of a motorcycle helmet law in Arizona also adds to our weirdness. Personally, I'm wearing a helmet regardless of helmet law or not. My egg head is just that, like and egg.

We step in and get a tour of Bob place. Nice place. He has two video poker machines that no longer function. Too bad. We could have contributed a couple of quarters to his retirement. The coin machine part of the boxes is broken. That makes it extremely difficult to contribute to his retirement funds. How well do the machines pay out? Not so good according to Bob. The house is on the stingy side. The odds are a 100+% against us. By the time we're done with the tour, it's obvious that even Bob's house is more advance than mine. I still watch TV on a CRT. He has either LCD or plasma TVs. Man, I need to get with the times. Anyway, we sat around for a while reminiscing about old times at work. The three of us agreed the period where Minh, Bob, and myself worked together was the best period during our work career. It's a shame that it didn't last. Bob ask me why I bailed from the group. "Management didn't know what they were doing and they sucked." It's a unanimous agreement that management did sucked. It sucked big time.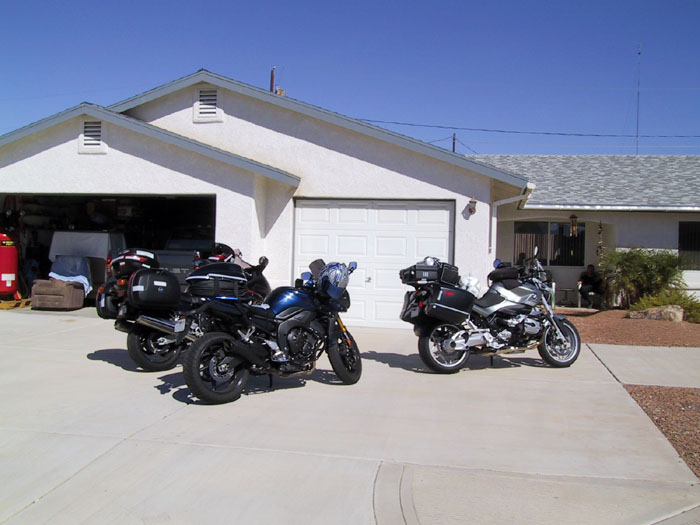 We continued our historical journey until it was time to go. We bid Bob a fond farewell and told him to contact us the next time he gets back into California. Once again we're back on the 95 and heading south.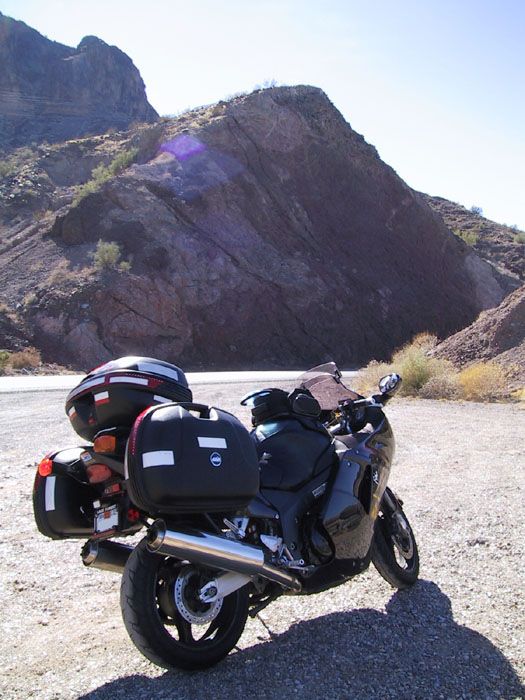 Yet another Blackbird glamor shot.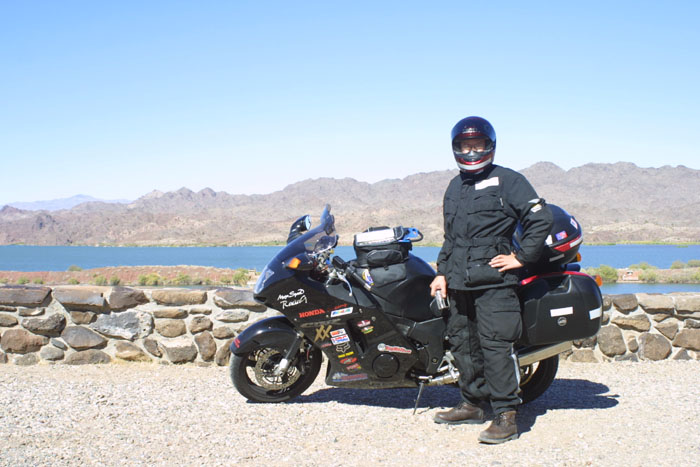 Eventually we get into Parker. It's about lunch time so we decided to go into an A&W/KFC for lunch. All looks to be going well until we have to wait for our food. We wait and wait but our number never comes up. What the heck. Eventually, Kevin talks to the fry cook and find out that somebody else took our order. Nice. What should have been a 30 minute meal turns into a 1 1/2 hour meal. They call this a fast food place. It doesn't seems very fast to me. On top of that, the A&W food is practically tasteless. Remind me not to eat at an A&W again. I have to insist on a real restaurant next time.

Get out and go. The 95 turns into the 62 and in a matter of 1-2 miles we're back in California. San Bernadino county for that fact. Wow! We're a lot closer than I thought. Personally, I'm glad to be back in home territory. As for the speed limit, 65 MPH means I could do 75 without too much harassment from the law enforcement officers. A sigh of relief. I've been on good behavior the entire time we were in Arizona.

This is the fun section of the 62. The highway ungulates as we ride. I didn't want to speed at this section because we're light enough that I think we can easily become airborne. Even at 70 MPH I can already feel my bike get lighter on the up draft. We take it easy and enjoy the rolliness of the road. Cars pass us like we're sitting still. It must be the folks from Twentynine Palms. No matter, I'm enjoying this bit of road.

We make a slight left turn to break away from the 62 and take the 177 highway. The wind here isn't like what was seen yesterday in the 60 and the 72 highway but it's ever present. It's your typical desert highway road (e.g. straight and boring). Once again I push the group to reach the 10 freeway. It's only about 5 miles more. Next thing I know Minh was on my 3 flagging me to pull off. Only 5 miles more. OK we'll pull over.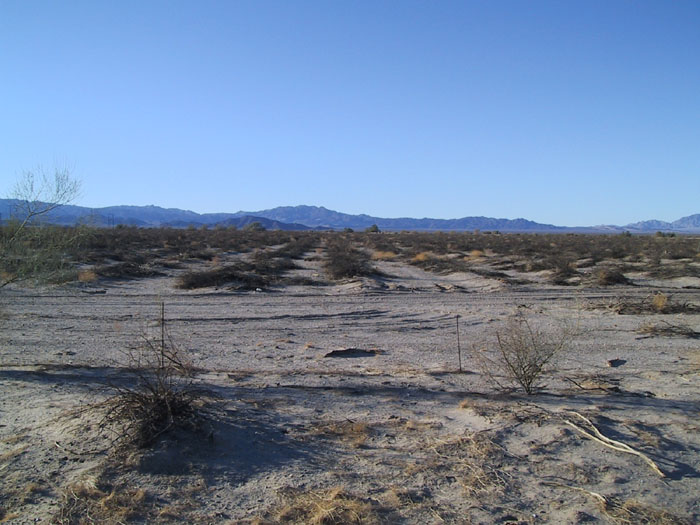 Out in the middle of nowhere. This looks like it use to be a plot full of brushes. Grapes maybe?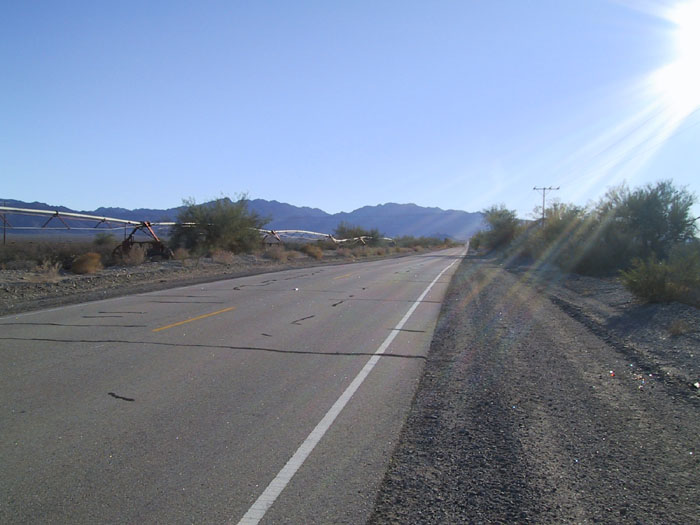 Only 5 miles to the 10 freeway.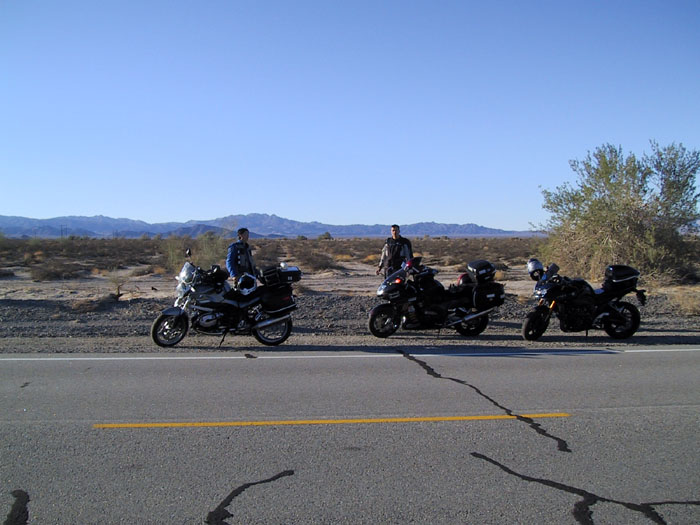 And we're off... 5 miles later we're on the 10 freeway. It doesn't look too bad. There are big rigs but it's nothing too drastic. The wind is present but it's not unmanageable. 70 MPH limit. This means we can cruise around 80 MPH and not have a problem. That's the nice part about taking an interstate system to travel. It's fast. This means we'll be home around 7:30 pm. Hopefully the firestorms won't effect the traffic. Eventually we have to pull over for one final fuel up. After that, it's a straight shot home. Or at least that's what I thought.

It's time. We pull off the 10 in Coachella and fuel up at the Chevron. The fuel price is climbing back up again. Proof we're in California. Minh was generous enough to get me a drink, but I shouldn't have downed it. It will manifest itself later. Indio, Palm Desert, and then Palm Springs. It all comes up and disappear behind us. It's getting dark and the wind seems to be picking up. The temperature is falling and the Gatorade Minh got for me is knocking on the emergency exit door. Enough is enough, I have to fix this problem. I can't wait any longer. South 8th Street, Banning exit it is. I hop off the bike and talk to the Chevron clerk. She was busy on the phone with her lover, boyfriend, or husband. "Can I use your restroom?" "Sorry, we don't have a public restroom. You have to go to the IHOP or Jack In The Box across the street." Damed! I need to go and this chick is busy resolving her private life's disorder. I get back out and tell the guys I'm going to run over to the Jack In The Box for some much needed problem solving. I take off with Kevin not too far behind. It's all I can do to turn the bike off, take the gloves off, and disconnect myself from the intercom. I run into the Jack In The Box. The rest is history. I come back out and Kevin is holding my gloves for me. He said they were being blown around by the heavy winds. Now I finally notice the windy condition. I hope this isn't going to be a problem. Are the fires fanning this wind, or is it the other way around? I don't know but I hope we don't encounter any traffic jams because of the firestorms.

Kevin and I power on the bikes. I'm heading back out and see Minh trying to make a left turn at the four way. It looks like he's not able to trigger the turn light. The sensors in the road is not seeing his Blackbird. He skips the light and goes straight instead. On a leap of faith I'm thinking he sees me and is going straight to get to the freeway on-ramp. It's my turn, I pull out and into the left turn lane at the four way. I hope I can trigger it. The turn light goes green. The on-ramp is right in front of me. I make the right turn but don't see Minh anywhere. Where did he go? I hope he didn't go straight on the road and didn't take the on-ramp. I pull to the should and turn my hazard lights on. I twist my torso and visually search for Minh. I can't see him. Perhaps he went to the Jack In The Box after all. I once again disconnect myself and leave the bike powered on blinking away. I walk for a little while and Bingo! I see Minh in the Jack In The Box parking lot. There's a first for everything. I'm actually running in my Sidi Vertigo-Tepor. Wow! It's not half bad. I thought I wouldn't be able to do anything other than a fast walk in these boots, but I was glad to be wrong. Huff and puff. I run down the on-ramp to the street. I see Minh and scream at him from the opposite side of the street through my helmet. No luck. He can't hear me. He has those ear plugs shoved in so deep that it's probably tickling his brain. "Look both ways before crossing the street"... no more cars coming. I dashed across the street to get Minh. At long last, he sees me. I gesture to him to go up the on-ramp. Understood. He moves out. On the other hand I'm getting ready to dash across the street again. One, two, three. No more cars. Here I go. I'm still amazed that I can run in these boots. Jogging up the freeway on-ramp by foot sure is a lot slower than driving a motorcycle. I get the sensation it's taking me forever to cover the 100 or so yards to my bike. Huff and puff... I reconnect myself and see Minh pull in right behind me.

At last, we can make the final leg of the journey home. Once we're on the 10 freeway again, it's obvious that we're riding with the wind. The turbulence isn't bad at all. Beaumont, Redlands, and the 215 freeway. We are forever getting closer and closer to home. When we reach Ontario and Monclair the ride is over. The trip is definitely coming to an end. Sure enough I break away from the pack and give Kevin and Minh a wave. They wave in response as they continue on the 10 while I take the 57 north. Traffic is fast. The next thing I know I'm on the 210 and then home. I pull in and open the garage door at 8:30pm. Later phone calls from Kevin and Minh confirm they're also home safe. I'm tired, but it's been a good/fun trip.

Four days and 1050+ miles. To some it is nothing. To us it is a worth while trip to add to our list of memories. At least now I know what to expect when I plan our Grand Canyon trip next year. In a sense it is sad this trip has drawn to a close. It's a sign another year is over. At least we now know our range capability. 300 miles is just about what we can muster and still have time for some sight seeing. Anything more than that we might as well try for the Ironbutt.

This concludes the Arizona '07 trip. I hope you have enjoyed the story and the pictures. Cheers and stay safe while the rubber meets the road. Always look out for those wild SUVs and ferocious monster trucks when riding in the urban jungle.

Prep work
Day 1 - The mother road
Day 2 - Is this Yosemite or is it Sedona?
Day 3 - Should we pray to the wind god?


---
Written on: November 15, 2007
Last modified: November 18, 2007