Arizona or bust!
---



[Wednesday - October 10, 2007]



Well, if mother nature won't allow us to go to one place, we'll go to another place that is allowed. Mammoth went bust but that doesn't mean we can't do one last big ride for 2007. The gang thought of taking flight to Eureka (Northern California), but that is a bust too. Too much rain and too far to drive in the rain. Some of you out there might be manly enough to do it. I can probably do it, but it will take longer than the four days I have. Fortunately, we did manage to come up with a route that will satisfy our wanderlust. Arizona.

It's a desert. There should be minimal rain and snow right? Hopefully right. The key place for me to visit, because I've always wanted to visit it, is Meteor Crater. Being an Astronomy, Cosmology fan, I have always been interested in meteor impacts on the Earth. I've seen the crater plenty of times on TV but now I get to see in real life. How cools is that?

The initial routes plotted for Arizona was quite aggressive but we soon trimmed it down to a more leisurely pace. What the heck, it's a vacation so we should take it easy and ride wherever. Now it's just a matter of who is going to bail out because of what reason.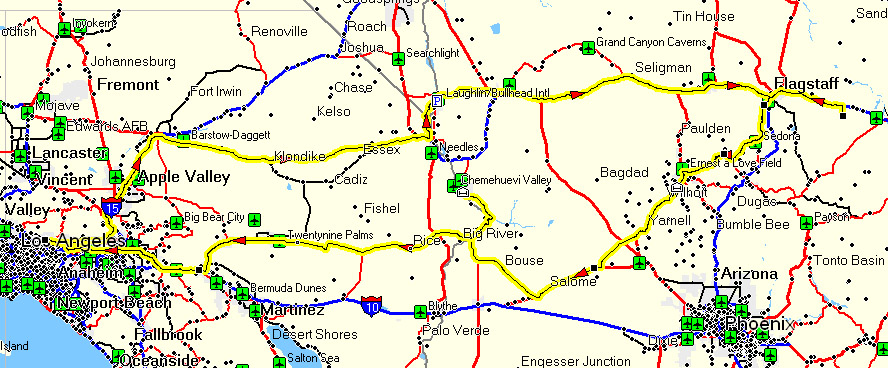 [Tuesday - October 16, 2007]



It's been a while since we've done a long trip so I'm finding myself at a lost as to where all my equipment is. Where are the batteries for the camcorders? Where are the batteries for the D30? It's a big mess. I had to think all the way back to the Death Valley ride to figure out what I did with all this equipment. Wait a minute. All the way back to March? What happened? How come we're only having two big trips this year? That's not right. Then I'm reminded why this year is so slim on the big trips. surprise family addition. That will get you every time. At the same time, the ever flow of minutes, hours, days, and month is going by so fast that it's easy to lose track of the situation.

That's OK. Next year hopes to be a better year for big trips. I know of three trips already: Central Coast, Mammoth (a bust for this year), and the Grand Canyon (this includes a night a lake Powell). That's three big ones, but that's next year so who cares for now. Right now I'm getting things ready for the trip coming up this weekend.

The only thing in flux at this point is the route. What are we going to do? I strip some miles off and Minh piles the miles back on. What's going on here? Minh is such a road animal. Russ and I both swear that he needs to compete in the Ironbutt just to satisfy his thirst for the yummy tarmac. No really, Minh isn't that tarmac obsessed, but he is definitely the road animal in our group. As mentioned in another report, Minh is easily 10 years older than some of us. As yet he's the one that has the most "Get up and go". Hm, perhaps the youngens aren't built so strong these days.

At least we narrowed the route to the below image.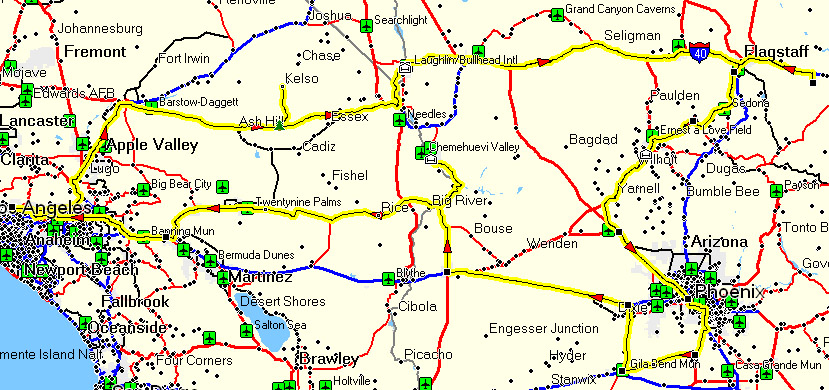 [Thursday - October 18, 2007]



Tonight is the last night for packing things up. I had put on my panniers last night and driven to work with the entire setup to ensure the bike is happy with almost everything loaded up. This also gave me the opportunity to make sure my tires are inflated properly and the pre-load is set correctly. Yup, the bike was smooth as silk on the way to work. In Russell's words, I had the "entire flotilla" of luggage on the bike. As if I didn't have enough to worry about already, I managed to picked up a screw somewhere along the way to work. If it hadn't been for Russell's need to check out something on his R1, I would have been greeted with an extremely flat tire when it was time to go home. I sware the Conti RoadAttack is a nail and screw magnet. Fortunately for me, the tire wasn't completely deflated so no damage could have been done from the weight of the bike. Once again, as if it's an initiation to have new RoadAttack tires, I plugged the tire and pumped it up. Just like the previous time it took me an entire 2 minutes to plug it and 30 minutes to pump it up to 38 PSI. I have to get an electric pump. Either that or a bigger hand pump. In the end everything is fine and I'm set for the trip tomorrow.




[Tuesday- October 23, 2007]



It wasn't a bust! In fact, the trip was a lot of fun. We didn't take all of the routes intended and detoured a lot. What can you say, it's a vacation after all. Changes are suppose to happen.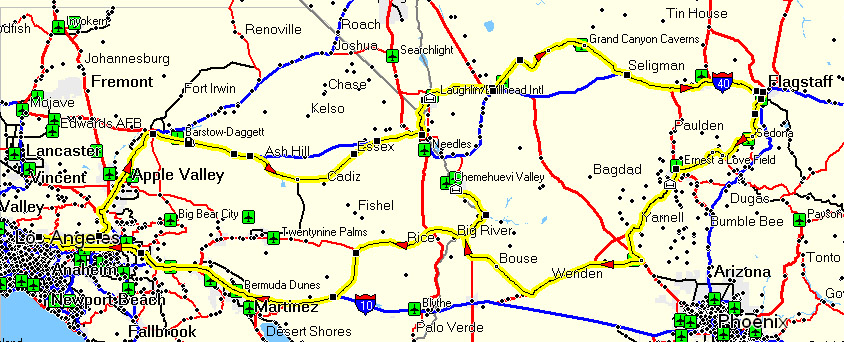 Day 1 - The mother road
Day 2 - Is it Yosemite or is it Sedona?
Day 3 - Should we pray to the wind god?
Day 4 - Firestorms at home
---
Written on: October 10, 2007
Last modified: October 23, 2007