It's so bright... I have to ware shades...

---

So it's Friday Dec 9th, 2005. Russ and I decided to take off early from work today to go down to the Long Beach Convention Center to attend the International Motorcycle Show. I even made it a point to bring my trusty Cannon digital camera to take some snaps of the show. However, stupid me, I left the camera in the car when we got to the show. Oh well, I figured there will be other opportunities in the future so I didn't bother worrying about it. My intent for coming to this show is to check out the bikes, and maybe get a new pair of boots.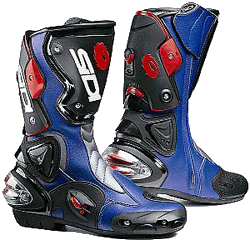 These boots are oh so comfortable...


I also had in mind to get the LED break light for my babe. I fancied the idea of the break flashing so the car would notice I'm breaking. Also, the LED will be good for the life of my motorcycle. No need to change bulbs. Oh yeah babe!!! I like being lazy.

Anyway, to make a long story short, I didn't find anybody selling the Sidi Vertigo boots but I did happen on Santa Cruz BMW so I figured I would pick up the LED break light. They happened to have the Wunderlich flood lights on a demo rack. So I asked one of the guys at the booth how bright the lights were. He stepped over and push a button. Both Russ and I jumped. "WOW!!! That was bright." So I went ahead and bought the light kit for the R1200GS. Along with the kit I also had to get the accessory plug outlet kit. My GS doesn't have such a thing on it. Yet another thing to install on the bike.

On another note, Russ and I made it out of the show and noticed we didn't even set foot in the Harley Davidson booth. The other thing I learned, if I am ever to buy a sport bike (I'm not a sport bike kind of guy, but just IF...), MV Agusta is it. They are such beautiful machines. Russ and I were standing there dumbfounded.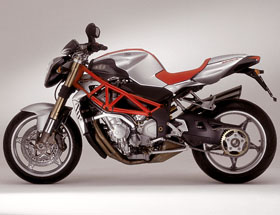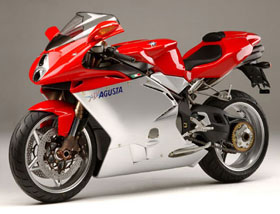 Two awesomely beautiful bikes.


When I got home I started examining the stuff I purchased. The entire time I was carrying the goods around I had a sinking feeling there was something wrong with the lights. Something wrong in the sense that one of the components wasn't correct. I kept on thinking it was the light kit itself. The possibility that the guy might have given me a kit for another bike. When I finally inspected the kit, I was relieved to see the instructions say "Micro Flooter Light Kit R1200GS". When I looked at the accessory plug outlet kit, however, I noticed it looked kind of odd. I know the R1200GS has the CAN Bus system and can be a little picky regarding adding accessories. I decided to investigate by looking at Santa Cruz BMW's web site. Sure enough it's the wrong part.

The following day, I called up Santa Cruz BMW and they said they will exchange the part for no additional fees since the parts are the same price.

So now I begin assembling the lights and wait for the accessory plug outlet to come in to finish everything off. The one thing I noticed right away was the Wunderlich instructions were on the slim side. There are two 8 1/2" x 11" pages with some pictures and a lot of text. Upon closer examination the instructions aren't too bad for the electrical part. I just have to wait for the appropriate cable to come in to finalize everything. The light and mounting bracket instructions are a different story. After a lot of fidgeting and some creative thinking, I managed to assemble everything. Below is my version of the instructions. I hope it helps you out.



Wunderlich - Micro Flooter Light Kit for R1200GS


Page 1 (Assembling the Wunderlich Light Kit)
Page 2 (Installing the BMW Accessory Plug Kit)
Page 3 (Mounting the auxilary lights)
Lighted toggle switch picture for Andy


---
Written on: Dec 10, 2005
Last modified: February 23, 2007